WGAW President, 2011-2015
Christopher Keyser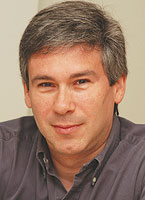 Writers Guild of America West President Christopher Keyser is a graduate of Harvard College and Harvard Law School. After graduating, he became a political speechwriter and served as the chief speechwriter for Governor Bruce Babbitt's presidential campaign in 1988.
Starting his screenwriting career in 1988, Keyser's credits include Benefit of the Doubt for Miramax and the independent film Highland Park, which was completed this year. He is currently preparing to direct his own script, A Great Education. In television, he writes with a partner, Amy Lippman. Together, they have worked on series ranging from L.A. Law to Equal Justice and Sisters. In 1994, they created the drama series Party of Five, which ran for six years on Fox and won, among other honors, the Golden Globe for Best Drama and the Humanitas Prize. Keyser and Lippman went on to create such shows as Time of Your Life and Significant Others. This past September, their latest series, Lone Star, premiered on Fox.
Mr. Keyser is also a partner in the political media company First Tuesday. He serves on the Boards of the Curtis School and of the Los Angeles Chapter of the National Association of Urban Debate Leagues, as well as on the Board of Trustees of the I Have a Dream Foundation, Los Angeles.