WGAW President, 1977-1979
Daniel Taradash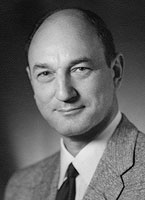 Daniel Taradash wrote or co-wrote Golden Boy (1939), the Academy Award-winning From Here to Eternity (1953), Picnic (1955), Bell, Book and Candle (1958), Hawaii (1966), and Castle Keep (1969). He co-wrote and directed Storm Center (1956), starring Bette Davis.
Taradash won every top Guild award—the Valentine Davies Award in 1971, the Morgan Cox Award in 1988, the Edmund H. North Award in 1991, and the Screen Laurel Award in 1996. He was president of the Screen Branch of the Guild from 1955 to 1956, and first vice president in 1957, before serving as president in 1977. He served on more than 30 Guild committees. An active member of the Academy of Motion Picture Arts and Sciences, he was vice president from 1968 to 1970, and elected president in 1970. He was on the AMPAS board of governors from 1990 to 1993. In addition, he served on the American Film Institute board of trustees, and held leadership positions in many other entertainment and arts organizations.
He was born in Louisville, Kentucky, on January 29, 1913. Taradash earned a Harvard law degree, and passed the New York State bar, but never practiced. In 1941, he was drafted into the U.S. Army, where he worked on numerous training and motivational films for the Signal Corps. He died February 22, 2003.