WGAW President, 1991-1993
Del Reisman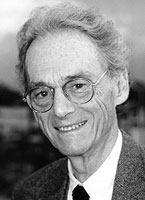 Del Reisman began his career in the days of live television in the 1950s, working on such shows as NBC Matinee Theater, and then as story editor for the acclaimed Playhouse 90, on which he worked with producer Martin Manulis, writers Rod Serling, David Shaw and Robert Alan Aurthur, and directors John Frankenheimer, Franklin Schaffner, George Roy Hill, Arthur Penn, and Arthur Hiller.
He went on to become story editor for The Twilight Zone, then produced or storyedited or wrote episodes for The Untouchables, Rawhide, Peyton Place, The Streets of San Francisco, Cannon, The Blue Knight, Banacek, Cagney & Lacey, and The Yellow Rose, among many others.
Reisman received the WGAW Morgan Cox Award in 1999 for his dedicated service to the Guild. In addition to his stint as Guild president, he served as vice president, member of the Board of Directors, chaired three consecutive negotiating committees, and participated in or chaired more than 20 other Guild committees, including TV credits, blacklist credits, and the president's task force on communication.
He taught screenwriting in the American Film Institute's advanced screenwriting workshop, and was the Guild's delegate to the National Film Preservation Board of the Library of Congress.
During his presidency, Reisman met with Sen. Paul Simon (D-Ill.) and other legislators to take a First Amendment position on the powerful efforts by both Democrats and Republicans to condemn writers for the violent content of television. It was the second time in the history of American television that Congress had investigated violence in primetime. But the '91-'93 campaign was the most determined to fix blame. Reisman represented the Guild's interests in Washington and Los Angeles.
Reisman died in Toluca Lake on January 8, 2011. He was 86.