WGAW President, 1955-1959
Edmund L. Hartmann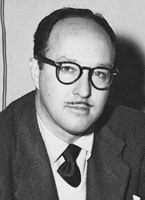 Screenwriter, playwright, producer Edmund L. Hartmann worked at nearly every Hollywood studio, and wrote in almost every film genre, including the crime drama Law of the Underworld (1938), the musical Time Out for Rhythm (1941), the adventure Ali Baba and the Forty Thieves (1944), the comedy Casanova's Big Night (1954), the horror film The Face of Marble, and Sherlock Holmes mysteries such as The Scarlet Claw (1944). He wrote seven popular films for Bob Hope, including The Paleface (1948), as well as the Dean Martin and Jerry Lewis comedy The Caddy (1953). As television producer and writer he created the series My Three Sons, staying with the show for its 12-year run, Family Affair, and The Smith Family.
In 1964 Hartmann served as WGA national chairman, and he received the Guild's Morgan Cox Award in 1985. A strong advocate for writers, he said in a 1959 New York Times interview, "Movie making is essentially the telling of a story, but the simple function of the story teller has been obscured by a complex machinery of manufacture."
He was born on September 24, 1911, in St. Louis, Missouri, and died in Santa Fe, New Mexico, on November 28, 2003.