WGAW President, 1981-1983, 1993-1995
Frank Pierson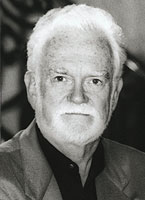 Writer, director and producer Frank Pierson's credits include Oscar-nominated Cat Ballou (1965) and Cool Hand Luke (1967), the Oscar-winning Dog Day Afternoon (1975), and Presumed Innocent (1990), The Neon Ceiling (1971), Looking Glass War (1969), A Star is Born (1976), King of the Gypsies (1978), Citizen Cohn (1992), and Paradise (2004) are among his directing credits.
Pierson served four terms as president of the Academy of Motion Pictures Arts and Sciences beginning in 2001. In 1992 he received a WGA Screen Laurel Award and a Peabody Award. He was given the WGAw Valentine Davies Award in 1991 and the Humanitas "Keiser Award" in 2005. Pierson has served on the boards of AMPAS, the Los Angeles Theater Center, Artists Rights Foundation, and Humanitas. He has been a faculty member of the Sundance Institute as well as a lecturer at the American Film Institute and the University of Southern California.
Pierson was born in Chappaqua, New York, and served in the Pacific during World War II. He earned a degree with honors in cultural anthropology from Harvard University. He was a field correspondent for Time and Life magazines, covering movies and military affairs. In 1958 he quit journalism, sold his first script to the half-hour anthology Alcoa Goodyear Theater and worked as script editor for Have Gun Will Travel.
Pierson died in Los Angeles on July 23, 2012 at the age of 87.