WGAW President, 2015-2017
Howard A. Rodman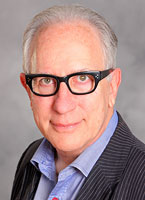 Howard A. Rodman is a screenwriter, novelist, and educator. He is a former Writers Guild of America West president; professor and former chair of the writing division at the USC School of Cinematic Arts; an artistic director of the Sundance Institute Screenwriting Labs; a member of the executive committee of the Writers Branch of the Academy of Motion Picture Arts and Sciences; and a fellow of the Los Angeles Institute for the Humanities.
His films include Savage Grace, starring Julianne Moore, and August, with Josh Hartnett, Rip Torn, and David Bowie—both of which had their U.S. premieres at the 2008 Sundance Film Festival. They were released in 2008 from IFC and First Look, respectively. Rodman's screenplay for Savage Grace was nominated for a Spirit Award in the Best Screenplay category.
Rodman also wrote Joe Gould's Secret, which opened the 2000 Sundance festival and was subsequently released by October/USA Films. Rodman's original screenplay F. was selected by Premiere Magazine as one of Hollywood's Ten Best Unproduced Screenplays. His 1990 novel, Destiny Express, an historical romance set in the pre-war German film community, was blurbed by Thomas Pynchon, who called it "daringly imagined, darkly romantic—a moral thriller."
On the small screen, Rodman wrote several of the episodes of the Showtime anthologies Fallen Angels and The Hunger, adapting Jim Thompson, David Goodis, et al. for directors Tony Scott, Steven Soderbergh, and Tom Cruise. These garnered him two separate Cable Ace nominations for Best Writing. (Rodman's own directorial debut, No Radio, was also seen on Showtime.) Rodman also wrote a one-hour dramatic pilot for HBO, entitled 213 for producers George Clooney, Grant Heslov, and Steven Soderbergh.
In addition to the multiple outings for Soderbergh (who repaid the favor by giving sleazy characters in both Traffic and The Underneath the name of "Mr. Rodman"), Rodman has also worked with Errol Morris, Chantal Akerman, Peter Bogdanovich, David Lynch, Maurice Sendak, Rodrigo Garcia, David Siegel & Scott McGehee, John McTiernan, John Woo, and Clive Barker.
Starting as editor-in-chief of The Cornell Daily Sun, Rodman has published scores of articles in venues including The New York Times, The Los Angeles Times, Los Angeles Magazine, and The Village Voice (for which he was a monthly columnist).
He founded and chaired the Writers Guild Independent Writers Caucus. He has chaired Film Independent's Spirit Awards feature film jury as well as the USC Scripter Awards. He is a former trustee of the Writers Guild Foundation; vice-chair of the Committee on the Professional Status of Writers; and serves on several non-profit boards, among them the Franco-American Cultural Fund, and Cornell in Hollywood. Rodman is an ex-officio Trustee of the American Film Institute and co-chair of Hollywood Health & Society. He is an alumnus of the Seed Fund Board of the Liberty Hill Foundation, and a former editor of The Bill of Rights Journal.
Rodman has been profiled in Salon, the L.A. Weekly, and the WGAW's Written By magazine; has been interviewed by The New York Times, iFilm, and indieWIRE; and has been a guest on KCRW's The Treatment with Elvis Mitchell and the PBS Lehrer NewsHour. Rodman was, with the late Kurt Vonnegut, Jr., a featured speaker at the 125th Anniversary celebration of The Cornell Daily Sun.
In his 20s and early 30s Rodman was a typist, a legal proofreader, a mail-room clerk, a union organizer (for the Committee of Interns and Residents) and the guitarist for various lower-Manhattan post-punk bands (Made in USA; Arsenal; Soul Sharks). He was married to the writer and media scholar Anne Friedberg, author of The Virtual Window, until her death in 2009. Their house, the 1957 John Lautner "Zahn Residence," has been widely published. Their work with Lautner in restoring it was chronicled in the February 2002 issue of Dwell magazine.
His spirited 2011 celebration of the centennial of the fictional French arch-fiend Fantômas took him to Yale University where he delivered a paper; Brown University, where he delivered a multi-media presentation; The New School, where he appeared on a panel; The Hammer Museum, where he showed one of Feuillade's classic films to live musical accompaniment; NOIRCON, where he sang the villain's praises; the Los Angeles Institute for the Humanities, where he gave a Fellows talk; and City Lights Books, where he participated in a four-day celebration.
Working with the Library Foundation of Los Angeles, USC, and the Writers Guild, Rodman has recently conducted public conversations with such writers as Tom Wolfe, Ricky Jay, Jeannette Seaver, Vince Gilligan, Lena Dunham, Laurie Simmons, Matthew Weiner, Paul Thomas Anderson, Jean-Claude Carrière, Geoff Dyer, Cary Fukanaga, and Lady Antonia Fraser. He is a member of the National Film Preservation Board, which advises the Library of Congress on the annual selection of films to the National Film Registry, and on national film preservation planning policy.
On October 31, 2013, Rodman was named a Chevalier de l'Ordre des Arts et des Lettres by the French Republic.