Screen Writers Guild President, 1953-1954
F. Hugh Herbert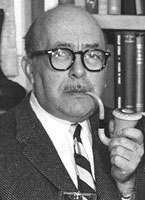 Frederick Hugh Herbert wrote for the theater, film, television, and radio from the 1920s until 1958. His more than 80 screenwriting credits include a collaboration with another WGAw president and fellow writer, Howard J. Green, for If You Could Cook (1935), Home, Sweet Homicide (1946), Scudda Hoo, Scudda Hay (1948), and Let's Make It Legal (1951), both featuring a young Marilyn Monroe. For television, he contributed episodes for The 20th Century Fox Hour and The Alcoa Hour. He directed a handful of his films.
Herbert wrote the play Kiss and Tell, which ran for more than 950 performances on Broadway, and later adapted and co-produced it for film. He also wrote magazine articles as well as successful radio programs such as Meet Corliss Archer, which he created.
Born in Vienna in 1897, Herbert was educated in England's University of London, where he studied to become a mining engineer. The British Army rejected him when he tried to enlist for War World I duty, and he found work in the advertising department of a London department store. He emigrated to the U.S. in 1920, and wrote his first film scripts in 1921 in addition to several novels and poetry books. Herbert died in Beverly Hills on May 17, 1958.