WGAW President, 1999-2001, 2009-2011
John Wells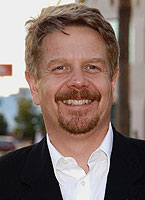 John Wells is one of the most prolific writers, directors and producers for television, film and the stage. Over the past two decades, Wells has been a creative force behind some of primetime's biggest hit series, including ER, The West Wing, Third Watch and China Beach. He is currently Executive Producer of the hit NBC crime drama, Southland.
A seven-time Writers Guild Award nominee, in 2007, Wells received the WGA's prestigious Paddy Chayefsky Television Laurel Award, given to writers who have advanced the literature of television and made outstanding contributions to the profession of television writers. In 2005, Wells was awarded the David Susskind Achievement Award in Television from the Producers Guild of America.
Shows produced by John Wells have received an astounding 267 Emmy nominations with 55 Emmy wins, not to mention 5 Peabody Awards, and numerous People's Choice Awards, Producers Guild Awards, a Humanitas Prize (nominated 7 times), as well as numerous distinctions from health care organizations across the country for ER. During its fifteen year run, ER earned 122 Emmy nominations, the most in television history.
Wells recently wrote and directed The Company Men, a theatrical drama set against the backdrop of affluent Boston suburbs that vividly portrays the struggles of families coping with the current ongoing economic meltdown. The film marks Wells' feature film directorial debut.
Born in Alexandria, Virginia, and raised in Denver, Colorado, Wells graduated from Carnegie-Mellon University in Pittsburgh, Pennsylvania, with a bachelor of fine arts and later earned a Masters degree in film and television at the University of Southern California, where he also serves on the school's Television Executive Advisory Council.