WGAW President, 1967-1969
Michael Blankfort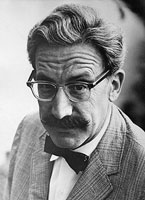 Screenwriter and novelist Michael Blankfort's credits include The Caine Mutiny (1954), Untamed (1955), Tribute to a Bad Man (1956), The Plainsman (1966), and A Fire in the Sky (1978). He fronted for blacklisted writer Albert Maltz, taking screen credit for Broken Arrow (1950), which won a Screen Writers Guild award. In 1991 the WGAw corrected the credit and commended Blankfort for his courage.
He wrote 14 novels, including A Cry from a Red Field, Take the A Train, Behold the Fire, and The Juggler, which he later adapted for the screen.
Avid art collectors, he and his wife Dorothy donated more than 250 modern and contemporary artworks to the Los Angeles County Museum of Art. The collection included "Montauk Highway," a 1958 painting by abstract expressionist Willem de Kooning.
Blankfort was born on December 10, 1907, in New York City, taught at Bowdoin College and Princeton University, worked as a New Jersey prison psychologist before moving to Hollywood in 1937, and served as a National Academy of Motion Picture Arts and Sciences board member. He died in Los Angeles on July 13, 1982.