Screen Writers Guild President, 1952-1953; WGAW President, 1954-1955
Richard L. Breen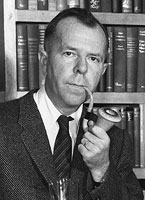 Writer and first WGAw president Richard Breen's films include A Foreign Affair (1948), Miss Tatlock's Millions (1948), Niagara (1953), Seven Cities of Gold (1955), Pete Kelley's Blues (1955), State Fair (1962), and Captain Newman, M.D. (1963). He wrote television scripts for Dragnet, a spin-off of a radio program he created with actor-director Jack Webb, Breen's friend and associate. Breen also collaborated with Billy Wilder and Charles Brackett, with whom he shared a best screenplay Oscar for Titanic (1953). In addition, he wrote and directed Stopover Tokyo (1957).
"If anyone taught me craftsmanship without trying, it was he," Jack Webb said of Breen in a 1967 Los Angeles Times interview. "It's as if he were leaning over my shoulder saying, 'Not that way, Jack. There isn't a scene in the world you can't do in five-and-a-half pages or less.' From him I learned economy and a lot more. He was the single most influential human being in my life."
Breen was born in Chicago, Illinois, in 1918 (or 1919, according to some sources), earned a master's degree in philosophy from Fordham University, and served in the Navy during World War II. He was active in his university's alumni affairs. He received the WGAw Edmund H. North Award in 1967 and died in Burbank on February 1 that same year.