WGAW President, 2001-2004
Victoria Riskin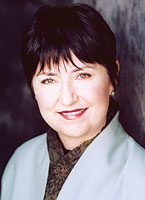 Victoria Riskin is a writer-producer in television and a human rights activist, and the first woman president in WGAw history. In addition to advocating for the rights of television and screenwriters, she was active is opposing media concentration and lobbied in Washington for greater diversity and independent voices in television.
Riskin's television career began in 1989 as executive producer of the award-winning telefilm The Last Best Year, starring Mary Tyler Moore and Bernadette Peters, based on her experiences as a psychologist in private practice. She produced A Town Torn Apart for NBC with Michael Tucker and Jill Eikenberry. With her husband, past WGAw president David W. Rintels, Riskin produced World War II: When Lions Roared, for which they received the Outstanding Producers of the Year Award from the Producers Guild of America. The miniseries won one Emmy and received six Emmy nominations. She was also executive producer of a television adaptation of Carson McCullers' The Member of the Wedding, starring Anna Paquin and Alfre Woodard.
Riskin's screenwriting career began with her adaptation of Willa Cather's classic novel My Antonia, starring Jason Robards and Eva Marie Saint for which she won the World Media Award Silver Medal for Screenwriting. She has written movies and mini-series for CBS, NBC, and the USA network. She has lectured widely on film writing and producing. A past chair and a trustee of the Writers and Producers Pension and Health Fund, she was also a founding chair of Hollywood Health & Society, a joint project of Annenberg School of Communication, the Norman Lear Center, the Centers for Disease Control and the WGA. Riskin is a past trustee of the American Film Institute and the Museum of Radio and Television and has served on the advisory board of the Partnership for Public Service and as a member of the International Women's Forum.