The Writers Workbench
IFA GPC and Other Initials
TWW travels to Portugal to find out what's next in the world of tech.

May 10, 2017
By Robert J. Elisberg
For the past five years, I've attended and written about the IFA Berlin tech trade show, a massive undertaking that's sort of the European version of CES. (No doubt they bristle at that, just as CES would cringe at being called the American IFA Berlin—but CES is the most prominent worldwide tech show, and IFA Berlin began life 93 years ago as a German exhibition and only in recent years has been pushing to grow into a world tech show.) There are differences, of course, the most prominent are that CES is more focused on the current marketplace, and IFA Berlin is a touch more about innovation—and a lot more about home appliances.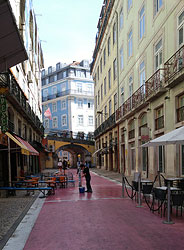 (Make no mistake, this is no small difference. Home appliances may well be the most interesting part of tech today. I never wrote about them, but have become enthralled by what I see of that field at IFA Berlin.)
In addition to its big show in Berlin every fall, IFA also has a Global Press Conference in off-beat locations around the world every spring. This year's was in Lisbon, Portugal, which I attended.
It's a far more contained event than the Berlin "circus." Everything is held in the same hotel where they put up the 400 journalists and half a dozen exhibitors, as opposed to 24 buildings on the Messe-Berlin Fairgrounds, 1,800 companies and 240,000 visitors. The focus in the spring is much more on the press conferences and panels about the future of consumer electronics, rather than new product announcements. Actually, the sensibility seems as much that as promoting IFA Berlin in the fall and trying to make sure reporters understand its importance and hopefully will attend.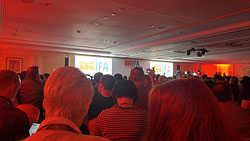 As a result, this month's column will be a bit different than most—because IFA GPC is a bit different than most. It's two days long, ostensibly a collection of press conferences and panels on the status of world consumer tech today and in the future, along with a smattering of product presentations. But I think there's plenty enough all together worth discussing to get a sensibility of what's on the landscape.
And to be clear, though not the centerpiece of the event, there were some interesting products presented there, even if most had been introduced a bit earlier.
And even at that, you still had to generally look between the lines to draw a distinction between "tech analysis" and pure product display. Samsung, for instance, had a press conference that, on the surface, was about the future of television—and offered some valid insights—though really it was about the company's own new developments as a lead-in to promote a couple of previously announced products ready for near-release (one of which was quite intriguing).
But before they got to the products themselves, some analytical perspective was tossed in to set it all up—starting with how 47% of the market share for televisions last year bought Ultra-High Density sets (often referred to as 4K), with that number expected to be 70% by the end of 2017. And with picture quality so high throughout the industry, spokesman Michael Zoller noted that "We've now reached a level where the differences become undetectable to average user."
The question he postulated then is "What is next?" How can TV integrate into a modern lifestyle? ("Lifestyle" is a big deal to hone in on at tech shows, bigger even than to people who don't realize that they have a lifestyle.) And what Samsung was offering was wall-mounted sets—though not just wall-mounted but cable-less units that connect to other devices by Bluetooth. It's a very sleek look. This is their "Invisible cable solution," where all these devices are controlled by one remote.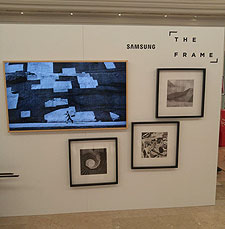 It was one particular new product though that stood out more than just the mere wall-mounted TVs. That was "The Frame," a wall-mounted TV that when switched off basically disappears and turns into a display of art.
Yes, these are televisions. Controlled with a remote, when you switch to TV Mode, it works just like a wall-mounted television. You can either manually turn it off and go into Art Mode (more on that in a moment), or it has an intelligent sensor which will automatically turn the TV off when it detects no one in the room. It is this Art Mode which is the unique feature of "The Frame." Once in Art Mode, the unit can display personal digital artwork or more than 100 pieces included with the set which are designed by artists in partnership with Samsung. You can change the surrounding bezel, as well, for custom framing. The intelligent sensor also has benefits when watching The Frame as TV, recognizing the lighting in the room and thereby adjusting its resolution. It will be available in Europe the end of May, opening up to the rest of world in the weeks following. The 55" model will retail for 2,199 Euro (with no dollar figure announced, but it seems likely in the $2,000-2,300 range.) A 65" model will also be available.
Porsche Design, of all people, showed off its Book One laptop (which it officially had brought out in February). They present it as the first 360-degree convertible computer—where the screen can fold completely back, laying flat—with a removable screen that becomes a standalone tablet. The company has partnered with Microsoft, Intel and Quanto Computer to build the device.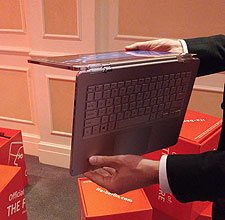 There are many extremely nice things about the Book One, with strong specs, as you'd expect from Porsche Design…along with a few question marks. It's understandably beautifully built, and comes with a 13.3" screen, a fast i7 processor, a substantive 16 GB of RAM, a very roomy 512 GB fast SSD drive, and up to 14 hours runtime.
The uncertainties are that it's not remotely as thin as presented, perhaps ¾" thick, and it's quite hefty, at 3.5 pounds. Also, it will retail in the U.S. at an eye-opening $2,500. Moreover, as wonderfully designed as it is, it didn't leap out as other-league gorgeous compared to some attractive competition. And further, the "first ever" claim isn't accurate—for example, the Acer Aspire Switch 10 does all the same, and starts for as low as only $250, though clearly with far lesser specs. The Porsche Book One is a very nice laptop. I suspect its greatest value is to people who want to say they own a Porsche computer. It will be rolled out around the world over the next four months.
Somewhat similarly, Dr. Andreas Sennheiser headed up a lecture for Sennheiser that ostensibly was about the Future of Audio", though it really dealt with the company's new "3D audio" AMBEO Smart Headset, to create immersive sound. ("Immersive" was used a great deal in his talk.) But that's fine because it was an intriguing product particularly for videocasters.
The point behind the AMBEO system is that the concept of "immersive" sound is less about technology and more a neuroscience effect to create emotions. Most recorded sound, Dr. Sennheiser noted, lacks "spacial height," which is what gives sound in the real world its depth and perspective. If a 360-degree audio environment can be developed, one that is (that word…) "immersive," then the listener will have a better sense of perspective and more full experience.
(Any press conference includes a level of pushing the envelope the make a point. In attempting to explain the importance of full sound, Dr. Sennheiser crossed that threshold a bit when he explained, "Turn off the sound of a scary movie, and it will be a very boring movie." I wanted to raise my hand and reply, "Turn off the sound of any movie, and it will be boring. It has nothing to do with ambient sounds, but actually hearing the dialogue.")
So-called "3D live recording" not only adds sounds and a sense of place to live concert recordings and sports broadcasts (even providing, as he put it, the "squeak of sneakers and click of skates"), but when used in AR—augmented reality—it allows the participant to know where objects are, for instance if something is creeping up behind. This is the goal of 3D recording, and what is being researched, but the technology is not there yet.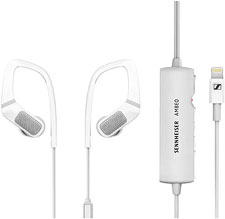 What is here is binaural recording—recording sound the way you hear it through your ears. Over the past 40 years, this has largely been limited to studio recording with expensive gear. But especially with the massive growth of things like videos for social media, the issue raised is how can this technology be made for consumers? That's what Sennheiser's AMBEO Smart Headset sets out to do, capture the ambient world of sound around you the way you hear it as you are recording video.
The headset consists of several parts. The earplugs are an over-the-ear type. I found them a little difficult to put on, but they were quite comfortable. Built-in directly to the outside of the plugs are the binaural recording mics, so no external microphone is needed. And then there is also a somewhat-bulky controlling unit. At the moment, the Smart Headset is only made for Apple devices that have Lightning connectors. When you use the Apple app to record video, it in turn controls the Sennheiser recording device.
I wasn't able to test the headset, not having an iPhone, but checking with others it seems to provide very crisp and rich sound. Whether this is for everyone, even most video streamers, I don't know. But I suspect that especially-avid videographers will find it at least worth checking out. An Android micro-USB device is expected for later in the year. No prices have been announced for either.
Mixed in with these product presentations were a variety of industry analyst talks that dealt in one way or another with the direction of technology and consumer electronics. Most were given by a European-based firm GfK which were interesting but overladen and deeply in love with statistics. But amid these was a terrific talk by London-based Paul Gray, a highly-regarded principal analyst of consumer devices for IHS Markit, who offered expansive perspective behind the numbers—including a discussion of upcoming mobile technology that could have a significant impact on content creators. More on that in a moment.
The core of Mr. Gray's talk dealt with viewing platforms and getting content to them. For instance, he noted that flat panel sets don't tend to "scale well" for retailers when their size reaches beyond 65"—it has nothing to do with the quality of viewing, but rather a function of reality: they become less rigid, require more metal, need more weight for stability and have larger shipping requirements, making them more expensive to transport.
This, however, then moved into a discussion of content, and how streaming services need to be able to offer UHD (that aforementioned 4K technology) which requires far greater band-width. As streaming services mature, it blurs the line between TV and mobile viewing—but ultimately it's all long-form video. What sets one format over another is content, which is why it always leads the advance.
With high quality video—though with limitations—now on mobile devices, the process becomes more personalized ("Your time" is how he put it), which is why it's so important to individuals and ultimately the marketplace. By contract, TV will always be more for shared experiences—important, as well, on a more social level. Yet it's a shift between the two that is exploding. Netflix, for instance, currently has around 100 million subscribers, but the company's head says that next 100 million will be mobile.
And that's when Gray shifted his focus a bit towards the delivery of this content to mobile.
Currently, the standard on mobile devices is 4G (or 4G LTE). But the next generation technology, 5G, is currently in development. It's not just faster, but fast on another level (I'll explain in a moment)—as well as ultra-reliable with a low power drain: 5G is expected to be able to use distant computer and hardware resources that don't need to be built into one's mobile device, which drops power consumption all the more.
Currently, 5G isn't ready for the market and remains in field tests. It's hoped to be ready by 2020, however—although "hoped" is always the operative term in developing tech. There have been more hurdles in developing the technology than expected, but—if 5G does work as planned, its speeds will be (are you ready?) 100 times as fast as LTE, indeed in some cases up to 300 times faster! That suddenly changes the landscape for mobile streaming. And it explains why there have been so many business alliances between content and service providers, like ATT and DirecTV, as well as Verizon and Yahoo!. The pipelines will now be big enough for mobile content, equal to the competition. Streaming movies to your tablet, phone or even Smart TV will now be a completely viable alternative to studio and network product, even far more so than today.
While broadband has brought about the development of new outlets for writers and filmmakers, it's remained a bit of a niche market, given the limitations of the technology. Now though that 5G with the potential of speeds 100 times faster (up to 300 times faster) has become possible as early as 2020, where this mobile platform blends with traditional platforms, that now-opened door may well be removed completely from the hinges and the entryway not only widened but knocked down entirely.
Gray's talk concluded by moving into the area of artificial intelligence (AI)—which is where he says the issue that becomes prominent is less one of technology than it is of trust: who becomes the gatekeeper for all this data? Already, he noted, there have been recent cases where the information gathered by Smart appliances (!) have become part of criminal investigations. He referenced a murder trial where police wanted to access a suspect's water heater of all things, because it could contain data central to the prosecution. As a result, the issue of privacy has become so critical that if not handled properly it could kill off the growth of Smart devices. If product and appliances are seen as intrusive or spying, this would be a significant problem for the industry. On the other hand, if privacy concerns can be resolved for products, the benefits could be substantial.
Carrying forward this question of trust and privacy was a following panel on Artificial Intelligence, moderated by journalist Dan Tynan, which raised the question of how is data shared between devices? It's less a problem if the data can be kept anonymous, but the risk of abuse comes in when it depends on those with access to the information that has been collected.
It will become a growing matter as voice recognition and facial recognition become more prominent in society. But insurance companies right now have AI technology that analyzes voices of those calling in to make claims in order to see if the claimant is lying or exaggerating. This technology has been used for years, but will likely be adapted by other industries.
It's not just that the prominence of Smart technology and AI (which are related) will increase in society because of advances in research, but also for pure, basic social reasons. Small children become adept at using AI at an early age since it gives them the ability to do commands (including things like cooking) because they can talk and tell voice assistants what to do, but don't have the skills to do things themselves manually. This then lays a groundwork for not just familiarity but also builds acceptance in AI in society as they grow up.
Ultimately, the biggest question of AI is not (as science fiction likes to concern us with "will the machines kill us"?) but how jobs will be affected. A Cambridge study shows that within the next 30 years, 47% of jobs will be able to be dealt with in some way by AI (some studies say one-third), which ultimately is of overwhelming greater concern to job loss than moving companies overseas. In fact, after returning from the conference, an article on the CNBC website interviewed leading tech analyst Kai-Fu Lee of China who said AI offers "things that are superhuman" (like recognizing three million faces instantly, or handling loans in eight seconds) and "we think this will be in every industry, will probably replace 50 percent of human jobs." On the other hand, as Paul Gray noted, if the technology is developed properly, new services can be created and open up new areas of the economy. This is something Mr. Lee referenced as well, saying that the advances of AI will "create a huge amount of wealth for mankind and wipe out poverty."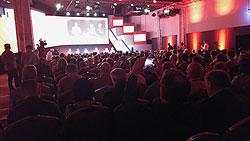 Given the profusion of numbers and statistics that poured down during the two days of the conference at a level that would make an avalanche proud, it was ultimately appropriate that the conference ended with a long—bordering on interminable—panel discussion that flew statistics around like a game of dodge ball.
But some figures there and the previous day actually did stand out which, put together, give a perspective to the world market and the direction technology is going. And so, as a courtesy to save you the long haul of sifting through it all—and to wrap things up—some of the more notable items were:
Mobile connectivity is driving the digital world. 1.48 billion Smart phones will be bought in 2017. That's one of five people on earth.
Mobile payments in China are eight years ahead of U.S.
Saudi Arabians watch an average of 401 minutes of television a day. (If you don't have an abacus handy, that's six hours and 41 minutes.) In the United States, the number is 240 minutes. The country with the lowest daily average is Iceland, at 140 minutes—though there was no correlation between happiness and the amount of TV watched. I suppose it depends if you really liked what you were watching.
The growth of "wearables"—sports, directions, tracking, or communication—is 37%, with the Chinese market increasing 63%. There are 54.1 million wearables in in the U.S. The Asia Pacific market is 76 million.
Jakarta is ranked the worst city in the world for traffic conditions. The average traffic speed there is a turtle-like 5.1 miles per hour. (Because it's so slow the get around, the Go-Jek app—which lets one book almost anything delivered to your home, such as getting medicine, food or booking house cleaners has 667,000 bookings a day.)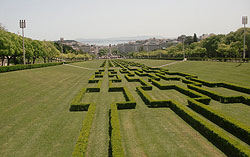 China has 400 million people with bikes. One company created an app for bike rentals. In only nine months it got 18.8 million registered users. There are now over 20 bike-sharing companies.
Gaming is a massive market. Over 43 million people watched the League of Legends World Championship final online in 2016. By comparison, Game 7 of NBA final was watched by 31 million around the world.
Two last observations—
German moderators really seem to like "shushing" crowds.
It works for about 15 seconds.
Adeus a todos.
To read more from Robert J. Elisberg about other matters from politics, entertainment, technology, humor, sports, and a few things in between, see Elisberg Industries. He can also be followed at a distance on Twitter or Facebook.
Note: The Writers Guild of America West neither implicitly nor explicitly endorses opinions or attitudes expressed in this article.
Copyright 2017, Robert J. Elisberg. All rights reserved.