The Guild Screenings
June 2018
Greetings from the Guild Screenings! Remember: Parking is now FREE at our Theater on garage levels 4 and up. Enter/Exit at alley gate only.

Well, summer is officially here! It's June, and that means we bring out the big guns – INCREDIBLES 2, JURASSIC WORLD: FALLEN KINGDOM, OCEAN'S 8, and SICARIO: DAY OF THE SOLDADO. We also have some wonderful indies, such as the gently humanistic A KID LIKE JAKE, the affecting LEAVE NO TRACE, and the movie-loving GODARD MON AMOUR. We also have a ton of fabulous documentaries, particularly the remarkable, unpredictable THREE IDENTICAL STRANGERS, the empowering RBG, and the wonderful Fred Rogers story, WON'T YOU BE MY NEIGHBOR.
We also have a special Q&A event this month. On Sunday, June 3, horrormeister Leigh Whannell (SAW, INSIDIOUS) will speak after UPGRADE, which he wrote and directed. Join us!
As always, members may bring TWO GUESTS to all regular screenings, except where noted. Seating is first come, first serve. We ask that members frequent the food and drink offerings from Homeboy Industries before the film. On weekends, we serve popcorn, beverages, salads, sandwiches, and fresh pastries. Only popcorn and water are allowed inside the theater, and patrons may not bring in outside food. We'll see you at the movies!
CLICK ON MOVIE TITLES TO VIEW TRAILERS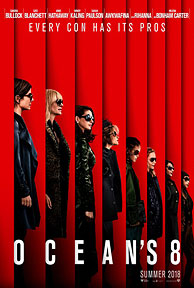 Sunday, June 24
11:00 & 5:00
Eight female thieves attempt to pull off the heist of the century. Their goal is New York City's annual Met Gala and a necklace worth in excess of 150 million dollars.
Screenplay by Gary Ross & Olivia Milch
Story by Gary Ross
Based Upon Characters Created by George Clayton Johnson & Jack Golden Russell
Produced by Steven Soderbergh, Susan Ekins
Directed by Gary Ross
Cast: Sandra Bullock, Cate Blanchett, Anne Hathaway, Mindy Kaling, Sarah Paulson, Awkwafina, Rihanna, Helena Bonham Carter
Rated PG-13, 100 minutes. Print Courtesy of Warner Bros. Pictures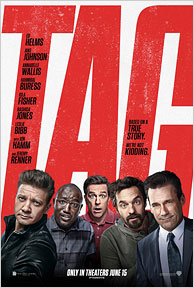 Sunday, June 24
2:00 & 8:00
A small group of former classmates organizes an elaborate, childish, competitive annual game of Tag that they've been playing since the first grade.
Screenplay by Rob McKittrick and Mark Steilen
Screen Story by Mark Steilen
Based on the Wall Street Journal Article entitled It Takes Planning, Caution to Avoid Being It by Russell Adams
Produced by Todd Garner, Mark Steilen, Sean Robins
Directed by Jeff Tomsic
Cast: Ed Helms, Jake Johnson, Hannibal Buress, Jon Hamm, Jeremy Renner, Annabelle Wallis, Rashida Jones, Isla Fisher, Leslie Bibb
Rated R, 94 minutes. Print Courtesy of Warner Bros. Pictures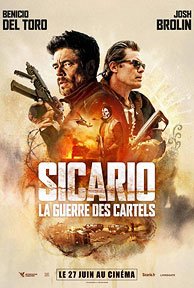 Saturday, June 30
11:00 & 8:00
When Mexican drug cartels start to smuggle terrorists across the U.S. border, FBI agent Matt Graver (Josh Brolin) calls on mysterious operative Alejandro Gillick (Benicio Del Toro) to escalate the war in nefarious ways.
Written by Taylor Sheridan
Based on Characters Created by Taylor Sheridan
Produced by Basil Iwanyk, Edward L. McDonnell, Molly Smith, Thad Luckinbill, Trent Luckinbill
Directed by Stefano Sollima
Cast: Benicio Del Toro, Josh Brolin, Isabela Moner, Jeffrey Donovan, Manuel Garcia-Rulfo, Catherine Keener
Rated R, 122 minutes. Print Courtesy of Columbia Pictures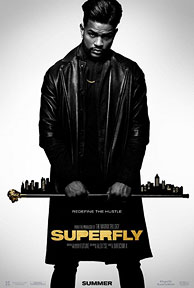 Saturday, June 30
2:00
SuperFly – the film that helped define a genre in its characters, look and sound, is reimagined and introduced to a new generation.
Screenplay by Alex Tse
Based on the 1972 film Superfly, Written by Phillip Fenty
Produced by Joel Silver, Future
Directed by Director X
Cast: Trevor Jackson, Jason Mitchell, Michael Kenneth Williams, Lex Scott Davis, Jennifer Morrison
Rated R, 108 minutes. Print Courtesy of Columbia Pictures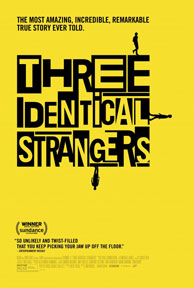 Saturday, June 30
5:00
The astonishing true story of three men who make the chance discovery, at the age of 19, that they are identical triplets, separated at birth and adopted to different parents. A remarkable, touching documentary.
Produced by Grace Hughes-Hallett, Becky Read
Directed by Tim Wardle
Starring: Eddy Galland, David Kellman, Robert Shafran, Silvi Alzetta-Reali, Ron Guttman, Adrian Lichter, Andrew Lovesey
This feature is a Documentary.
Rated PG-13, 96 minutes. Print Courtesy of NEON
As a courtesy to your fellow members, please turn off all cell phones, pagers, etc., and refrain from talking during the screenings.
Screenings are held at: Writers Guild Theater, 135 S. Doheny Drive, Beverly Hills 90211
Seating is on a first-come first served basis.
WGAW Membership cards are required to attend The Guild Screenings and must be presented by the WGAW member. Your WGAW membership card allows you to bring TWO guests. If you are not a member of the WGAW, you will not be allowed admittance. For recorded Guild Screenings information, please email Guild Screenings or call (323) 782-4591. Please read our Rules and Regulations before attending the screenings.
Guild Screenings Office: (323) 782-4508 or email Guild Screenings.
PLEASE REMEMBER: OUTSIDE FOOD & DRINKS ARE PROHIBITED IN THE WGA THEATER