The Guild Screenings
February 2018
Greetings from the Guild Screenings! Remember: Parking is now FREE at our Theater on garage levels 4 and up. Enter/Exit at alley gate only.

As awards season enters its final lap, the Guild Screenings brings you a month of new studio and indie releases, some exciting Q&As and a very special anniversary event. As the Writers Guild honors James L. Brooks with its prestigious Laurel Award for Screenwriting Achievement, we are thrilled to host a 30th anniversary screening of his classic BROADCAST NEWS! This wonderful, hilarious movie has become a touchstone for a generation of screen and television writers, and we'll be screening it on Sunday, February 18 at 5p.m., followed by a Q&A with writer/director Brooks, moderated by Cameron Crowe! Come join us for this very special evening.
But first! On Friday, February 2, we invite co-writers Michael Colton & John Aboud to discuss their riotous new National Lampoon biopic, A FUTILE AND STUPID GESTURE. And on Saturday, February 3, we'll be treated to the offbeat biopic gem THE POLKA KING, followed by a Q&A with co-writers Maya Forbes & Wally Wolodarsky.
Finally, the Committee of Black Writers will help us celebrate Black History Month by co-sponsoring a pair of screenings: On February 23 we'll screen the socially-conscious caper film SET IT OFF, followed by a Q&A with co-writers Takashi Bufford and Kate Lanier. And on February 24, we'll welcome co-writer Joe Robert Cole, following a screening of the Marvel extravaganza BLACK PANTHER.
As always, members may bring TWO GUESTS to all regular screenings. Seating is first come, first serve. We ask that members frequent the food and drink offerings from Homeboy Industries before the film. On weekends, we serve popcorn, beverages, salads, sandwiches, and fresh pastries. Only popcorn and water are allowed inside the theater, and patrons may not bring in outside food. We'll see you at the movies!
CLICK ON MOVIE TITLES TO VIEW TRAILERS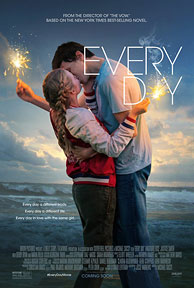 Sunday, February 25
11:00
A sixteen-year-old girl falls in love with A, a mysterious spirit who inhabits a different body every day. Feeling an unmatched connection, the girl and A try to find each other on a daily basis, always unsure of what or who the next day will bring. Based on the romantic YA fantasy bestseller.
Screenplay by Jesse Andrews
Based on the Novel by David Levithan
Produced by Christian Grass, Paul Trijbits, Anthony Bregman, Peter Cron
Directed by Michael Sucsy
Cast: Angourie Rice, Justice Smith, Debby Ryan, Maria Bello
FAMILY MATINEE: Members may bring up to 3 guests to this screening.
Rated PG-13, 95 minutes, Print Courtesy of Orion Pictures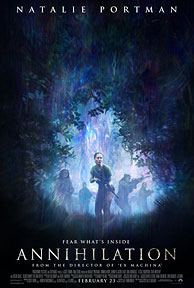 Sunday, February 25
2:00 & 8:00
A biologist (Natalie Portman) signs up for a dangerous, secret expedition into an environmental disaster zone, where the laws of nature don't apply. Writer/director Alex Garland's follow-up to EX MACHINA.
Written for the Screen and Directed by Alex Garland
Based on the Novel by Jeff Vandermeer
Produced by Scott Rudin, Andrew MacDonald, Allon Reich, Eli Bush
Cast: Natalie Portman, Jennifer Jason Leigh, Gina Rodriguez, Tessa Thompson, Tuva Novotny, Oscar Isaac
Not Rated, 114 minutes, Print Courtesy of Paramount Pictures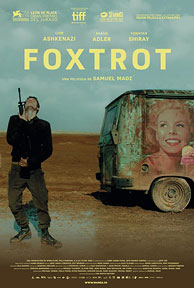 Sunday, February 25
5:00
In this powerful Israeli drama, a troubled family has to face the truth when something goes terribly wrong at their son's desolate military post. Winner of the Grand Jury Prize at the Venice Film Festival, and winner of eight Ophir Awards, including Best Picture.
Written and Directed by Samuel Maoz
Produced by Michael Weber, Viola Fügen, Eitan Mansuri, Cedomir Kolar, Marc Baschet, Michel Merkt
Cast: Lior Ashkenazi, Sarah Adler, Yonatan Shiray
This film is in Hebrew with English subtitles.
Rated R, 108 minutes, Print Courtesy of Sony Pictures Classics
As a courtesy to your fellow members, please turn off all cell phones, pagers, etc., and refrain from talking during the screenings.
Screenings are held at: Writers Guild Theater, 135 S. Doheny Drive, Beverly Hills 90211
Seating is on a first-come first served basis.
WGAW Membership cards are required to attend The Guild Screenings and must be presented by the WGAW member. Your WGAW membership card allows you to bring TWO guests. If you are not a member of the WGAW, you will not be allowed admittance. For recorded Guild Screenings information, please email Guild Screenings or call (323) 782-4591. Please read our Rules and Regulations before attending the screenings.
Guild Screenings Office: (323) 782-4508 or email Guild Screenings.
PLEASE REMEMBER: OUTSIDE FOOD & DRINKS ARE PROHIBITED IN THE WGA THEATER