Enforcement
Get Paid on Time: The Guild Tackles Late Pay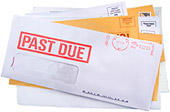 The MBA requires that studios pay writers within seven days, whether that's commencement of writing, delivery of a writing step, or your weekly services. After seven days, late payments accrue interest at the rate of 18% per year. If you are paid late, you are owed interest under the MBA, which the Guild will pursue on your behalf.
The Guild is taking aggressive steps to address the issue of late pay. We are working with franchised agencies to systematically monitor payments to writers and ensure those payments are timely. Writers can also use the Start Button to keep track of payments owed on a deal. And writers can always report late payment on a project by contacting the Legal Department. Through these combined efforts it is our goal to eliminate the unacceptable practice of late pay.
HOW AGENTS ARE HELPING THE GUILD ADDRESS LATE PAY
Franchised agencies have agreed to provide the Guild with deal memos, contracts, invoices, and itemized statements of compensation for their clients. Using this information, the Agency Department is following up with individual writers to ensure they have been paid on time. Where a payment is late, the Legal Department pursues interest for the writer. Our goal with franchised agencies is to automate the information sharing process, which will facilitate our identification of late payments and pursuit of interest for writers.
Writers have seen tangible results from the agency–Guild information sharing. The Legal Department has collected tens of thousands of dollars in interest for writers in the past few months, including several interest payments in excess of $10,000 for individual writers. Read some of their stories.
HOW WRITERS CAN HELP PREVENT LATE PAY
WGAW START BUTTON
Use the WGAW Start Button. This tool enables you to track your work and get Guild assistance if you haven't been paid.
LATE PAY DESK
Visit the Late Pay Desk to report a late payment to the Guild's Legal Department. The Legal Department will follow up with you shortly after you submit the form. You can also call the Legal Department at (323) 782-4521.
START PAPERWORK
Turn your start paperwork in as soon as possible. If it's not provided when you start, ask for it and make sure you know where it's supposed to be turned in. This way studios won't be able to use start paperwork delays as an excuse for not paying you on time. Likewise, turn in your signed contract as soon as you can.