The Guild Screenings
August 2019
Welcome to the Guild Screenings! Please feel free to visit your theater early, to schmooze and banter with your fellow scribes.

It's a fun mix of studio titles (FAST & FURIOUS PRESENTS: HOBBS & SHAW), must-see indies (THE PEANUT BUTTER FALCON, THEM THAT FOLLOW and BLINDED BY THE LIGHT), great docs (AQUARELA, ONE CHILD NATION and FIDDLER: MIRACLE OF MIRACLES) and family films (DORA AND THE LOST CITY OF GOLD) for August. Plenty of reasons to escape the heat at your Guild Theater.
But here are a few more — we've got an exciting line-up of special Q&A events, starting with writer/director Andrea Berloff joining us to discuss her new film, THE KITCHEN, on Friday, August 2nd. On August 9th, co-writer JC Lee & co-writer/director Julius Onah will take the stage following their riveting new drama, LUCE. Then, on Sunday, August 11th, we welcome writer/director Paul Downs Colaizzo to talk about his delightful new film, BRITTANY RUNS A MARATHON. On August 25th, don't miss co-writers Sara Bernstein & Gregory Bernstein and co-writer/director Gavin Hood when they discuss their new real-life espionage thriller OFFICIAL SECRETS.
As always, members may bring TWO GUESTS to all regular screenings, except where noted. Seating is first come, first serve. We ask that members frequent the food and drink offerings from Homeboy Industries before the film. On weekends, we serve popcorn, beverages, salads, sandwiches, and fresh pastries. Only popcorn and water are allowed inside the theater, and patrons may not bring in outside food. Free parking is available on garage levels 4 and up only. We'll see you at the movies!
CLICK ON MOVIE TITLES TO VIEW TRAILERS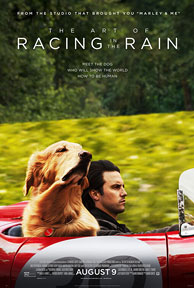 Sunday, August 18
11:00
The story of Denny Swift, a Formula One race car driver who understands that the techniques needed on the racetrack can also be used to successfully navigate everyday life, as told by his best friend, a dog who wants to be reincarnated into a human.
Screenplay by Mark Bomback
Based on the Novel by Garth Stein
Produced by Neal H. Moritz, Patrick Dempsey, Tania Landau
Directed by Simon Curtis
Cast: Milo Ventimiglia, Amanda Seyfried, Gary Cole, Kathy Baker, Ryan Kiera Armstrong, Martin Donovan
Voice: Kevin Costner
Rated PG, 104 minutes, Print Courtesy of Twentieth Century Fox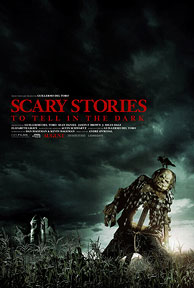 Sunday, August 18
2:00
The shadow of the Bellows family has loomed large in the small town of Mill Valley for generations. It's in a mansion that young Sarah Bellows turns her tortured life and horrible secrets into a series of scary stories. These terrifying tales soon have a way of becoming all too real for a group of unsuspecting teens who stumble upon Sarah's spooky home. Based on the children's book series of the same name by Alvin Schwartz.
Screenplay by Dan Hageman & Kevin Hageman
Screen Story by Guillermo Del Toro and Patrick Melton & Marcus Dunstan
Based on the Series by Alvin Schwartz
Produced by Guillermo Del Toro, Sean Daniel, Jason Brown, J. Miles Dale, Elizabeth Grave
Directed by André Øvredal
Cast: Zoe Margaret Colletti, Michael Garza, Gabriel Rush, Dean Norris, Gil Bellows, Lorraine Toussaint, Austin Zajur, Natalie Ganzhorn, Austin Abrams, Kathleen Pollard
Rated PG-13, 111 minutes, Print Courtesy of CBS Films and Lionsgate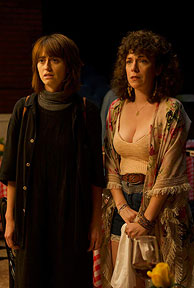 Sunday, August 18
5:00
In 1993 New York City, dysfunctional co-dependent sisters discover that the mother they thought had died when they were young is alive and starring on a popular daytime soap opera.
Written by Hannah Pearl Utt and Jen Tullock
Produced by Mallory Schwartz, Josh Hetzler, James Brown
Directed by Hannah Pearl Utt
Cast: Judith Light, Mandy Patinkin, Hannah Pearl Utt, Jen Tullock, Mike Colter, Alec Baldwin
Not Yet Rated, 98 minutes, Print Courtesy of 1091 Media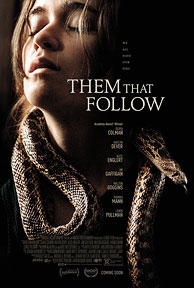 Sunday, August 18
8:00
Set deep in the wilds of Appalachia, where believers handle death-dealing snakes to prove themselves before God, Them That Follow tells the story of a pastor's daughter who holds a secret that threatens to tear her community apart.
Written and Directed by Britt Poulton & Dan Madison Savage
Produced by Bradley Gallo, Michael A. Helfant, Gerard Butler, Alan Siegel, Danielle Robinson
Cast: Olivia Colman, Kaitlyn Dever, Alice Englert, Jim Gaffigan, Walton Goggins, Thomas Mann, Lewis Pullman
Rated R, 98 minutes, Print Courtesy of 1091 Media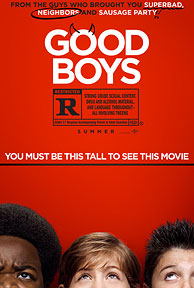 Friday, August 23
8:00
While carrying accidentally stolen drugs and being hunted by teenage girls, three sixth grade boys ditch school and embark on an epic journey to make their way home in time for a long-awaited party.
Written by Lee Eisenberg & Gene Stupnitsky
Produced by Lee Eisenberg, Evan Goldberg, Seth Rogen, James Weaver
Directed by Gene Stupnitsky
Cast: Jacob Tremblay, Keith L. Williams, Brady Noon, Molly Gordon, Lil Rel Howery, Will Forte
Rated R, 89 minutes, Print Courtesy of Universal Pictures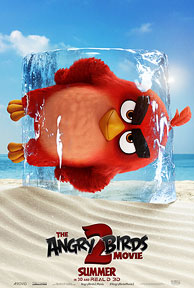 Sunday, August 25
11:00
The flightless birds and scheming green pigs take their beef to the next level.
Screenplay by Peter Ackerman and Eyel Podell & Jonathan E. Stewart
Based on Rovio Entertainment's Angry Birds video game series
Produced by John Cohen
Directed by Thurop Van Orman
Voice Cast: Jason Sudeikis, Josh Gad, Leslie Jones, Bill Hader, Rachel Bloom, Awkwafina, Sterling K. Brown, Eugenio Derbez, Danny McBride, Peter Dinklage
FAMILY MATINEE: Members may bring up to 3 guests (ages 3 and up) to this screening.
Rated PG, 96 minutes, Print Courtesy of Columbia Pictures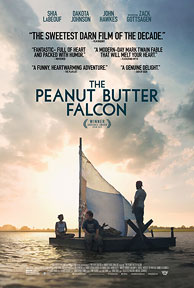 Sunday, August 25
2:00
After running away from a residential nursing home to pursue his dream of becoming a pro wrestler, a man who has Down syndrome befriends an outlaw (Shia Lebouf) who becomes his coach and ally.
Written and Directed by Tyler Nilson & Michael Schwartz
Produced by Ron Yerxa, Albert Berger, Christopher Lemole, Tim Zajaros, Lije Sarki, David Thies
Cast: Shia LaBeouf, Dakota Johnson, John Hawkes, Bruce Dern, Zack Gottsagen, Jon Bernthal, Thomas Haden Church
Rated PG-13, 93 minutes, Print Courtesy of Roadside Attractions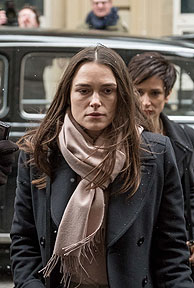 Sunday, August 25
5:00
The true story of a British whistleblower who leaked information to the press about an illegal NSA spy operation designed to push the UN Security Council into sanctioning the 2003 invasion of Iraq.
Q&A with Sara Bernstein & Gregory Bernstein and Gavin Hood immediately following this screening.
Written by Sara Bernstein & Gregory Berstein and Gavin Hood
Based on the Book "The Spy Who Tried to Stop a War" by Marcia and Thomas Mitchell
Produced by Ged Doherty, Sarada McDermott
Directed by Gavin Hood
Cast: Keira Knightley, Matt Smith, Adam Bakri, Matthew Goode, John Heffernan, Ralph Fiennes, Indira Varma, Rhys Ifans, Conleth Hill, Tamsin Greig, Kenneth Cranham, Myanna Buring, Katherine Kelly, Shaun Dooley, Jeremy Northam
Rated R, 112 minutes, Print Courtesy of IFC Films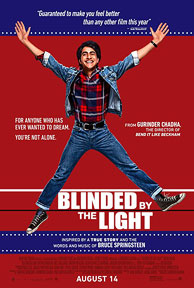 Sunday, August 25
8:00
In 1987, during the austere days of Thatcher's Britain, a teenager learns to live life, understand his family and find his own voice through the music of Bruce Springsteen.
Screenplay by Sarfraz Manzoor, Gurinder Chadha, Paul Mayeda Berges
Based on the Book "Greetings from Bury Park: Race, Religion and Rock N' Roll" by Sarfraz Manzoor
Produced by Jane Barclay, Jamal Daniel
Produced and Directed by Gurinder Chadha
Cast: Viveik Kalra, Kulvinder Ghir, Meera Ganatra, Nell Williams, Aaron Phagura, Hayley Atwell, Dean-Charles Chapman
Rated PG-13, 117 minutes, Print Courtesy of New Line Cinema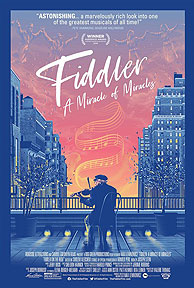 Saturday, August 31
11:00
The origin story behind one of Broadway's most beloved musicals, Fiddler on The Roof, and its creative roots in early 1960s New York, when "tradition" was on the wane as gender roles, sexuality, race relations and religion were evolving.
Produced and Written by Valerie Thomas
Produded, Written and Directed by Max Lewkowicz
Featuring: Lin-Manuel Miranda, Austin Pendleton, Fran Lebowitz, Itzhak Perlman, Harold Prince, Michael Bernardi, Sheldon Harnick, Calvin Trillin
This feature is a Documentary
Rated PG-13, 92 minutes, Print Courtesy of Roadside Attractions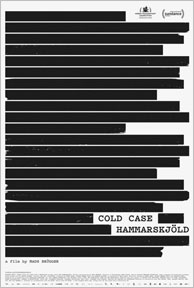 Saturday, August 31
2:00
In 1961, Secretary General of the UN, Dag Hammarskjöld, died in a plane crash in Northern Rhodesia while en route to ceasefire negotiations between noncombatant UN forces and troops from the breakaway state of Katanga. What started as conspiracy theories have evolved into a growing consensus that Hammarskjöld and 15 other people were shot down, inciting the UN to reopen the case on the suspicion of assassination.
Written and Directed by Mads Brügger
Produced by Peter Engel, Bjarte Mørner Tveit, Andreas Rocksén
Featuring: Mads Brügger, Göran Björkdahl, Dag Hammarskjöld
This Documentary film is in English and French with subtitles.
Not Rated, 128 minutes, Print Courtesy of Magnolia Pictures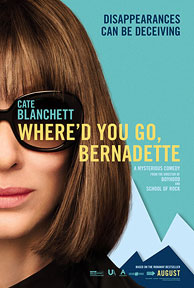 Saturday, August 31
5:00
A loving mom (Cate Blanchett) becomes compelled to reconnect with her creative passions after years of sacrificing herself for her family. Her leap of faith takes her on an epic adventure that jump-starts her life and leads to her triumphant rediscovery.
Screenplay by Richard Linklater & Holly Gent & Vince Palmo
Based on the Novel Written by Maria Semple
Produced by Nina Jacobson, Brad Simpson, Ginger Sledge
Directed by Richard Linklater
Cast: Cate Blanchett, Billy Crudup, Kristen Wiig, Emma Nelson, James Urbaniak, Judy Greer, Troian Bellisario, Zoe Chao, Laurence Fishburne
Rated PG-13, 104 minutes, Print Courtesy of Annapurna Films and UA Releasing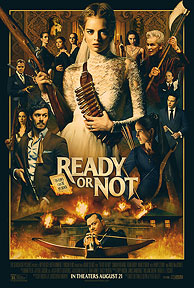 Saturday, August 31
8:00
Grace couldn't be happier after she marries the man of her dreams at his family's luxurious estate. There's just one catch -- she must now hide from midnight until dawn while her new in-laws hunt her with guns, crossbows and other weapons in this ghoulish comedy/thriller.
Written by Guy Busick & R. Christopher Murphy
Produced by Tripp Vinson, James Vanderbilt, William Sherak, Bradley J. Fischer
Directed by Matt Bettinelli-Olpin & Tyler Gillett
Cast: Samara Weaving, Adam Brody, Mark O'Brien, Henry Czerny, Andie MacDowell
Rated R, 95 minutes, Print Courtesy of Fox Searchlight
As a courtesy to your fellow members, please turn off all cell phones, pagers, etc., and refrain from talking during the screenings.
Screenings are held at: Writers Guild Theater, 135 S. Doheny Drive, Beverly Hills 90211
Seating is on a first-come first served basis.
WGAW Membership cards are required to attend The Guild Screenings and must be presented by the WGAW member. Your WGAW membership card allows you to bring TWO guests. If you are not a member of the WGAW, you will not be allowed admittance. For recorded Guild Screenings information, please email Guild Screenings or call (323) 782-4591. Please read our Rules and Regulations before attending the screenings.
Guild Screenings Office: (323) 782-4508 or email Guild Screenings.
PLEASE REMEMBER: OUTSIDE FOOD & DRINKS ARE PROHIBITED IN THE WGA THEATER