The Guild Screenings
December 2019
Welcome to the Guild Screenings! Please feel free to visit your theater early, to schmooze and banter with your fellow scribes.

Happy Holidays from your Guild Screenings! We say goodbye to 2019 with a wide array of cinematic gifts — from big studio movies (CATS, JUMANJI: THE NEXT LEVEL, STAR WARS: THE RISE OF SKYWALKER), to fascinating documentaries (RECORDER: THE MARION STOKES STORY, SCANDALOUS: THE UNTOLD STORY OF THE NATIONAL ENQUIRER) to must-see indies (KNIVES AND SKIN, PORTRAIT OF A LADY ON FIRE, and A HIDDEN LIFE.)
We also have some wonderful Q&A events to be merry about. On Saturday, December 14th, we welcome co-writer/director Sam Mendes and co-writer Krysty Wilson-Cairns to the Guild Theater following a screening of 1917. On the following Friday, December 20th, we'll be screening the much-anticipated UNCUT GEMS, followed by a discussion with co-writer Ronald Bronstein and co-writer/directors Josh Safdie and Benny Safdie.
Before we go, we'd like to give you a heads up on what's coming to the WGA Theater in 2020….PARKING VALIDATION! To make exiting the parking structure easier, we will be adding a parking validation kiosk in our lobby. You'll be able to scan your parking ticket in the theater, then drive out through either gate in the parking structure. That change happens in January!
As always, members may bring TWO GUESTS to all regular screenings, except where noted. Seating is first come, first serve. We ask that members frequent the food and drink offerings from Homeboy Industries before the film. On weekends, we serve popcorn, beverages, salads, sandwiches, and fresh pastries. Only popcorn and water are allowed inside the theater, and patrons may not bring in outside food. Free parking is available on garage levels 4 and up only. We'll see you at the movies!
CLICK ON MOVIE TITLES TO VIEW TRAILERS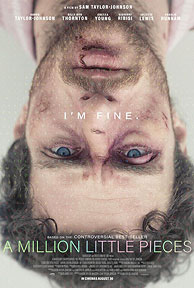 Saturday, December 14
10:30am
A young aspiring writer at the bottom of his addictions is interned in a facility center to face his traumatic past. Based on the acclaimed and controversial semi-autobiographical novel by James Frey.
Screenplay by Aaron Taylor-Johnson & Sam Taylor-Johnson
Based on the Book by James Frey
Produced by Aaron Taylor-Johnson, Sam Taylor-Johnson, Brad Weston, Pamela Abdy, Andrew Rona, Alex Heinman
Directed by Sam Taylor-Johnson
Cast: Aaron Taylor-Johnson, Billy Bob Thornton, Odessa Young, Juliette Lewis
Rated R, 113 minutes, Print Courtesy of Entertainment One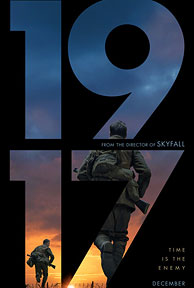 Saturday, December 14
1:30pm & 7:30pm
Two young British privates during the First World War are given an impossible mission: deliver a message deep in enemy territory that will stop 1,600 men — and one of the soldier's brothers — from walking straight into a deadly trap.
Q&A with co-writer/director Sam Mendes & co-writer Krysty Wilson-Cairns immediately following the 7:30pm screening.
Written by Sam Mendes & Krysty Wilson-Cairns
Produced by Sam Mendes, Pippa Harris, Jayne-Ann Tenggren, Callum McDougall, Brian Oliver
Directed by Sam Mendes
Cast: George MacKay, Dean-Charles Chapman, Mark Strong, Andrew Scott, Richard Madden, Claire Duburcq, Colin Firth, Benedict Cumberbatch
Rated R, 110 minutes, Print Courtesy of Universal Pictures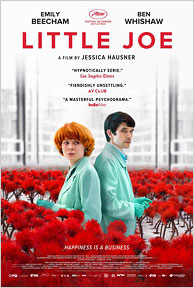 Saturday, December 14
4:30pm
Alice, a single mother, is a dedicated plant breeder at a bio-corporation. She has engineered a very special flower - a plant that makes its owner happy. Against company policy, she takes one home as a gift for her teenage son, Joe. But as it grows, so does Alice's suspicion that her new creation may not be harmless...
Written by Jessica Hausner, Géraldine Bajard
Produced by Bruno Wagner, Bertrand Faivre, Philippe Bober, Martin Gschlacht, Jessica Hausner, Gerardine O' Flynn
Directed by Jessica Hausner
Cast: Emily Beecham, Ben Whishaw, Kerry Fox, Kit Conor, David Wilmot, Phénix Brossard, Sebastian Hülk, Lindsay Duncan
Not Rated, 105 minutes, Print Courtesy of Magnolia Pictures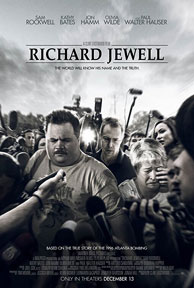 Sunday, December 15
10:00am & 5:00pm
Based on the true story, American security guard Richard Jewell (Paul Walter Hauser) saves thousands of lives from an exploding bomb at the 1996 Olympics, but is vilified by journalists and the press who falsely report that he was a terrorist.
Written by Billy Ray
Based upon the Article "American Nightmare: The Ballad of Richard Jewell" by Marie Brenner and Based upon the Book "The Suspect" by Kent Alexander and Kevin Salwen
Produced by Tim Moore, Jessica Meier, Kevin Misher, Leonardo DiCaprio, Jennifer Davisson, Jonah Hill
Directed and Produced by Clint Eastwood
Cast: Sam Rockwell, Kathy Bates, Jon Hamm, Olivia Wilde, Paul Walter Hauser
Rated R, 129 minutes, Print Courtesy of Warner Bros. Pictures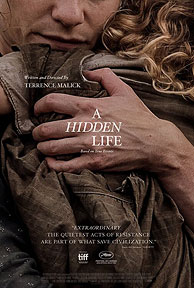 Sunday, December 15
1:00pm
The Austrian Blessed Franz Jägerstätter, a conscientious objector, refuses to fight for the Nazis in World War II. The latest from acclaimed writer/director Terrence Malick.
Written and Directed by Terrence Malick
Produced by Grant Hill, Dario Bergesio, Josh Jeter, Elizabeth Bentley
Cast: August Diehl, Valerie Pachner, Maria Simon, Tobias Moretti, Bruno Ganz, Matthias Schoenaerts, Karin Neuhäuser, Ulrich Matthes
Rated PG-13, 173 minutes, Print Courtesy of Fox Searchlight Pictures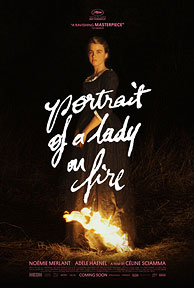 Sunday, December 15
8:00pm
On an isolated island in Brittany in the 18th century, a female painter is obliged to paint a wedding portrait of a young woman who's just left a convent. As the two women orbit one another, intimacy and attraction grow, and the portrait soon becomes a collaborative act of their love. Winner, Best Screenplay at Cannes.
Written and Directed by Céline Sciamma
Produced by Bénédicte Couvreur
Cast: Noémie Merlant, Adèle Haenel, Luàna Bajrami, Valeria Golino
Rated R, 121 minutes, Print Courtesy of Neon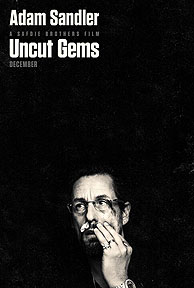 Friday, December 20
7:30pm
A charismatic New York City jeweler (Adam Sandler in a career high performance), always on the lookout for the next big score, makes a series of high-stakes bets that could lead to the windfall of a lifetime. Howard must perform a precarious high-wire act, balancing business, family, and encroaching adversaries on all sides, in his relentless pursuit of the ultimate win.
Q&A with co-writer Ronald Bronstein & co-writer/directors Josh Safdie & Benny Safdie immediately following this screening.
Written by Ronald Bronstein & Josh Safdie & Benny Safdie
Produced by Scott Rudin, Eli Bush, Sebastian Bear-McClard
Directed by Josh Safdie & Benny Safdie
Cast: Adam Sandler, Lakeith Stanfield, Julia Fox, Kevin Garnett, Idina Menzel, Eric Bogosian, Judd Hirsch
Rated R, 135 minutes, Print Courtesy of A24 Films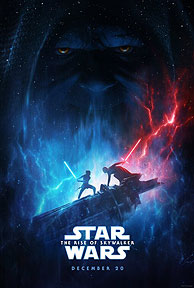 Sunday, December 22
10:30am(3D) & 5:00pm(2D)
The surviving Resistance faces the First Order once more, in the final chapter of the Skywalker saga.
Screenplay by Chris Terrio & J.J. Abrams
Story by Derek Connolly & Colin Trevorrow and J.J. Abrams & Chris Terrio
Based on Characters Created by George Lucas
Produced by Kathleen Kennedy, J.J. Abrams, Michelle Rejwan
Directed by J.J. Abrams
Cast: Carrie Fisher, Mark Hamill, Adam Driver, Daisy Ridley, John Boyega, Oscar Isaac, Anthony Daniels, Naomi Ackie, Domhnall Gleeson, Richard E. Grant, Lupita Nyong'o, Keri Russell, Joonas Suotamo, Kelly Marie Tran, Billy Dee Williams
Not Yet Rated, 155 minutes, Print Courtesy of Disney and LucasFilm Ltd.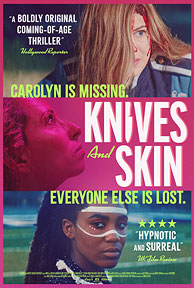 Sunday, December 22
2:00pm
Part suburban nightmare, part neon-soaked teenage fever dream, this tantalizing mystery traces the wave of fear and distrust that spreads across a small Midwestern town, in the wake of a high school girl's disappearance. Unfolding in a hallucinatory haze of lushly surreal images, this is a one-of-a-kind coming-of-age noir.
Written and Directed by Jennifer Reeder
Produced by Brian Hieggelke, Jan Hieggelke
Cast: Kate Arrington, Tony Fitzpatrick, Tim Hopper, Raven Whitley, Ty Olwin, Marika Engelhardt, Grace Smith, Ireon Roach, Kayla Carter
Not Rated, 111 minutes, Print Courtesy of IFC Films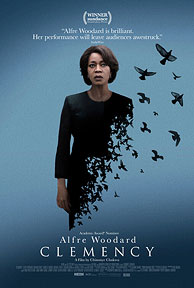 Sunday, December 22
8:30 pm
Years of carrying out death row executions have taken a toll on prison warden Bernadine Williams. As she prepares to execute another inmate, Bernadine must confront the psychological and emotional demons her job creates, ultimately connecting her to the man she is sanctioned to kill.
Written and Directed by Chinonye Chukwu
Produced by Bronwyn Cornelius, Julian Cautherley
Cast: Alfre Woodard, Richard Schiff, Danielle Brooks, Michael O'Neill, Richard Gunn, Wendell Pierce, Aldis Hodge
Rated R, 113 minutes, Print Courtesy of Neon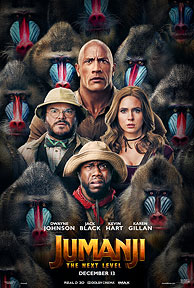 Saturday, December 28
11:00am & 5:00pm
The gang is back, but the game has changed. As they return to rescue one of their own, the players will have to brave parts unknown, from arid deserts to snowy mountains, to escape the world's most dangerous game.
Written by Jake Kasdan & Jeff Pinkner & Scott Rosenberg
Based on the Book "Jumanji" by Chris Van Allsburg
Produced by Matt Tolmach, Jake Kasdan, Dwayne Johnson, Dany Garcia, Hiram Garcia
Directed by Jake Kasdan
Cast: Dwayne Johnson, Jack Black, Kevin Hart, Karen Gillan, Nick Jonas, Awkwafina, Alex Wolff, Morgan Turner, Ser'Darius Blain, Madison Iseman, Danny Glover, Danny DeVito
FAMILY MATINEE: Members may bring up to 3 guests (ages 3 and up) to these screenings.
Rated PG-13, 114 minutes, Print Courtesy of Columbia Pictures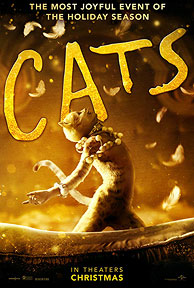 Saturday, December 28
2:00pm & 8:00pm
A tribe of cats called the Jellicles must annually decide which one of them will ascend to the Heaviside Layer and come back to a new life. Based on the long-running Broadway musical by Andrew Lloyd Webber.
Screenplay by Lee Hall & Tom Hooper
Based on Andrew Lloyd Webber's stage musical "Cats" and the poems "Old Possum's Book of Practical Cats" by T.S. Eliot
Produced by Debra Hayward, Tim Bevan, Eric Fellner, Tom Hooper
Directed by Tom Hooper
Cast: James Corden, Judi Dench, Jason Derulo, Idris Elba, Jennifer Hudson, Ian McKellen, Taylor Swift, Rebel Wilson, Francesca Hayward
FAMILY MATINEE: Members may bring up to 3 guests (ages 3 and up) to the 2pm screening only.
Not Yet Rated, Runtime Not Available, Print Courtesy of Universal Pictures
As a courtesy to your fellow members, please turn off all cell phones, pagers, etc., and refrain from talking during the screenings.
Screenings are held at: Writers Guild Theater, 135 S. Doheny Drive, Beverly Hills 90211
Seating is on a first-come first served basis.
WGAW Membership cards are required to attend The Guild Screenings and must be presented by the WGAW member. Your WGAW membership card allows you to bring TWO guests. If you are not a member of the WGAW, you will not be allowed admittance. For recorded Guild Screenings information, please email Guild Screenings or call (323) 782-4591. Please read our Rules and Regulations before attending the screenings.
Guild Screenings Office: (323) 782-4508 or email Guild Screenings.
PLEASE REMEMBER: OUTSIDE FOOD & DRINKS ARE PROHIBITED IN THE WGA THEATER