The Guild Screenings
March 2019
Welcome to the Guild Screenings! Please feel free to visit your theater early, to schmooze and banter with your fellow scribes.

Awards season may be behind us and the summer blockbusters a couple of months away, but March has a plethora of great movies to offer. From studio titles (CAPTAIN MARVEL, HOW TO TRAIN YOUR DRAGON: HIDDEN WORLD, DUMBO, US) to unique indies (WOMAN AT WAR, DIANE, HOTEL MUMBAI, THE HEIRESSES) and must-see documentaries (THE GOSPEL OF EUREKA, AMAZING GRACE), we hope you'll spend some time in your Guild Theater.
As always, members may bring TWO GUESTS to all regular screenings, except where noted. Seating is first come, first serve. We ask that members frequent the food and drink offerings from Homeboy Industries before the film. On weekends, we serve popcorn, beverages, salads, sandwiches, and fresh pastries. Only popcorn and water are allowed inside the theater, and patrons may not bring in outside food. Free parking is available on garage levels 4 and up. We'll see you at the movies!
CLICK ON MOVIE TITLES TO VIEW TRAILERS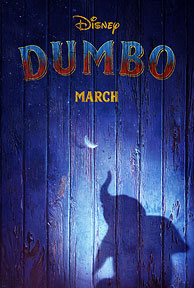 Saturday, March 30
(10:30 is Cancelled)
2:00
A young elephant, whose oversized ears enable him to fly, helps save a struggling circus. But when the circus plans a new venture, Dumbo and his friends discover dark secrets beneath its shiny veneer. A live-action remake of the classic Disney animated feature.
Screenplay by Ehren Kruger
Based on Disney's Animated Film Based on the Book by Helen Aberson and Harold Pearl
Produced by Justin Springer, Ehren Kruger, Katterli Frauenfelder, Derek Frey
Directed by Tim Burton
Cast: Colin Farrell, Michael Keaton, Danny DeVito, Eva Green, Alan Arkin, Finley Hobbins, Nico Parker
FAMILY MATINEE: Members may bring up to 3 guests (ages 3 and up) to the 11am & 2pm screenings.
Rated PG, 130 minutes, Print Courtesy of Disney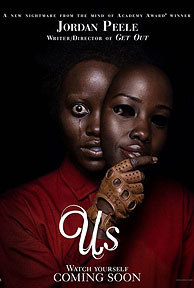 Saturday, March 30
5:00 & 8:00
In writer/director Jordan Peele's follow-up to GET OUT, a mother and father (Lupita Nyong'o and Winston Duke) take their kids to their beach house, expecting to enjoy time with friends, but serenity turns to tension and chaos when some visitors, who look exactly like them, arrive uninvited.
Written and Directed by Jordan Peele
Produced by Jordan Peele, Ian Cooper, Sean McKittrick, Jason Blum
Cast: Lupita Nyong'o Winston Duke, Elisabeth Moss, Tim Heidecker, Yahya Abdul-Mateen II, Anna Diop, Evan Alex, Shahadi Wright Joseph, Madison Curry, Cali Sheldon, Noelle Sheldon
Rated R, 120 minutes, Print Courtesy of Universal Pictures
As a courtesy to your fellow members, please turn off all cell phones, pagers, etc., and refrain from talking during the screenings.
Screenings are held at: Writers Guild Theater, 135 S. Doheny Drive, Beverly Hills 90211
Seating is on a first-come first served basis.
WGAW Membership cards are required to attend The Guild Screenings and must be presented by the WGAW member. Your WGAW membership card allows you to bring TWO guests. If you are not a member of the WGAW, you will not be allowed admittance. For recorded Guild Screenings information, please email Guild Screenings or call (323) 782-4591. Please read our Rules and Regulations before attending the screenings.
Guild Screenings Office: (323) 782-4508 or email Guild Screenings.
PLEASE REMEMBER: OUTSIDE FOOD & DRINKS ARE PROHIBITED IN THE WGA THEATER