The Guild Screenings
June 2019
Welcome to the Guild Screenings! Please feel free to visit your theater early, to schmooze and banter with your fellow scribes.

Summer has arrived and so has June's eclectic mix of films for everyone. From big studio titles like ROCKETMAN, MEN IN BLACK: INTERNATIONAL, DARK PHOENIX to offbeat indies such as THE LAST BLACK MAN IN SAN FRANCISCO, FUNAN and THE DEAD DON'T DIE to family films like THE SECRET LIFE OF PETS 2 and TOY STORY 4, to must-see documentaries like TONI MORRISON: THE PIECES I AM and MAIDEN, you're going to want to avoid the June gloom by visiting your Guild Theater.
We also have a couple of special Q&A events we're excited about. On Sunday, June 2nd at 5pm, the Guild Screenings welcomes writer/star Mindy Kaling to talk about her new film, LATE NIGHT. Then, on Monday, June 3rd, the Asian-American Writers Committee is co-sponsoring a screening of ALWAYS BE MY MAYBE, followed by a Q&A and reception with co-writers Ali Wong & Randall Park & Michael Golamco.
As always, members may bring TWO GUESTS to all regular screenings, except where noted. Seating is first come, first serve. We ask that members frequent the food and drink offerings from Homeboy Industries before the film. On weekends, we serve popcorn, beverages, salads, sandwiches, and fresh pastries. Only popcorn and water are allowed inside the theater, and patrons may not bring in outside food. Free parking is available on garage levels 4 and up. We'll see you at the movies!
CLICK ON MOVIE TITLES TO VIEW TRAILERS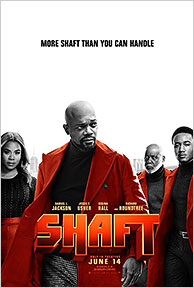 Friday, June 21
8:00
When his best friend dies under mysterious circumstances, an FBI cyber security expert joins forces with his father -- the legendary cop John Shaft -- to scour the streets of Harlem, N.Y., and uncover the truth.
Written by Kenya Barris & Alex Barnow
Based upon the Character John Shaft from the Novel by Ernest Tidyman
Produced by John Davis
Directed by Tim Story
Cast: Samuel L. Jackson, Jessie T. Usher, Regina Hall, Alexandra Shipp, Matt Lauria, Titus Welliver, Cliff "Method Man" Smith, Richard Roundtree
Rated R, 111 minutes, Print Courtesy of Warner Bros. Pictures and New Line Cinema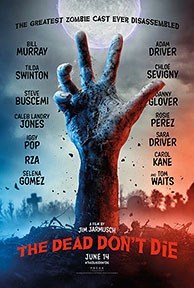 Friday, June 28
8:00
In this absurdist comedy from writer/director Jim Jarmusch, the peaceful town of Centerville finds itself battling a zombie horde as the dead start rising from their graves. Featuring an all-star cast, including Bill Murray, Adam Driver, Tilda Swinton, Selena Gomez, Chloë Sevigny and Tom Waits.
Written and Directed by Jim Jarmusch
Produced by Joshua Astrachan, Carter Logan
Cast: Bill Murray, Adam Driver, Tilda Swinton, Chloë Sevigny, Steve Buscemi, Danny Glover, Caleb Landry Jones, Rosie Perez, Iggy Pop, Sara Driver, Rza, Carol Kane, Selena Gomez, Tom Waits
Rated R, 103 minutes, Print Courtesy of Focus Features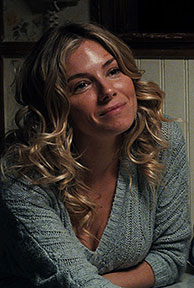 Saturday, June 29
11:00
In rural Pennsylvania, Deb Callahan (Sienna Miller) is forced to raise her young grandson after her daughter goes missing.
Written by Brad Ingelsby
Produced by Ridley Scott, Kevin J. Walsh, Michael Pruss, Brad Feinstein
Directed by Jake Scott
Cast: Sienna Miller, Christina Hendricks, Aaron Paul, Amy Madigan
Rated R, 111 minutes, Print Courtesy of Roadside Attractions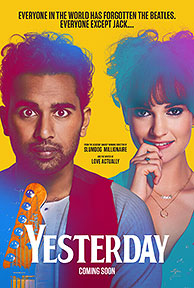 Saturday, June 29
2:00 & 8:00
A struggling musician realizes he's the only person on Earth who can remember the Beatles' music, after waking up in an alternate timeline where they never existed. From writer Richard Curtis (LOVE ACTUALLY) and director Danny Boyle (SLUMDOG MILLIONAIRE).
Screenplay by Richard Curtis
Story by Jack Barth and Richard Curtis
Produced by Tim Bevan, Eric Fellner, Matthew James Wilkinson, Bernie Bellew, Richard Curtis, Danny Boyle
Directed by Danny Boyle
Cast: Himesh Patel, Lily James, Ed Sheeran, Kate McKinnon
Rated PG-13, 112 minutes, Print Courtesy of Universal Pictures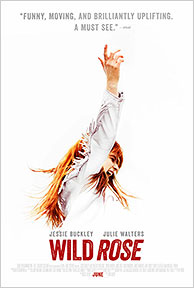 Saturday, June 29
5:00
Fresh out of prison, a Scottish woman (Jessie Buckley) juggles her job and two children while pursuing her dream of becoming a country music star. She gets her chance when she travels to Nashville on a life-changing journey to discover her true voice.
Written by Nicole Taylor
Produced by Faye Ward
Directed by Tom Harper
Cast: Jessie Buckley, Julie Walters, Sophia Okoneda
Rated R, 100 minutes, Print Courtesy of Neon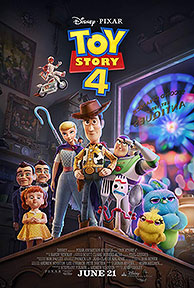 Sunday, June 30
11:00(2D) & 2:00(3D)
When a new toy called "Forky" joins Woody and the gang, a road trip alongside old and new friends reveals how big the world can be for a toy.
Screenplay by Andrew Stanton, Stephany Folsom
Original Story by John Lasseter, Andrew Stanton, Josh Cooley, Valerie LaPointe
Original Story by Rashida Jones & Will McCormick, Martin Hynes, Stephany Folsom
Produced by Jonas Rivera, Mark Neilsen
Directed by Josh Cooley
Voice Cast: Tom Hanks, Tim Allen, Annie Potts, Tony Hale, Keegan-Michael Key, Maddie McGraw, Christina Hendricks, Jordan Peele, Keanu Reeves, Ally Maki, Jay Hernandez, Lori Alan, Joan Cusack, Bonnie Hunt, Kristen Schaal, Emily Davis, Wallace Shawn, John Ratzenberger, Blake Clark, June Squibb, Carl Weathers, Lila Sage, Don Rickles, Jeff Garlin, Maliah Bargas-Good, Jack McGraw, Juliana Hansen, Estelle Harris
FAMILY MATINEE: Members may bring up to 3 guests (ages 3 and up) to these screenings.
Rated G, 89 minutes, Print Courtesy of Disney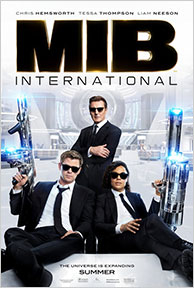 Sunday, June 30
5:00(3D) & 8:00(2D)
The Men in Black have always protected the Earth from the scum of the universe. In this new adventure, they tackle their biggest threat to date: a mole in the Men in Black organization. Starring all new agents Chris Hemsworth and Tessa Thompson.
Written by Art Marcum & Matt Holloway
Based on the Malibu Comic by Lowell Cunningham
Produced by Walter E. Parks, Laurie MacDonald
Directed by F. Gary Gray
Cast: Chris Hemsworth, Tessa Thompson, Rebecca Ferguson, Kumail Nanjiani, Rafe Spall, Les Twins - Laurent Bourgeois & Larry Bourgeois, Emma Thompson, Liam Neeson
Rated PG-13, 115 minutes, Print Courtesy of Columbia Pictures
As a courtesy to your fellow members, please turn off all cell phones, pagers, etc., and refrain from talking during the screenings.
Screenings are held at: Writers Guild Theater, 135 S. Doheny Drive, Beverly Hills 90211
Seating is on a first-come first served basis.
WGAW Membership cards are required to attend The Guild Screenings and must be presented by the WGAW member. Your WGAW membership card allows you to bring TWO guests. If you are not a member of the WGAW, you will not be allowed admittance. For recorded Guild Screenings information, please email Guild Screenings or call (323) 782-4591. Please read our Rules and Regulations before attending the screenings.
Guild Screenings Office: (323) 782-4508 or email Guild Screenings.
PLEASE REMEMBER: OUTSIDE FOOD & DRINKS ARE PROHIBITED IN THE WGA THEATER