The Guild Screenings
February 2019
Welcome to the Guild Screenings!

Please feel free to visit your theater early, to schmooze and banter with your fellow scribes. This February, we have a cornucopia of eclectic titles. From big studio extravaganzas ALITA: BATTLE ANGEL and LEGO MOVIE 2: THE SECOND PART, to genre films MISS BALA and KING OF THIEVES. From broad comedies WHAT MEN WANT and ISN'T IT ROMANTIC, to celebrated foreign titles TRANSIT and BIRDS OF PASSAGE. There's something for everyone! We also have a fun Q&A planned: On Saturday, February 2, please join writer/director Dan Gilroy with his new horror film/art world satire VELVET BUZZSAW.
As always, members may bring TWO GUESTS to all regular screenings, except where noted. Seating is first come, first serve. We ask that members frequent the food and drink offerings from Homeboy Industries before the film. On weekends, we serve popcorn, beverages, salads, sandwiches, and fresh pastries. Only popcorn and water are allowed inside the theater, and patrons may not bring in outside food. We'll see you at the movies!
CLICK ON MOVIE TITLES TO VIEW TRAILERS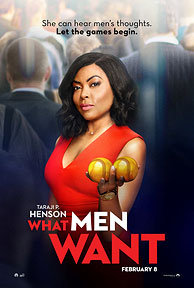 Friday, February 15
8:00
A female sports agent is boxed out by the men in her profession. But she gains an unexpected edge over them, when she develops the ability to hear men's thoughts. A remake of 2000's "What Women Want."
Screenplay by Tina Gordon and Peter Huyck & Alex Gregory
Story by Jas Waters and Tina Gordon
Based on the Film "What Women Want" Screenplay by Josh Goldsmith & Cathy Yuspa
Story by Josh Goldsmith & Cathy Yuspa and Diane Drake
Produced by Will Packer, James Lopez
Directed by Adam Shankman
Cast: Taraji P. Henson, Aldis Hodge, Richard Roundtree, Wendi McLendon-Covey, Tracy Morgan
Not Yet Rated, 117 minutes, Print Courtesy of Paramount Pictures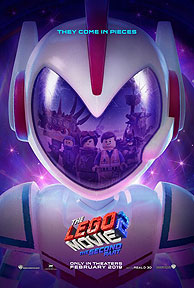 Saturday, February 16
11:00(3D) & 2:00(2D)
It's been five years since everything was awesome, but now the citizens are facing a huge new threat: LEGO DUPLO invaders from outer space, wrecking everything faster than they can rebuild.
Screenplay by Phil Lord & Christopher Miller
Story by Phil Lord & Christopher Miller and Matthew Fogel
Based on Lego Construction Toys
Produced by Dan Lin, Phil Lord, Christopher Miller, Roy Lee, Jinko Gotoh
Directed by Mike Mitchell
Cast: Chris Pratt, Elizabeth Banks, Will Arnett. Alison Brie, Nick Offerman, Charlie Day, Tiffany Haddish, Stephanie Beatriz, Maya Rudolph
Family Matinee: Members may bring up to 3 guests (ages 3 and up) to these screenings.
Rated PG, 106 minutes, Print Courtesy of Warner Bros. Pictures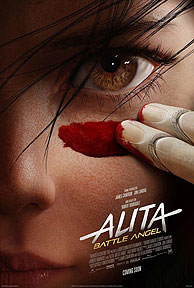 Saturday, February 16
5:00(2D) & 8:00(3D)
An action-packed story of one young woman's journey to discover the truth of who she is and her fight to change the world.
Screenplay by James Cameron & Laeta Kalogridis
Based Upon the Graphic Novel ("Manga") Series "Gunnm" by Yukito Kishiro
Produced by James Cameron, Jon Landau
Directed by Robert Rodriguez
Cast: Rosa Salazar, Christoph Waltz, Jennifer Connelly, Mahershala Ali, Ed Skrein, Jackie Earle Haley, Keean Johnson
Not Yet Rated, 122 minutes, Print Courtesy of Twentieth Century Fox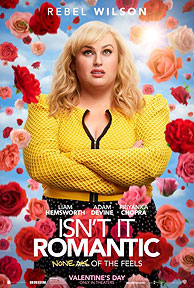 Friday, February 22
8:00
A young woman who is disenchanted with love mysteriously finds herself trapped inside a romantic comedy.
Screenplay by Erin Cardillo and Dana Fox & Katie Silberman
Story by Erin Cardillo
Produced by Gina Matthews, Grant Scharbo, Todd Garner
Directed by Todd Strauss-Schulson
Cast: Rebel Wilson, Liam Hemsworth, Adam Devine, Priyanka Chopra
Rated PG-13, 88 minutes, Print Courtesy of New Line Cinema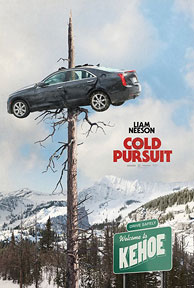 Monday, February 25
8:00
A snowplow driver seeks revenge against the drug dealers he thinks killed his son. Based on the 2014 Norwegian film In "Order of Disappearance."
Screenplay by Frank Baldwin
Based on the Movie "Kraftidioten" Written by Kim Fupz Aakeson
Produced by Michael Shamberg, Ameet Shukla, Stein Kvae, Finn Gjerdrum
Directed by Hans Petter Moland
Cast: Liam Neeson, Tom Bateman, Ton Jackson, Emmy Rossum, Domenick Lombardozzi, Julia Jones, John Doman, Laura Dern
Rated R, 118 minutes, Print Courtesy of Summit Entertainment and Lionsgate
As a courtesy to your fellow members, please turn off all cell phones, pagers, etc., and refrain from talking during the screenings.
Screenings are held at: Writers Guild Theater, 135 S. Doheny Drive, Beverly Hills 90211
Seating is on a first-come first served basis.
WGAW Membership cards are required to attend The Guild Screenings and must be presented by the WGAW member. Your WGAW membership card allows you to bring TWO guests. If you are not a member of the WGAW, you will not be allowed admittance. For recorded Guild Screenings information, please email Guild Screenings or call (323) 782-4591. Please read our Rules and Regulations before attending the screenings.
Guild Screenings Office: (323) 782-4508 or email Guild Screenings.
PLEASE REMEMBER: OUTSIDE FOOD & DRINKS ARE PROHIBITED IN THE WGA THEATER