The Guild Screenings
May 2019
Welcome to the Guild Screenings! Please feel free to visit your theater early, to schmooze and banter with your fellow scribes.

Summer is here at the Guild Screenings, so forget the beach – come see some movies! If you're looking to laugh, we have a number of character comedies (BOOKSMART, POMS, WINE COUNTRY, LONG SHOT). We have some compelling indies and foreign titles (SHADOW, THE SOUVENIR, PHOTOGRAPH). We have a Scorsese music film (ROLLING THUNDER REVUE: A BOB DYLAN STORY BY MARTIN SCORSESE). We have a ton of family films to bring your kids to (ALADDIN, A DOG'S JOURNEY, UGLYDOLLS, POKEMÓN DETECTIVE PIKACHU)!
We also have an extremely special Guild Screenings Event. On Saturday, May 4, we are delighted to be hosting a 30th Anniversary Screening of the beloved PARENTHOOD, with writing legends Lowell Ganz & Babaloo Mandel in person! They just won the Guild's highest honor, the Laurel Award, saluting their decades of wonderful writing. This movie has a perfect blend of character, heart, and hilarious jokes, and Babaloo and Lowell are two of the funniest guys in town. Come join us for the fun! Then, on Sunday, May 12, we have a final Q&A, as writer/director Noble Jones joins us with his charming autumn romance, THE TOMORROW MAN.
As always, members may bring TWO GUESTS to all regular screenings, except where noted. Seating is first come, first serve. We ask that members frequent the food and drink offerings from Homeboy Industries before the film. On weekends, we serve popcorn, beverages, salads, sandwiches, and fresh pastries. Only popcorn and water are allowed inside the theater, and patrons may not bring in outside food. Free parking is available on garage levels 4 and up. We'll see you at the movies!
CLICK ON MOVIE TITLES TO VIEW TRAILERS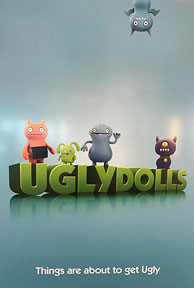 Sunday, May 19
11:00
An animated adventure in which the free-spirited UglyDolls confront what it means to be different, struggle with a desire to be loved, and ultimately discover who you truly are is what matters most.
Screenplay by Alison Peck
Story by Robert Rodriguez
Based on the Uglydoll Characters Created by David Horvath & Sun-min Kim
Produced by Jane Hartwell, Robert Rodriguez, Oren Aviv
Directed by Kelly Asbury
Voice Cast: Kelly Clarkson, Janelle Monáe, Blake Shelton, Wanda Sykes, Gabriel Iglesias, Wang Leehom, Bebe Rexha, Charli XCX, Lizzo, Nick Jonas, Pitbull
FAMILY MATINEE: Members may bring up to 3 guests (ages 3 and up) to this screening.
Rated PG, 87 minutes, Print Courtesy of STX Films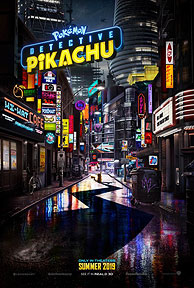 Sunday, May 19
2:00
In a world where people collect Pokémon to do battle, a boy comes across an intelligent talking Pikachu (Ryan Reynolds) who seeks to be a detective.
Screenplay by Dan Hernandez & Benji Samit and Rob Letterman and Derek Connolly
Story by Dan Hernandez & Benji Samit and Nicole Perlman
Based on the "Great Detective Pikachu" video game developed by The Pokemon Company and Creatures Inc.
Produced by Mary Parent, Cale Boyter, Hidenaga Katakami, Don McGowan
Directed by Rob Letterman
Cast: Ryan Reynolds, Justice Smith, Kathryn Newton, Suki Waterhouse, Omar Chaparro, Chris Geere, Rita Ora, Ken Watanabe, Bill Nighy
FAMILY MATINEE: Members may bring up to 3 guests (ages 3 and up) to this screening.
Rated PG, 104 minutes, Print Courtesy of Warner Bros. Pictures and Legendary Pictures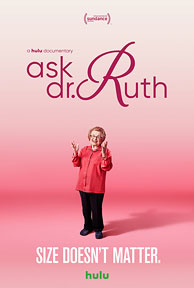 Sunday, May 19
5:00
A documentary portrait chronicling the incredible life of Dr. Ruth Westheimer, a Holocaust survivor and Israeli sniper who became America's most famous sex therapist. As her 90th birthday approaches, Dr. Ruth revisits her painful past and her career at the forefront of the sexual revolution.
Produced by Rafael Marmor, Ryan White, Jessica Hargrave, Christopher Leggett
Directed by Ryan White
Featuring: Dr. Ruth K. Westheimer
This feature is a Documentary.
Not Rated, 100 minutes, Print Courtesy of Hulu and Magnolia Pictures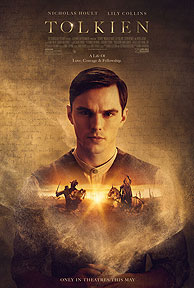 Sunday, May 19
8:00
Tolkien explores the formative years of the orphaned author as he finds friendship, love and artistic inspiration among a group of fellow outcasts at school.
Written by David Gleeson and Stephen Beresford
Produced by Peter Chernin, Jenno Topping, David Ready, Kris Thykier
Directed by Dome Karukoski
Cast: Nicholas Hoult, Lily Collins, Colm Meaney, Derek Jacobi
Rated PG-13, 112 minutes, Print Courtesy of Fox Searchlight Pictures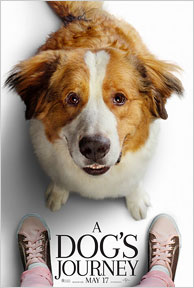 Saturday, May 25
11:00
A dog finds the meaning of his own existence through the lives of the humans he meets.
Screenplay by W. Bruce Cameron & Cathryn Michon and Maya Forbes & Wally Wolodarsky
Based on the Novel by W. Bruce Cameron
Produced by Gavin Polone
Directed by Gail Mancuso
Cast: Marg Helgenberger, Betty Gilpin, Henry Lau, Kathryn Prescott, Dennis Quaid, Josh Gad
FAMILY MATINEE: Members may bring up to 3 guests (ages 3 and up) to this screening.
Rated PG, 108 minutes, Print Courtesy of Universal Pictures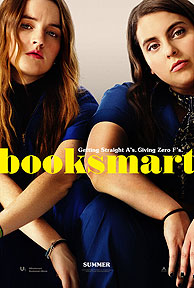 Saturday, May 25
2:00
On the eve of their high school graduation, two academic superstars and best friends realize they should have worked less and played more. Determined not to fall short of their peers, the girls try to cram four years of fun into one night.
Written by Emily Halpern & Sarah Haskins and Susanna Fogel and Katie Silberman
Produced by Megan Ellison, Chelsea Barnard, David Distenfield, Jessica Elbaum, Katie Silberman
Directed by Olivia Wilde
Cast: Kaitlyn Dever, Beanie Feldstein, Jessica Williams, Lisa Kudrow, Will Forte, Jason Sudeikis
Rated R, 102 minutes, Print Courtesy of Annapurna Pictures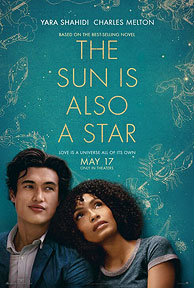 Saturday, May 25
5:00
Two teens meet -- and fall for each other -- over one magical day. With just hours left on the clock, in what looks like her last day in the U.S., Natasha fights against her family's deportation just as fiercely as she fights her growing feelings for Daniel. Based on the bestselling book.
Screenplay by Tracy Oliver
Based on the Novel by Nicola Yoon
Produced by Leslie Morgenstein, Elysa Koplovitz Dutton
Directed by Ry Russo-Young
Cast: Yara Shahidi, Charles Melton, John Leguizamo
Rated PG-13, 94 minutes, Print Courtesy of Warner Bros. Pictures and Metro Goldwyn Mayer Pictures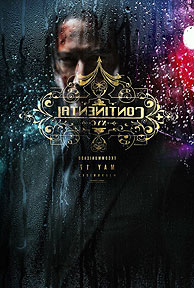 Saturday, May 25
8:00
Super-Assassin John Wick is on the run after killing a member of the international assassin's guild, and with a $14 million price tag on his head, he is the target of hit men and women everywhere.
Screenplay by Derek Kolstad and Shay Hatten and Chris Collins & Marc Abrams
Story by Derek Kolstad
Based on Characters Created by Derek Kolstad
Produced by Basil Iwanyk, Erica Lee
Directed by Chad Stahelski
Cast: Keanu Reeves, Halle Berry, Laurence Fishburne, Mark Dacascos, Asia Kate Dillon, Lance Reddick, Saïd Taghmaoui, Jerome Flynn, Jason Mantzoukas, Tobias Segal, Boban Marjanovic, Anjelica Huston, Ian McShane
Rated R, 130 minutes, Print Courtesy of Lionsgate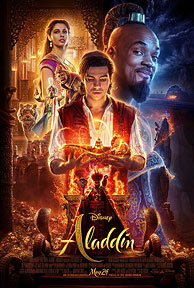 Sunday, May 26
11:00(3D) & 2:00(2D)
A kindhearted street urchin and a power-hungry sorcerer fight over a magic lamp that has the power to make their deepest wishes come true.
Screenplay by John August and Guy Ritchie
Based on Disney's "Aladdin"
Produced by Dan Lin, Jonathan Eirich
Directed by Guy Ritchie
Cast: Will Smith, Mena Massoud, Naomi Scott, Marwan Kenzari, Navid Negahban, Nasim Pedrad, Billy Magnussen, Numan Acar
FAMILY MATINEE: Members may bring up to 3 guests (ages 3 and up) to these screenings.
Rated PG, 128 minutes, Print Courtesy of Disney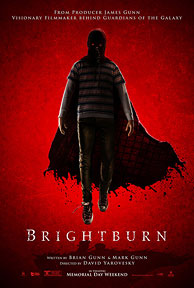 Sunday, May 26
5:00
What if a child from another world crash-landed on Earth, but instead of becoming a hero to mankind, he proved to be far more sinister? A startling, subversive take on superhero storytelling.
Written by Brian Gunn & Mark Gunn
Produced by James Gunn, Kenneth Huang
Directed by David Yarovesky
Cast: Elizabeth Banks, David Denman, Jackson A. Dunn, Matt Jones, Meredith Hagner
Rated R, 90 minutes, Print Courtesy of Screen Gems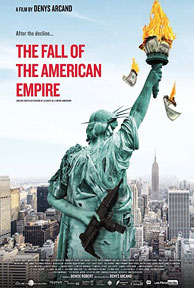 Sunday, May 26
8:00
Pierre-Paul, an intellectual with a PhD in philosophy, is forced to work as a deliveryman to support himself. One day, he gets caught in a hold-up gone terribly wrong: two dead and millions in money bags laying on the ground. He is confronted with a dilemma: Should he take the money? A provocative crime caper from Denys Arcand.
Written and Directed by Denys Arcand
Produced by Denise Robert
Cast: Alexandre Landry, Maripier Morin, Rémy Girard, Louis Morissette, Maxim Roy, Pierre Curzi, Vincent Leclerc, Patrick Émmanuel Abellard, Florence Longpré, Eddy King, Geneviève Schmidt, Paul Doucet, Denis Bouchard, Yan England, David Savard, Rose-Marie Perreault, Alain Goulem, Catherine Paquin-Béchard
This film is in French with English subtitles.
Rated R, 127 minutes, Print Courtesy of Sony Pictures Classics
As a courtesy to your fellow members, please turn off all cell phones, pagers, etc., and refrain from talking during the screenings.
Screenings are held at: Writers Guild Theater, 135 S. Doheny Drive, Beverly Hills 90211
Seating is on a first-come first served basis.
WGAW Membership cards are required to attend The Guild Screenings and must be presented by the WGAW member. Your WGAW membership card allows you to bring TWO guests. If you are not a member of the WGAW, you will not be allowed admittance. For recorded Guild Screenings information, please email Guild Screenings or call (323) 782-4591. Please read our Rules and Regulations before attending the screenings.
Guild Screenings Office: (323) 782-4508 or email Guild Screenings.
PLEASE REMEMBER: OUTSIDE FOOD & DRINKS ARE PROHIBITED IN THE WGA THEATER