The Guild Screenings
August 2018
Greetings from the Guild Screenings! Remember: Parking is now FREE at our Theater on garage levels 4 and up. Enter/Exit at alley gate only.

Chill out this August in your Writers Guild Theater, where you'll find studio releases like THE MEG, THE DARKEST MINDS, SEARCHING and THE SPY WHO DUMPED ME, along with a host of must-see indies including THE MISEDUCATION OF CAMERON POST, SKATE KITCHEN, BLACKkKLANSMAN, WE THE ANIMALS and NEVER GOIN' BACK.
We also have a pair of exciting Q&A events for you. On Friday, August 10th, the Asian-American Writers Committee is co-sponsoring a screening of CRAZY RICH ASIANS, followed by a Q&A with writers Peter Chiarelli and Adele Lim. Later in the month, on Friday, August 31st, writer Jane Anderson joins us after a screening of her new film THE WIFE.
As always, members may bring TWO GUESTS to all regular screenings, except where noted. Seating is first come, first serve. We ask that members frequent the food and drink offerings from Homeboy Industries before the film. On weekends, we serve popcorn, beverages, salads, sandwiches, and fresh pastries. Only popcorn and water are allowed inside the theater, and patrons may not bring in outside food. We'll see you at the movies!
CLICK ON MOVIE TITLES TO VIEW TRAILERS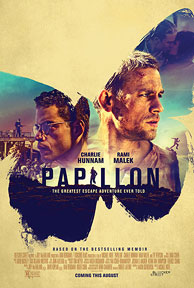 Saturday, August 18
11:00
The epic story of Henri "Papillon" Charrière, a Parisian safecracker who is framed for murder and condemned to life in the notorious penal colony on Devil's Island. Determined to regain his freedom, Papillon forms an unlikely alliance with a convicted counterfeiter, who in exchange for protection agrees to finance his escape.
Screenplay by Aaron Guzikowski
Based upon the Books "Papillon" and "Banco" by Henri Charriere
Based upon the 1973 Screenplay "Papillon" by Dalton Trumbo and Lorenzo Semple, Jr.
Produced by Joey McFarland, David Koplan, Ram Bergman, Roger Corbi
Directed by Michael Noer
Cast: Charlie Hunnam, Rami Malek, Tommy Flanagan, Eve Hewson, Roland Møller
Rated R, 136 minutes. Print Courtesy of Bleecker Street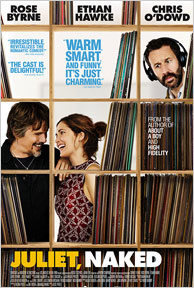 Saturday, August 18
2:00
The story of Annie (Rose Byrne), who is stuck in a long-term relationhip with Duncan (Chris O'Dowd) – an obsessive fan of obscure rocker Tucker Crowe (Ethan Hawke). When the acoustic demo of Tucker's hit record from 25 years ago surfaces, its release leads the couple to a life changing encounter with the elusive rocker himself.
Written by Evgenia Peretz and Jim Taylor & Tamara Jenkins
Based on the Novel by Nick Hornby
Produced by Albert Berger, Ron Yerxa, Barry Mendel, Judd Apatow, Jeffrey Soros
Directed by Jesse Peretz
Cast: Rose Byrne, Ethan Hawke, Chris O'Dowd
Rated R, 98 minutes. Print Courtesy of Lionsgate and Roadside Attractions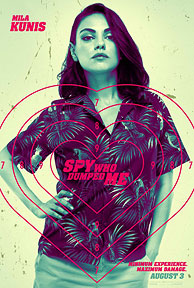 Saturday, August 18
5:00
Two best friends (Mila Kunis and Kate McKinnon) find themselves embroiled in a major international conspiracy, when one of the women discovers the boyfriend who dumped her was actually a spy.
Written by Susanna Fogel & David Iserson
Produced by Brian Grazer, Erica Huggins
Directed by Susanna Fogel
Cast: Mila Kunis, Kate McKinnon, Justin Theroux, Gillian Anderson, Hasan Minhaj, Ivanna Sakhno, Sam Heughan
Rated R, 117 minutes. Print Courtesy of Lionsgate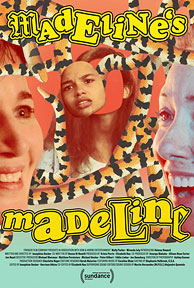 Saturday, August 18
8:00
Writer/director Josephine Decker uses her expressionistic filmmaking style to explore an experimental theater class, where a mentally unstable teenager finds herself torn between her intense acting coach (Molly Parker) and her flighty mom (Miranda July).
Written and Directed by Josephine Decker
Produced by Krista Parris, Elizabeth Rao
Cast: Helena Howard, Molly Parker, Miranda July
Not Rated, 94 minutes. Print Courtesy of Oscilloscope Laboratories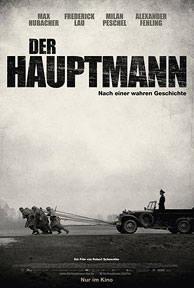 Saturday, August 25
11:00
A German army deserter finds a Nazi captain's abandoned uniform during the final weeks of World War II. Emboldened by the authority it suddenly grants him and citing direct orders from Hitler himself, he soon takes command of a camp that holds German deserters and begins to dispense harsh justice. Based on an arresting true story.
Written and Directed by Robert Schwentke
Produced by Frieder Schlaich, Irene von Alberti
Cast: Max Hubacher, Milan Peschel, Frederick Lau, Alexander Fehling
This film is in German with English subtitles.
Not Rated, 118 minutes. Print Courtesy of Music Box Films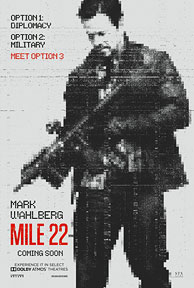 Saturday, August 25
2:00
An elite American intelligence officer (Mark Wahlberg), aided by a top-secret tactical command team, tries to smuggle a mysterious police officer who holds life-threatening information out of the country.
Screenplay by Lea Carpenter
Story by Graham Roland and Lea Carpenter
Produced by Peter Berg, Mark Wahlberg, Stephen Levinson
Directed by Peter Berg
Cast: Mark Wahlberg, Lauren Cohan, Iko Uwais, Ronda Rousey, John Malkovich
Not Yet Rated. 90 minutes. Print Courtesy of STXfilms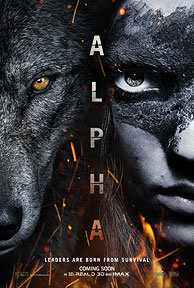 Saturday, August 25
5:00
An epic adventure set 20,000 years ago, during the last Ice Age, ALPHA tells a fascinating, visually stunning survival story of a young Tribesman left for dead on his first hunt. Reluctantly taming a lone wolf abandoned by its pack,they become unlikely allies, enduring countless dangers and overwhelming odds to find their way home.
Screenplay by Daniele Sebastian Wiedenhaupt
Story by Albert Hughes
Produced by Albert Hughes, Andrew Rona
Directed by Albert Hughes
Cast: Kodi Smit-McPhee, Jóhannes Haukur Jóhannesson, Natassia Malthe, Lenor Varela, Jens Hultén, Mercedes de la Zerda
Rated PG-13, 96 minutes. Print Courtesy of Columbia Pictures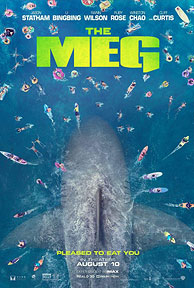 Saturday, August 25
8:00
Two hundred miles off the Chinese coast, a prehistoric shark called Megalodon, thought to be long extinct, rises from the depths of the ocean and attacks a research submersible, leaving its crew trapped.
Screenplay by Dean Georgaris and Jon Hoeber & Erich Hoeber
Based on the Novel MEG by Steve Alten
Produced by Lorenzo di Bonaventura, Belle Avery, Colin Wilson
Directed by Jon Turtletaub
Cast: Jason Statham, Li Bingbing, Rainn Wilson, Ruby Rose, Winston Chao, Cliff Curtis
Rated PG-13, 113 minutes. Print Courtesy of Warner Bros. Pictures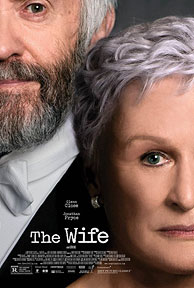 Friday, August 31
7:30
A perfectly devoted wife (Glenn Close) questions her life choices as she travels to Stockholm with her husband (Jonathan Pryce), who is set to receive the Nobel Prize in Literature. Based on the Meg Wolitzer novel.
Q&A with Jane Anderson following this screening.
Screenplay by Jane Anderson
Based on the Novel "The Wife" by Meg Wolitzer
Produced by Claudia Bluemhuber, Jo Bamford, Piers Tempest, Rosalie Swedlin, Meta Louise Foldager Sørensen
Directed by Björn Runge
Cast: Glenn Close, Jonathan Pryce, Christian Slater, Max Irons, Harry Lloyd, Annie Starke, Elizabeth McGovern
Rated R, 100 minutes. Print Courtesy of Sony Pictures Classics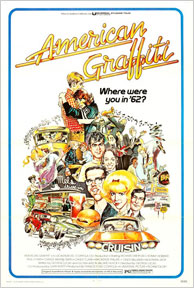 Friday, September 14
7:30
Where were you in '62? On their last day of summer vacation, longtime friends spend one last night cruising the streets of small-town Modesto, before they go off to college. A landmark coming-of-age film.
Q&A with Gloria Katz & Willard Huyck following this screening.
Written by George Lucas and Gloria Katz & Willard Huyck
Produced by Francis Ford Coppola
Directed by George Lucas
Cast: Richard Dreyfuss, Ron Howard, Paul Le Mat, Charles Martin Smith, Cindy Williams, Candy Clark, Mackenzie Phillips, Wolfman Jack, Bo Hopkins, Manuel Padilla Jr., Beau Gentry, Harrison Ford
Rated PG, 110 minutes. Print Courtesy of Universal Pictures
As a courtesy to your fellow members, please turn off all cell phones, pagers, etc., and refrain from talking during the screenings.
Screenings are held at: Writers Guild Theater, 135 S. Doheny Drive, Beverly Hills 90211
Seating is on a first-come first served basis.
WGAW Membership cards are required to attend The Guild Screenings and must be presented by the WGAW member. Your WGAW membership card allows you to bring TWO guests. If you are not a member of the WGAW, you will not be allowed admittance. For recorded Guild Screenings information, please email Guild Screenings or call (323) 782-4591. Please read our Rules and Regulations before attending the screenings.
Guild Screenings Office: (323) 782-4508 or email Guild Screenings.
PLEASE REMEMBER: OUTSIDE FOOD & DRINKS ARE PROHIBITED IN THE WGA THEATER