The Guild Screenings
October 2018
Greetings from the Guild Screenings! Remember: Parking is now FREE at our Theater on garage levels 4 and up. Enter/Exit at alley gate only.

October is exploding with films! 24 for you to enjoy and pick from! We've got studio titles like FIRST MAN and VENOM... smaller films like CAN YOU EVER FORGIVE ME? and THE KINDERGARTEN TEACHER... plus a special double feature of Orson Welles' finally finished THE OTHER SIDE OF THE WIND and the doc about it, THEY'LL LOVE ME WHEN I'M DEAD.
Plus, we have a record-setting TEN Q&A's in October. Please arrive early, as these events are very popular. On Friday, October 5, we'll have writer/director Tamara Jenkins speak after PRIVATE LIFE. The next day, co-writer/director Bradley Cooper and co-writer Eric Roth will appear with A STAR IS BORN. The day after that, writer/director Drew Goddard will talk after BAD TIMES AT THE EL ROYALE. The day after that (whew!) we'll show WILDLIFE, with co-writer/director Paul Dano and co-writer Zoe Kazan in person.
The following week, Friday, October 12, writer/director Eva Vives will speak after her film ALL ABOUT NINA. The next day we have WHAT THEY HAD, with writer/director Elizabeth Chomko in person. The day after that, writer/director Paul Greengrass will speak after his film 22 JULY. On Friday, October 19, writer/director Jonah Hill will appear with his film MID90S. On Sunday, October 21, writer/director Alfonso Cuarón will appear after Roma. And finally, on Saturday, October 27, writer/director Joel Edgerton will speak after BOY ERASED.
Lastly, just as a reminder, the use of cell phones, electronic devices, and texting during the movie and unauthorized audio and video recording during Q&A's is strictly prohibited. These activities may result in suspension from future screenings. We thank you for understanding.
As always, members may bring TWO GUESTS to all regular screenings, except where noted. Seating is first come, first serve. We ask that members frequent the food and drink offerings from Homeboy Industries before the film. On weekends, we serve popcorn, beverages, salads, sandwiches, and fresh pastries. Only popcorn and water are allowed inside the theater, and patrons may not bring in outside food. We'll see you at the movies!
CLICK ON MOVIE TITLES TO VIEW TRAILERS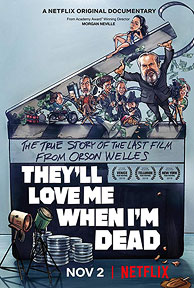 Saturday, October 27
11:00
This engaging documentary explores the behind-the-scenes of Orson Welles' unfinished film "The Other Side of the Wind," which he worked on for over a decade before his death.
Produced by Morgan Neville, Korelan Matteson, Filip Jan Rymsza, Josh Karp
Directed by Morgan Neville
Starring: Peter Bogdanovich, Steve Ecclesine, Oja Kodar, Frank Marshall, Joseph McBride, Beatrice Welles, Orson Welles
This feature is a Documentary.
Not Rated, 98 minutes. Print Courtesy of Netflix
Saturday, October 27
2:00
A completion and restoration of Orson Welles's unfinished film, this satire follows the final days of a legendary director (John Huston) striving for a comeback.
Written by Orson Welles, Oja Kodar
Produced by Frank Marshall, Filip Jan Rymsza
Directed by Orson Welles
Cast: Peter Bogdanovich, John Huston, Oja Kodar, Susan Strasberg, Bob Random
Not Rated, 122 minutes. Print Courtesy of Netflix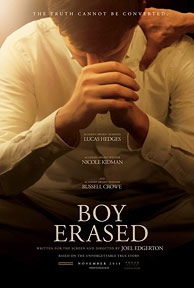 Saturday, October 27
5:00
The son of a Baptist preacher is forced to participate in a church-supported gay conversion program after being forcibly outed to his parents.
Q&A with Joel Edgerton following this screening.
Screenplay by Joel Edgerton
Based on the Memoir Boy Erased by Garrard Conley
Produced by Kerry Kohansky-Roberts, Steve Golin, Joel Edgerton
Directed by Joel Edgerton
Cast: Lucas Hedges, Nicole Kidman, Joel Edgerton, Russell Crowe, Joe Alwyn, Xavier Dolan, Troye Sivan, Britton Sear, Jesse Latourette, Flea, Cherry Jones
Not Yet Rated, 114 minutes. Print Courtesy of Focus Features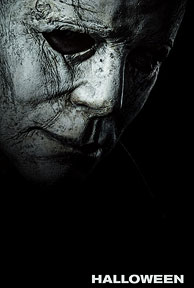 Saturday, October 27
8:30
Set forty years after the original film, Laurie Strode (Jamie Lee Curtis) comes face-to-face with Michael Myers for one final showdown.
Written by Jeff Fradley & Danny McBride & David Gordon Green
Based on Characters Created by John Carpenter and Debra Hill
Produced by Malek Akkad, Jason Blum, Bill Block
Directed by David Gordon Green
Cast: Jamie Lee Curtis, Judy Greer, Andi Matichak, Will Patton, Virginia Gardner, Nick Castle
Rated R, 109 minutes. Print Courtesy of Universal Pictures
As a courtesy to your fellow members, please turn off all cell phones, pagers, etc., and refrain from talking during the screenings.
Screenings are held at: Writers Guild Theater, 135 S. Doheny Drive, Beverly Hills 90211
Seating is on a first-come first served basis.
WGAW Membership cards are required to attend The Guild Screenings and must be presented by the WGAW member. Your WGAW membership card allows you to bring TWO guests. If you are not a member of the WGAW, you will not be allowed admittance. For recorded Guild Screenings information, please email Guild Screenings or call (323) 782-4591. Please read our Rules and Regulations before attending the screenings.
Guild Screenings Office: (323) 782-4508 or email Guild Screenings.
PLEASE REMEMBER: OUTSIDE FOOD & DRINKS ARE PROHIBITED IN THE WGA THEATER