Connect
WGAW Member Drives #GetUsPPE Efforts
WGAW member Tony Camerino mobilizes his networks to supply healthcare workers with critical protective gear.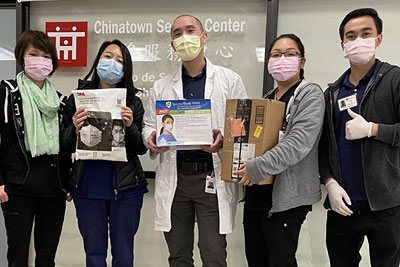 Workers at Chinatown Service Center receiving a mask delivery.
A few weeks ago, WGAW member Tony Camerino learned about the shortage of personal protective equipment (PPE) for frontline healthcare workers and decided to take action. Drawing on his experience coordinating humanitarian medical missions for the Air Force, and a connection to suppliers, Camerino set out to supply PPE directly to local healthcare workers who needed it the most.
The first donors to his GoFundMe campaign included fellow alumni from the show Person of Interest, followed by other WGAW members, actors, and directors in his network. To date, the campaign has raised over $28,000—surpassing his initial goal of $5,000—and delivered 3,400 certified masks and 250 reusable coveralls to nearly 40 healthcare facilities in the LA area and five other states.
Camerino is focused on supplying to facilities in underserved communities, including community health clinics, convalescent homes, palliative care centers, hospices, COVID-19 testing sites, and fire departments, as well as larger hospitals like Providence St. John's, UCLA, USC Keck, MLK, Centinela, Children's, Hollywood Presbyterian, Adventist Health Glendale, Kaiser West LA, and the West LA VA Hospital. Requests come through volunteer organizations such as GetUsPPE.org, HOPPE CA, and LA Mask Crusaders. Priority goes to requests from individuals, so the PPE goes directly to the hands of doctors, nurses, and other frontline workers.
Speed is of utmost importance to Camerino. Masks are still available—he received a shipment as recently as Wednesday—and his goal is to fill the gap before large-scale purchases by state and federal agencies catch up. Stockpiles of PPE were woefully short heading into the pandemic and many institutions have also rationed supplies in anticipation of a future spike in infections. As a result, healthcare workers face inadequate protection and a mounting risk of infection in the immediate term.
"It's a good way to say thank you to our healthcare workers. We all have to think it could be us in the ICU," says Camerino. "We need them to be there for us, to take care of us. They can't be if they get sick because they don't have proper PPE."
Writers interested in helping get PPE to healthcare workers immediately can donate through Camerino's GoFundMe campaign page.