WGAW President, 1997-1999, 2004-2005
Daniel Petrie Jr.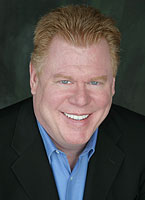 A member of the Writers Guild since 1984, Daniel Petrie Jr. wrote the screenplays for Beverly Hills Cop, starring Eddie Murphy (for which he received an Oscar nomination), and The Big Easy, starring Dennis Quaid and Ellen Barkin. Petrie then co-wrote and produced Shoot to Kill, starring Sidney Poitier, co-wrote and exec-produced Turner and Hooch, starring Tom Hanks, and co-wrote and directed Toy Soldiers, starring Sean Astin and Louis Gossett, Jr. Petrie also directed the HBO movie Dead Silence, with James Garner and Marlee Matlin, and wrote and directed the TNT movie Framed, starring Rob Lowe and Sam Neill.
In addition to his two terms as WGAw president, Petrie also served the Guild in elective office as a member of the Board of Directors (1994-95) and as vice president (1995-97 and 1999-01).
A member of the Board of Trustees of the Writers Guild Foundation, Petrie was also the chair of Foundation's new library committee in 2005.