Screen Writers Guild President, 1937-1938
Dudley Nichols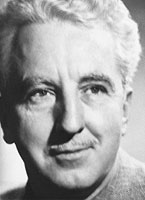 Writer, director, and producer Dudley Nichols' writing and co-writing credits include Men Without Women (1930), the Academy Award-winning The Informer (1935), Bringing Up Baby (1938), Stagecoach (1939), The Long Voyage Home (1940), For Whom the Bell Tolls (1943), And Then There Were None (1945), The Bells of St. Mary's (1945), Mourning Becomes Electra (1947), and Pinky (1949). He worked several times with director John Ford and collaborated with writers Philip Dunne and Ben Hecht.
In 1936, the Screen Writers Guild co-founder became the first Academy Award winner to refuse the Oscar, which he won for The Informer. Citing the Guild's formation as a response to how the Academy "functioned against the employed talent in any emergency," Nichols said in a statement: "To accept it would be to turn my back on nearly 1,000 members of the Screen Writers Guild." He received three more Academy Award nominations for The Long Voyage Home, Air Force (1943), and The Tin Star (1957).
One of the first writers to direct and produce, Nichols also formed an independent production company. He received the WGA Screen Laurel Award in 1954. Nichols was born in Ohio in 1895, and died in Hollywood on January 4, 1960.