Screen Writers Guild President, 1945-1947
Emmet Lavery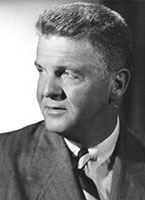 Emmet Lavery and co-writer Milton Sperling earned an Academy Award nomination for their screenplay The Court Martial of Billy Mitchell (1955). Lavery's television movie Magnificent Yankee (1950) won five Emmys. One of his earliest plays, The First Legion, was produced on Broadway, then in Europe, and was translated into more than a dozen languages. His other works include the play Gentlemen from Athens, the film Bright Road (1953), and the television script Continental Congress: 1976.
In addition to being WGAw president, Lavery was elected vice president of the Academy of Motion Picture Arts and Sciences in 1946 and later, secretary of the Academy's board of governors.
Lavery was born on November 8, 1902, in Poughkeepsie, New York. He earned a law degree from Fordham University and began his professional life as a trial lawyer, then worked as a journalist and city editor in his hometown for 10 years before becoming a playwright and screenwriter. He died in Tarzana on January 1, 1986.