WGAW President, 1983-1985
Ernest Lehman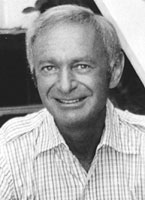 Six-time Oscar-nominated and five-time WGA Award-winning writer Ernest Lehman was the only screenwriter in history to receive an honorary Academy Award, in recognition for films such as Executive Suite (1954), Sabrina (1954), The King and I (1956), North by Northwest (1959), West Side Story (1961), The Sound of Music (1965), Who's Afraid of Virginia Wolf? (1966), and Hello, Dolly! (1969).
In 1972, Lehman received the WGA's prestigious Screen Laurel Award for advancing the literature of the motion picture through the years, and for outstanding contributions to the screenwriting profession. He was a WGAw board member throughout his career, sat on many committees, and served on the Writers Guild Foundation board of directors.
Lehman was born in New York City on December 8, 1915, and earned a bachelor's degree at the City University of New York. He held several editorial positions, including publicity copy writing and copy editor before he moved to California to adapt a screenplay for Paramount Studios in 1953. He wrote the story collections The Comedian and Other Stories, Sweet Smell of Success and Other Stories, and the novels The French Atlantic Affair and Farewell Performance. He died on July 2, 2005.