WGAW President, 1987-1989, 1989-1991
George Kirgo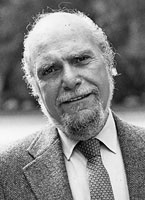 George Kirgo's prolific film and TV writing career includes credits for Red Line 7000 (1965), Spinout (1966), Don't Make Waves (1967), Voices (1973); 15 movies of the week, including Get Christie Love! (1974), The Man in the Santa Claus Suit (1978), Angel on My Shoulder (1980), and The Kid with the Broken Halo (1982). He contributed episodes to popular TV series Adam's Rib, The Mary Tyler Moore Show, and Love, American Style.
He led the membership through the 1988 strike as Guild president, and was later vice president emeritus of the Writers Guild Foundation, active in the Guild's blacklist credits committee, and chaired the president's committee on the professional status of writers. The WGAw presented Kirgo with the Morgan Cox Award in 2001 for his continuing efforts and personal sacrifice.
He was also a founding member of the National Film Preservation Board of the Library of Congress, an Academy of Motion Picture Arts and Sciences member, and he received the president's award from PEN in 1988.
Kirgo was born in Hartford, Connecticut, on March 26, 1926, educated at Wesleyan University, and served in the U.S. Army Air Forces during World War II. He moved to New York in the 1950s, and launched his entertainment career writing comedic novels such as Hercules, the Big Greek Story, which caught the attention of Jack Paar, who invited him as a frequent guest on his popular talk show. Kirgo died August 22, 2004.