Screen Writers Guild President, 1948-1949
George Seaton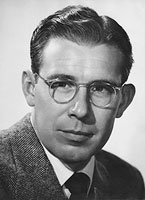 George Seaton won two best screenplay Academy Awards for Miracle on 34th Street (1947) and The Country Girl (1954), and earned nominations for The Song of Bernadette (1943) and Airport (1970). Other writing credits include the Marx Brothers classic A Day at the Races (1937), an adaptation of Moon Over Miami, and Chicken Every Sunday (1949). He directed and produced numerous films, and received a best director Oscar nomination for The Country Girl. Seaton's Airport was Universal Pictures' largest moneymaker until Jaws.
In addition to his WGAw service, he was three times president of the Academy of Motion Pictures Arts and Sciences, and served as vice president of the Motion Picture Relief Fund. The WGA gave him the the Screen Laurel Award in 1961 and he received the WGAw Valentine Davies Award in 1968. He received the AMPAS Jean Hersholt Humanitarian Award in 1961, and the Beverly Hills Chamber of Commerce's Will Rogers Memorial Award in 1973.
Seaton was born in South Bend, Indiana, on April 17, 1911. He attended Exeter Academy, and rejected a Yale University scholarship to audition for Jessie Bonstelle's drama school. She hired him for her stock company at $15 a week. He worked for radio as the voice of the Lone Ranger, and wrote several plays until he was hired by MGM. He died on July 28, 1979, in Beverly Hills.