The Writers/Screen Writers Guild President, 1931-1933
Howard J. Green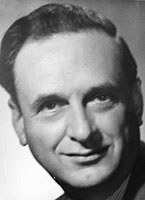 A founder of the Screen Writers Guild, Howard J. Green wrote or co-wrote numerous films, including the silent comedy Life of Riley (1927), I Am a Fugitive from a Chain Gang (1932), Morning Glory (1933), The Lemon Drop Kid (1934), and George White's Scandals (1945). He contributed episodes for television series such as The Gene Autry Show, The Roy Rogers Show, and The Adventures of Superman. Green produced a handful of films, including Inside Story (1939).
He was elected chairman of the writer's branch of the Academy of Motion Pictures Arts and Sciences in 1932. Green was influential in writing the code of practice that governed producer-writer relations of that era. His peers immediately tapped him to represent them in an emergency fact-finding committee during the 50 percent pay-cut dispute of 1933, recommended by the Academy's board of directors and announced by a group headed by Louis B. Mayer. He lectured on writing at the University of Southern California, and advised aspiring screenwriters to learn to write on legal pads.
"Developing of a screen story is a tedious business, one that requires deep thought for every line," he said. "As a result, many Hollywood scenarists have given up typing for the slower but more thought-permitting pencil."
Green was born circa 1893, and was once a newspaper man. He died of a heart attack while attending a Guild meeting on September 2, 1965.