Screen Writers Guild President, 1944-1945
Lester Cole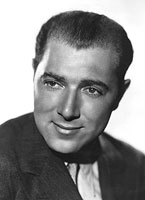 A Screen Writers Guild founder, Lester Cole wrote more than 40 films, including The Invisible Man Returns (1940), The House of Seven Gables (1940), Objective Burma (1945), The Romance of Rosy Ridge (1947), High Wall (1947), and Born Free (1966).
One of the "Hollywood Ten" who refused to testify before the House Committee on Un-American Activities, Cole was imprisoned and blacklisted, forced to write his last few screenplays using pseudonyms for 15 percent of the salary he commanded before the blacklist. After serving his sentence, he worked as a short-order cook, waiter, and manual laborer. In 1961 he moved to London to write plays but had little commercial success, and returned to the U.S. to live in San Francisco. He then taught university extension courses in screenwriting.
He was born in New York City on June 19, 1904, and left school at the age of 16 to eventually become a stage director and playwright. Cole moved to Hollywood in 1932 with several other writers who worked on the film If I Had a Million. In 1982, he wrote his autobiography Hollywood Red. Cole died in San Francisco on August 15, 1985.