WGAW President, 1969-1971, 1979-1981, 1985-1987
Melville Shavelson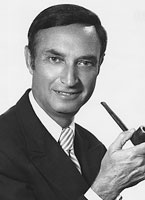 Melville Shavelson received two Academy Award nominations for his original screenplays and has written or co-written more than 30 theatrical motion pictures, including The Seven Little Foys (1955), Beau James (1957), Houseboat (1958), The Five Pennies (1959), and It Started in Naples (1960) as well as Yours, Mine and Ours (1968), all of which he also directed. For television, he created two Emmy Award-winning series, including My World and Welcome to It, two telefilms, and the ABC Eisenhower miniseries, Ike, The War Years. He also wrote a Broadway musical, Jimmy, two novels, and four works of nonfiction, including the 1992 best-seller, Don't Shoot, It's Only Me, in collaboration with Bob Hope.
Shavelson's service to the Guild dates back to 1944. In addition to having served three terms as WGAw president, he served as Writers Guild Foundation president for 20 years, WGAw first vice president, member of the board of directors, and chairman or member of more than 20 committees, including the screen credits panel, copyright study, and employer practices. He received the WGAw Valentine Davies Award in 1979, the Screen Laurel Award in 1984, and the Morgan Cox Award in 1998. In 2005, the Writers Guild Foundation named its library the Shavelson-Webb Library in recognition of his work and that of its founder, James Webb.
He was born in New York City on April 1, 1917, and was educated at Cornell University. He died on August 8, 2007 in Studio City at age 90.