Screen Writers Guild President, 1934-1935
Ralph Block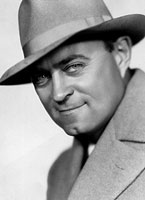 A founding member of the Screen Writers Guild and its first treasurer, Ralph Block was active from the 1920s to 1950, writing westerns, dramas, and musicals such as The Arizona Kid (1930), The Right to Live (1935), In Caliente (1935), Patrick the Great (1945), and Nancy Goes to Rio (1950), starring Jane Powell. He produced several films, including Stand and Deliver (1928), starring Lupe Velez; Power (1928), High Voltage (1929), and The Racketeer (1929), all starring Carole Lombard. Block collaborated with W.C. Fields, and is credited with having discovered Lombard.
In 1939 the Academy of Motion Picture Arts and Sciences awarded him an honorary Academy Award for co-founding the Motion Picture Relief Fund, designed to provide support and medical care for motion picture industry employees unable to care for themselves.
In 1946 he received the Medal of Freedom as head of the Office of War Information in India from 1943 to 1946. Additionally, he was an active member of the Hollywood Writers Mobilization and the Motion Picture Democratic Committee. 
Also a reporter and theater critic, his articles appeared in publications such as Vanity Fair, the New Republic, The Dial, the Louisville Courier-Journal, and the Kansas City Star. Block was born in Iowa on June 21, 1889, and died in Maryland on January 2, 1974.