WGAW President, 1971-1973
Ranald MacDougall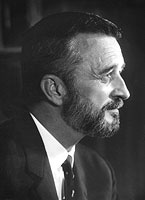 Screenwriter, director, and producer Ranald MacDougall collaborated with writers Alvah Bessie and Lester Cole on Objective, Burma (1945), received an Oscar nomination for Mildred Pierce (1945), adapted the Ernest Hemingway novel Breaking Point (1950), was one of several writers to work on Cleopatra (1963), and directed The World, the Flesh and the Devil (1959).
MacDougall was born in Schenectady, New York, on March 10, 1915, and left high school at the age of 16 to write radio scripts. By age 27, his radio writing career was so dazzling that it prompted the New York Times to run an interview with MacDougall titled, "R. MacD., Life and Works."
By age 18, MacDougall wrote regularly for newspapers and occasionally for radio. After working for NBC as a mimeograph operator, he was hired as a scriptwriter at 21 and fired off more than 40 original half-hour plays. MacDougall attracted the attention of the British Broadcasting Corporation, and then, Norman Corwin. Corwin invited him to write for the Air Corps series This is War. Married to actress Nanette Fabray, MacDougall died in Pacific Palisades in 1973 at the age of 58.