Screen Writers Guild President, 1949-1950
Valentine Davies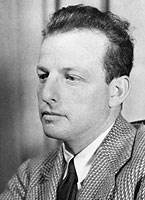 Valentine Davies is best known for writing the Academy Award-winning story for Miracle on 34th Street (1947) in collaboration with writer-director-producer George Seaton. Additional writing or co-writing credits include Chicken Every Sunday (1949), The Glenn Miller Story (1953), The Bridges at Toko-Ri (1955), and the Benny Goodman Story (1955), which he also directed. Davies wrote and produced House Without a Name (1956), a documentary about the work of the Motion Picture Relief Fund.
The Academy of Motion Picture Arts and Sciences houses the Valentine Davies Collection, the screenwriter's scripts, drafts, and plays from 1925 to 1960. Another honor that immortalizes Davies' contributions to his craft is the WGAw's Valentine Davies Award, given to Guild members whose contributions to the entertainment industry and the wider community have brought dignity and honor to all writers. In addition to serving as WGAw president, he co-chaired the Guild's screen negotiating committee in 1960 during negotiations with Universal-International Film Studios. He served on the AMPAS Board of Governors from 1955 to 1961.
Davies was born in New York City on August 25, 1905, and attended the University of Michigan and the Yale University drama school. He served in the U.S. Armed Forces during World War I. Davies died in Malibu on July 23, 1961.