The Writers Workbench
Spring Potpourri
The Writers Workbench springs forward this month to bring you reviews of the latest gadgets.

April 11, 2017
By Robert J. Elisberg
I've been writing this column of The Writers Workbench for a long while now. I believe the first edition included a look at the abacus and a new-fangled quill pen. But after all these years, I'm going to try something different, and we'll see how it goes. It's not a substantive change, just one of form.
In the past, I've bunched products together so that same similar-type items could be better compared. The difficulty with that is the sometimes-challenging reality of dealing with companies. For example: I might plan to do a column on keyboards, and there are five models I want to include. Four of these units might have arrived promptly from the various manufacturers, but the remaining one can get delayed (for any number of reasons) and won't be available for months. And so, the entire column is put on hold and delayed while I wait. As a result, products that came to market get pushed to the backburner, on hold for up to half a year sometimes. And so, by the time you get to read about them, they're not only closing in on being old news, but in some cases a manufacturer may have even released a new version.
And now, instead, I'm going to try a No Theme column for a while. I'll still put several similar products together whenever possible, but it just won't be the driving force. The column will be more of a potpourri, and may turn out to be a better way to fly, reading about new items when they're reasonably new and fresh off the griddle, rather than being tied together with one topic. Or…it won't be a better way, in which case I'll switch back. This isn't rocket science.
And so we dive in now to a bold new world.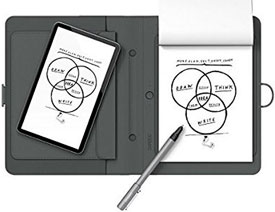 The Bamboo Spark is a portable device, somewhat like a portfolio notepad, that converts your handwritten text or notes to digital. Over the years, I've reviewed product like this, but they've all failed for different reasons—either they work effectively, but are much too convoluted to set up, or they require proprietary paper which makes use problematic and also prohibitively expensive. The Bamboo Spark appears to resolve all that.
For starters, the Spark can work with any paper (as long as the pad isn't too thick). And as for simplicity, this is a folio that has a placeholder on the left side for your tablet or Smartphone, as well as a digitizer pen (which has a transmitter in it), and your paper sits on the right. Basically—press a button, write, and press the button when you're finished. That's pretty simple.
You don't even need to have your tablet connected for the device to work. You can write with the digitizer pen, which stores what you've written until you finally connect it via Bluetooth pairing. If your tablet is already paired to the pen, it will transfer the converted digitized content immediately.
It works well. The biggest problem for getting up-and-running is that the Quick Start Guide is far too basic. One paragraph and some graphics. You can begin that way, but it's better to go online to check things out there. It also tells you there how to sign up for a free Wacom Cloud account of 5 GB. This is where your data is automatically synced that allows you to access it at any time. I didn't find this feature necessary for my own uses, and don't know if most people will, but for those who travel a lot or want to sync between home and office accounts where sharing files is important, it's good to have—and after all, it's free.
I also did some tests to make sure it really did work with pretty much any paper—not just using different pads, other than the one that came with the product, but also scraps of paper I had hanging around. And it did. Everything worked and transferred between what was written or drawn and what displayed on my tablet. And the pen has a reasonably good feel to it. I found that basically things worked easily, though at times I got a little bit lost in the weeds when I tried to do go beyond just written and saving a document. Connecting documents and deleting things worked fine, but it did take me a little trial-and-error.

It's a major plus that the Bamboo Spark works with normal paper and normal ink, so you aren't going to be hit with high accessory replacement costs. That said, you do have to use Wacom's own refills. They don't cost much, around $19 for three. (And the product comes with two refills.) If you lose the pen, which is the heart of the device, that would cost $29.
I have the sense that it's most effective for short note-taking, rather than writing out long treatises, but it certainly would work for that. Everyone won't have need for digitizing their pen-based work, but it's particularly effective for meetings, or in class. There also is value for artists who want a direct way to transfer their work to digital.
One final thing: I must admit that I don't even begin to understand why in the world it's called "Bamboo Spark" or where the name came from (though I quite like saying it, especially when spoken in full with the company name), but I was pretty pleased with it, after years of testing like-devices.
The retail price is $100, but I found it for much less online. There are a few versions—notably the Gadget Pocket model, and the Pocket Sleeve. It just depends what personal device you will most often be transferring your digital data too. Oddly, though they're essentially the same, the Tablet Sleeve version could be found at the time of writing for only $60, while the Gadget Pocket style was $90, for some reason. I suspect this will change over time and between vendors, so it's worth checking around.
SCOSCHE USB-C DIGITAL AV MULTIPORT ADAPTER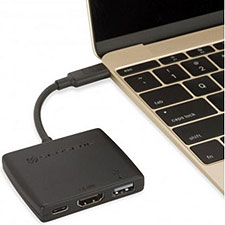 For most people this may be a little premature—but "a little" is relative because the USB-C standard is here now, it just hasn't had a full roll-out. But it's not only on its way, but if you have the latest Apple notebooks, it's already here, so there's nothing premature about this.
USB-C is the newest incarnation of plugs. You're probably used to the basic USB-A plugs that fit into most computers. And also used to micro-USB, which is what most Smartphones and portable devices use. USB-C plugs will, in time, replace all that. They're small, reversible (meaning you can plug them in from any direction) and transfer data much faster. And as I said, they're here now and are officially the new standard. It's just that until you upgrade your devices, you won't need these plugs yet or even be able to use them. But you will—and so from time to time, I want to address some of the applications out there. At the very least, even if you don't have any USB-C devices (also known as Type-C) yet, it good to be up to speed for when you do.
The USB-C Digital AV Multiport Adapter from Scosche is a simple device with a very gray, flat name—that describes perfectly what it does
The only real problem with USB-C is that, with any new standard, not all your devices will be compatible. So, for instance, you might have the current Apple Air notebook, or one of the latest Windows notebooks with Type-C ports—but none of your peripherals can connect to it yet, whether a printer, speaker, or HDMI-device for your TV, or whatever, since they all have connectors that use the old-style plugs.
That's where the Scosche adapter comes in. Simply plug the Type-C connector into the USB-C port of your notebook (or port of any USB-C device), and the other end has a small dongle with three separate ports. One port accepts the old-standard USB-A plugs, another is for any HDMI-enabled device to connect with your TV (like a DVD or Blu-Ray player), and the third port one for any USB-C device (since otherwise-available the USB-C port of your notebook will now be occupied with the Scosche plug). It's very easy, very basic, and very valuable—as long as you have a USB-C notebook o device, which will now have its capabilities expanded.
The one downside to the Scosche is that it only has three ports, so it's of most use because of the HDMI connection to your TV. But—that not only may be what you most need, it does have the additional ports for some support and, this keeps its cost very reasonable. It retails at the time of writing for $50.
TYLT ENERGI DESKTOP CHARGING STATION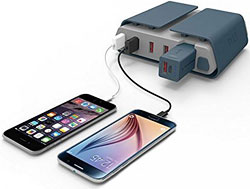 I've never been a huge fan of charging stations, but always live in hope because they are such valuable products in concept. A charging station has multiple outlets that allow for charging general four to six devices at the same time. Some use proprietary plugs, though most today let you use your own cords. The former allows for convenient cord management, and everything is included, but it is limiting. The latter gives much more flexibility, though you have to supply your own cords and—since most are a couple feet long—it can get messy. But it's still preferable. And that's what the TYLT ENERGI system is.
TYLT is one of my favorite companies, usually with well-designed, thoughtful, very well-made products. Unfortunately, I'm underwhelmed here, and another charging station doesn't quite make it for my taste. It has a very nice, clean look, is very well-constructed—and has a very small footprint which is important. But that leaves cord management, which I found a bit messy. And that's odd, because the very concept behind the product—and it's a good concept—is specifically centered on cord management.
There are two "tiers" on either side of the ENERGI, and ostensibly that's to allow for wrapping cords around the device. Unfortunately, the tiers are a bit too close to the main body, and so you can't get the thick, plug-ends of a cord threaded through. As a result, you're limited to using only the middle, open section for wrapping. It works well there, but when you have five charging slots, being only able to properly wrap two cords isn't good enough.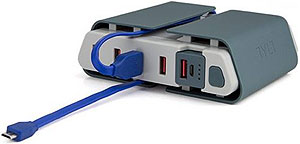 If you have short cords, fine, then wrapping isn't a problem. But most people tend to have the longer ones.
The ENERGI has four default ports, along with a fifth removable one, so that lets you charge a lot of devices at the same time, up to 2.4 amps. And—in concept—the fifth port is a great idea: it pops out and becomes a standalone 3200mAh portable charger. That's a clever bonus, but it's a boxy shape which is fine for dropping into a purse or attaché (so it might fit your needs), but inconvenient for carrying around in pants pockets. It also doesn't have a built-in cord, which is my preference for a portable charger.
The ENERGI charging station has some good points about it, and could fit various situations quite well. And it comes so close to being that rarity—a terrific charging station. It's just okay for my taste, though, missing out by a hair. If the tiers were just slightly farther apart, and the portable charger was a bit more flat, I think it would be terrific. But they're not—though, as I said, it does have some good uses. The TYLT ENERGI could be found online at the time of writing for $60.
There might be a new kid in town, though it's still not quite yet imminent. Andy Rubin, who is the father of Android, started a new Smartphone company, Essential, a while back, and the company finally teased its first product in late March. No information on the product, when it will be officially released, or what phone providers will carry it—there's only a very sketchy photo, but the rumors are that a launch could come before September, and the company has some strong people behind it in design, marketing and sales.
The holiday is now officially over. Starting this past April 1, Amazon began charging sales tax for the last four states that had been exempted. There are still five states who this won't affect—Alaska, Delaware, Oregon, Montana and New Hampshire—because they don't have sales tax, but everyone else is now under the umbrella.
New U.S. Treasury Secretary Steve Mnuchin responded to a new study on technology by saying that he wasn't concerned about a significant displacement of workers affected by the use of robots, since he believed it won't likely happen for 50-100 years, noting that "It's not even on our radar screen." However, this conflicts substantively with the study just released from PWC that said 38 percent of U.S. jobs were at risk of being lost to robots within 15 years, arguably a far greater threat to job loss than moving businesses out of the country. This risk holds true around the globe, with Germany coming in at 35 percent, the U.K. at 30 percent and Japan with 21 percent. The PWC report showed the most impacted industries would be transportation and storage (56 percent), manufacturing (46 percent) and wholesale and retail (44 percent). In response to Mr. Mnuchin's dismissal, Mark Cuban sent out a tweet that retweeted the interview and simply said, "Wow."
To read more from Robert J. Elisberg about other matters from politics, entertainment, technology, humor, sports, and a few things in between, see Elisberg Industries. He can also be followed at a distance on Twitter or Facebook.
Note: The Writers Guild of America West neither implicitly nor explicitly endorses opinions or attitudes expressed in this article.
Copyright 2017, Robert J. Elisberg. All rights reserved.