The Writers Workbench
To Everything, Turn, Turn, Turn
The Writers Workbench reviews a Bluetooth turntable that promises to make listening to your old LPs a lot easier.

July 6, 2017
By Robert J. Elisberg
I suspect that there are countless households with shelves stacked with old record albums that haven't been played in decades, and crammed boxes filling basements with even more. One of the problems is that most people don't have phonographs any more—or at least working phonographs. But I think the issue is bigger than that. After all, turntables are available, and relatively inexpensive ones can be found for sale. The larger problem is that to play LPs you need more than just a phonograph. You also need a stereo receiver and speakers, as well as a furniture unit for them, and—equally important, if not more so—a place for them in your living room.
Now, some people do have all that, perhaps set up for a home theater system for their television and CD player. So, adding a turntable to what's already in place isn't a big issue. However, not only is all that likely expensive, but many people simply don't have the space. And they aren't audiophiles, willing to pay a lot for a high-end phonograph. They just want to occasionally listen to their old records, with pops and scratches and memories, that have long been gathering dust. And putting a big system together simply isn't in the cards. O what to do?
Happily, there are options. And this is one. With an additional bonus suggestion.
Audio-Technica is a company whose products I've reviewed several times, and I've liked what they put out. At a recent Consumer Electronics Show, I came across a new product from them which intrigued me, but for reasons too long to explain I only just got around to testing it out.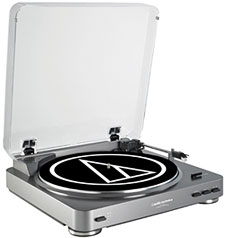 It's a very basic turntable, though with a twist—having Bluetooth capability built-in. Now, for some, this might seem a big "So what?" After all, it's a fairly low-end device, nothing that an audiophile would want. But I think this is for a completely different audience, and the Bluetooth is what makes it a very big deal.
As I said above, the biggest hurdle for people with a big collection of un-listened to LPs is the cost of putting together an audio system and—even more importantly—finding the space to do so. But with a Bluetooth turntable (which has a pre-amp built in), you not only don't need a system, you don't even need the space! You can stick the turntable almost anywhere in your home that is near an AC-plug, for that matter in a closet, not merely in your living room, and then connect it wirelessly to any portable Bluetooth speakers…or even Bluetooth headphones. And you can carry the small speakers or wear the headphones anywhere in your home within range, and hear your old LPs playing everywhere in your residence. Not just sitting in your living room.
Again, to be clear, this is not for audiophiles, or anyone looking for high-end music. Not just because it's a low-end phonograph, but also because Bluetooth by default degrades sound a bit by virtue of it compressing the digital audio files. But there is a significant group of people who simply want something basic and good that will allow them to finally play their old LPs again. Especially those records that by now are so scratched and have pops and dust fills the grooves that pristine audio is out of the question before you even get to the turntable.
So—how does the ATLP60-BT stack up?
There's great and less-great news.
To start with on the positive end, the sound you get with the turntable is quite good—though of course the degree of how good will depend in part on the speakers or headphones you use. I tested the audio with two Bluetooth devices: some mid-range headphones and a good, but small, portable speaker. When connected wirelessly, I was quite pleased by the results. As I said, this is not for audiophiles, but the sound quality was crisp, clear and with a respectable richness.
Setting up the turntable was very easy, starting with placing the metal platter on a spindle. A drive belt is attached underneath the platter, and you simply reach through a hole to hook it over the motor pulley. That's largely it. (I don't have the most dexterous fingers, and screwed it up, but it was simple to just untwist things.) All that's left is putting on the felt mat and taking the cover off the stylus. You're all done at that point, and only have to set up the Bluetooth connection. More on that in a moment. But it's important.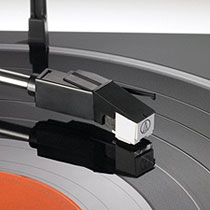 The turntable is pretty basic, with few bells-and-whistles. It's plastic, though coming from Audio-Technica is well-made. A start button moves the tone arm to the proper position for the record that's playing, and you can move it manually, as well. It would be nice to have a hook that keeps the arm in place, to protect it from being jostled, which would cause it to bounce off and risk damaging the needle. There also is no counter-weight on the arm—this isn't critical, since it seems reasonably well-balanced and tracks well, though being able to adjust the weight would protect records if there's over-use. The needle is replaceable, although the full stylus unit is not.
A lever lets you adjust between playing a 33-1/3 and 45 RPM records, but you can't manually adjust the speed for fine-tuning. All the buttons and level are plastic, and don't have a particularly substantive feel, but as long as you're not rough with your turntable, you should be fine.
You aren't limited to just wireless Bluetooth connection. The package comes with a cable that allows you to connect the phonograph to a receiver system (though it's not a standard dual RCA cord, but has a 3.5mm mini-plug—basically an earphone jack—on one end.) A switch on the back lets you choose between a phono or AUX connection.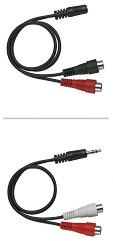 That brings us to setting up the Bluetooth connection. And it's a critical matter.
The instructions in the manual make it appear that setting a Bluetooth connection is easy. The problem is…they aren't. (Nor are the instructions written all that well.)
After numerous failed attempts, using several Bluetooth devices, I went online to see if I was alone in my difficulty. I wasn't. On Amazon, it appears as if half the people who'd bought this turntable weren't able to get a Bluetooth connection, or had great difficulty. I finally did get connections on both devices, but it took two hours of effort. And then, there's the reality of having to go through all this again when setting up connections with other speakers, should I decide to use them.
Also, reports from Audio-Technica say that Beats headphones (one of the most popular brands on the market) will not work with the AT-LP60-BT.
To be clear, I did make Bluetooth connections. It just was a pain.
But—
Because I have liked Audio-Technica products in the past, I decided to do some more delving, and contacted the company. Their representative directed me to a video about setting up the device, and so I dove in again. That's because not only does it demonstrate the pairing process much better than is described in the manual, but one of the most valuable things mentioned in the video is that if you have trouble setting up the Bluetooth connection (the way manual describes), you might instead want to try going into pairing mode with the turntable first, rather than the speaker first as the manual appears to suggest. I tried that and had substantively more success. There still were a few hiccups, but overall it went much more smoothly.
The short version of all this is that I largely like the Audio-Technica AT-LP60-BT turntable. It serves a great function. There were difficulties getting it to work at first—a few small technical glitches perhaps but mainly it seems because the manual is skimpy—and unfortunately that helpful video wasn't embedded on the product page, which would have been an awfully good idea. (You can find it on YouTube, by searching for the product name.) So, after all that, I think the AT-LP60-BT is a nice product that has a lot good about it, just one with the aforementioned caveats. It should work well, but I'd be remiss if I also didn't mention an alternative—particularly since it's one that lets you stay in the Audio-Technica family.
The company sells a range of fine turntables, but for our purposes here they have a near-identical low-end model, the AT-LP60. It retails for $99, while the AT-LP60-BT model being reviewed here is $179. You could get this less-expensive, non-Bluetooth unit, along with a well-regarded Bluetooth transmitter (such as one from TaoTronics—which I haven't personally tested) that sell for around $30. Connecting this transmitter dongle would then give you the same wireless Bluetooth capability. That would not only most likely provide a much better Bluetooth connection, but also together would cost $50 less than the AT-LP60-BT. (I haven't tested this yet, but I should be getting the transmitter, and if so will do an update later on.) There are of course many other turntables on the market—not just low-end, but high if you'd prefer a more substantial phonograph—for which this would work, as well.
If you don't want to go to the trouble of setting up the devices that way, and prefer the simplicity of an all-in-one unit, the AT-LP60-BT turntable being reviewed here is good and offers a lot of low-end benefits for wireless audio. And happily, I did get it to work. And ultimately work reasonably properly.
Samsung's Galaxy Note 7 which infamously had a massive recall last year after units caught fire is coming back as the Galaxy Note Fan Edition. It will use parts from unused handsets and have an upgraded Android operating system that will be the same as the company's flagship Galaxy S8. The device will also run Bixby, the company smart assistant similar to Apple's Siri, Microsoft's Cortana and OK Google. The price will retail at a third less than the original Galaxy Note 7.
If you're bothered by your cell phone battery running out of power too fast, and taking too long to recharge, there's hope on the horizon. At Mobile World Congress earlier in the year, Chinese smartphone maker Meizu demonstrated its new Super mCharge quick-charge technology that fully charged a 3,000mAh battery in only 20 minutes. (For comparison purposes, this is a touch larger than the iPhone 6s battery, though most Android batteries hold a capacity of 1,800mAh.) It delivered a 60 percent charge in just 10 minutes. This compares favorably to Qualcomm's newly announced Quick Charge 4.0 technology in their Snapdragon 835 processor, that can provide a five-hour charge in five minutes. The downside is that the Super mCharge won't be available for the market for another one to two years.
If you stream Netflix movies on your computer, you might be unaware that there are many keyboard shortcuts you can use instead of grabbing your mouse each time. Among them are –

<Space> and <enter> – play or pause
F – full screen
<Esc> – exit full screen
<Left arrow> – rewind
<Right arrow> – fast forward
<Up arrow> – volume up
<Down arrow> – volume down
S – skip intro
M – mute
To read more from Robert J. Elisberg about other matters from politics, entertainment, technology, humor, sports, and a few things in between, see Elisberg Industries. He can also be followed at a distance on Twitter or Facebook.
Note: The Writers Guild of America West neither implicitly nor explicitly endorses opinions or attitudes expressed in this article.
Copyright 2017, Robert J. Elisberg. All rights reserved.