The Writers Workbench
CES 2019: There's No Place Like Ohm
TWW revisits CES to find the winners of its annual Cool Thing Awards and tests one technology that, without hyperbole, will likely be life-changing.

January 29, 2019
Robert J. Elisberg
Well, it's that time o' year. The Consumer Electronics Show is upon us. Disneyland for Adults. The circus has come to town. The show is exhausting, but fascinating, giving a look at the technology ahead—in a "small" way in terms of seeing the specific products themselves, but also having a larger view for the direction it's all going. And a whole lot that will never come to light and that you will never see.
There always are themes to CES, where some field of technology seems to predominate. That doesn't always mean it will catch on immediately, if ever. TV has pushed curved screens and 3D glasses, neither of which got anywhere. (However, more on 3D TV later, with a twist.) And VR made a massive splash a couple years ago, and while it's still here and undoubtedly part of the future, it didn't take over the computing world like it was seemingly poised to and has settled more into the gaming realm for the time being.
The big themes for this year were clear before the doors opened. That's because my email Inbox was inundated with two particular technologies. Both are related to one another, although one will surprise you. The first is artificial intelligence (the sort of thing that's used predominately in Smart homes, but also elsewhere). The other is—robots. Yes, robots. Go figure. To be clear, as I said, just because these had a particularly big presence at CES doesn't mean they'll be making their way into the consumer world with as much prominence. I don't read consumers are ready yet for robots, but I do suspect robotics part of the future—especially in the surprising incarnation in which many of them appeared. And artificial intelligence has been developing strongly over the past few years, and I think has only been touched on.
CES tends to have a bit of a cycle, where technology development moves so fast that it sometimes has to take a few years off to catch up with itself. When that happens, there is amazing technology put out into the world, but it's not innovative as much as it is impressive. We've been there for the past couple of years. This year, though, I sensed we were moving in the innovative stage again.
Also, there's another technology that made a more significant appearance at CES than in the past, and though it's not "mature" just yet, it's finally here, and is a game-changer when it's finally fully ready. That's 5G mobile. This isn't just the mere next step after the current 4G. This is like travel going from the Model T car to airplanes. More on this later.
Every year I'm always asked one particular question—"Okay, so what cool things did you see??!" My definition of something cool is different from most. It's generally not the big, flashy device with lots of bells and whistles, but usually something small that helps what you do regularly significantly better and easier. There's one flashy exception this year, but throughout the journey I'll note what gets the Cool Thing Awards.
For now, we'll dive in. Though first, my annual warning.
This will be long. I don't mean cute-long. I mean long. Annoyingly long. "Oh-my-God, I can't believe there's still more" long. "Dear God, please make it stop" long. This is a detailed overview of the Consumer Electronics Show to give a reasonably-full look at the entire show and the direction of tech ahead, not "Here are a couple cool products." If you don't like "long," fair enough. You're in the vast majority. Feel free to stop now. But if you do take the journey and read on—do not complain that "This is SO long." I know it is. I've just told you. Jump around through it to topics that specifically interest you, perhaps. But then, however you attack this (the whole thing, skimming or protective avoidance), think of it this way—this isn't a long article, it's a really short book about the 2019 Consumer Electronics Show.
Onward.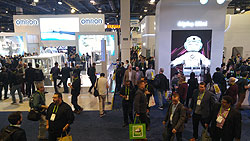 I was trying to figure out where to start things, and to my surprise I think that robots are the best place. In part because they were more prominent than in the past, but also because much of them are so different from what you'd expect when thinking of robots.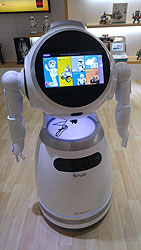 Certainly, many of the robotic products are on the toy-ish end, looking like our concept of a 1950s robot, or are an attempt to jump in as an early adopter without filling an actual need. But a few things are interesting, and in reality the world of robotics far transcends that.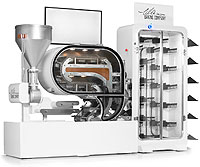 For instance, though it may not seem like our concept of robot, the Wilkinson Baking Company has their Breadbot which is precisely that. This isn't for home use, but more for businesses that have a call for bread and rather than buy it from third parties could make their own. For instance, a restaurant that sells burgers, or a sandwich shop—or even a grocery store that could bake fresh loaves in their bread aisle. (And yes, bakeries could use it to free up their bakers for other jobs.) At the moment, the company plans to rent their machines instead of putting them up for sale. It was fascinating to watch in action, had a wonderful aroma, and the product was delicious.
Also food-related, and something that could just as easily be put in the auto category but they're promoting it as a robot, is the Robomart. This is a small, self-driving van with shelves of food that comes to you home when you've ordered it via their app, from which you do your grocery shopping, and it then returns to a re-stock zone. Though self-driving, it is currently controlled by a tele-operator remotely, though the intent is for it to eventually be fully autonomous. The European company says Robomarts have logged 5,000 miles in testing operation.
The Hobot is a Roomba-like device (the disk that scoots around the floor sweeping up), but this instead clings to windows as it crawls along to clean them.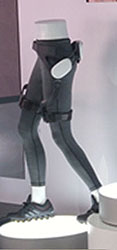 Samsung Bot is a full division of a range of robotic devices—some in the service area—but one stood out for a completely separate reason, something they called GEMS, for Gait Enhancing and Motivating System. This is sort of a leg prosthetic or exoskeleton for the elderly with a balance problem or a person with a walking issue that straps on at the hip that helps with walking. (There was a lot of odd, but surprisingly interesting health tech for seniors at the show this year. More on that later.)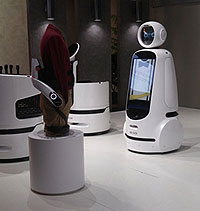 LG has a series of robots in their CLOi series that are in the service area and cover a wide range of areas. Several were introduced last year, like The CartBot which follows you around for grocery shopping, sort of like a grocery cart on steroids (since you can program it with your needs and, I believe, recipes). And the PorterBot carries baggage, guides you to your airport gate and helps you check in. Along with the ServeBot, a sort of waiter for lounges. But the company's new SuitBot was far-less standard than these. For use in clothes stores, it takes a body scan of you (body and face scans were big this year with the boom in artificial intelligence), creates an avatar of you, and then shows what the tailored clothes would look good on you, and even will take your payment.
There were robots for factory work, and robots for home use, like the poorly-named Puppy Bingo (one of several robots from the Puppy Robot Co.), a small human-ish snowman-like object that rolls around, lets you have video chats, send messages, feed pets at proscribed times from a drawer at the bottom that pops open, and (most helpfully of all) has some health features, like letting you take your blood pressure and deal with your medications, keeping records of it all. And at some later point likely allowing you to connect all this with your doctor.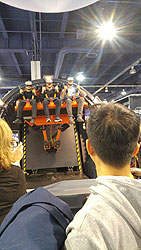 And there was even an odd, but pretty clever product (enough so to get one of my "Cool Things Award) from DOF Robotics. And this is that "one exception" I referred to at the beginning that absolutely is big and flashy (which is its very point), not remotely a small gizmo. Although this is another of those things you wouldn't normally think of as a robot, it falls into the simulation category—crossing robots with Virtual Reality and allowing vendors to have a roller-coaster where there's not much more room available than for a closet. You sit locked into the seats, put on the VR goggles, get lifted up, spun around and flipped upside-down, and live to tell about it.
The tech of robotics was impressive, though sometimes you scratch your head wondering who they think they'll be selling the product to.
One example. There was an impressive-looking product from ForwardX called Ovis, which they described as a robot, though it really wasn't a robot like we think, but is more a case of using artificial intelligence to do its job and "computer vision." It's a piece of carry-on luggage on rollers that you can use hands-free, since it follows you around. It doesn't use a chip that you wear and sensor would hone in on—instead, it scans your body (see, another one…) and recognizes you. The technology is very impressive, and it got a lot of attention—but the more I watched, the more I thought it's a truly terrible idea. Most importantly, if there is one item I'd want to absolutely want to keep my hands on, it's my luggage in an airport. That aside, it generally follows behind you, so you have to keep turning around to make sure it's still there, which not only seems sort of annoying but is a definite hindrance to having a normal conversation with your party. Furthermore, pulling a rolling piece of luggage not only isn't very difficult, it's actually extremely easy.
Taking a slight detour here, I'm going to mention drones ever-so-briefly, since there's a robotic sensibility to them. Usually, I skip past these devices since there's so much similarity among them all, are often used as very high-end toys, and their commercial end isn't of great reviewing interest to me. But two stood out.
One is a kind of drone that I hadn't seen before and actually makes sense and is interesting—underwater drones. I saw two at the show, the Sublue White Shark Nano and Navatics Mito.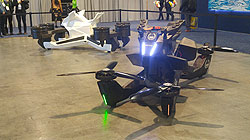 The other is not remotely what you would think of as a drone. Unless you think of a drone in the land of giants. But the company, HoverSurf, categorizes their Hoverbike as a drone. It's for police or military usage, and in fact is currently in operation in Dubai. Let's put it this way—as I was talking to a representative, someone walked by, glanced over at the drone and said, "Oh, my God, what the hell??!!" That's a good description. It seems like it's likely for crowd control, and also seems wildly dangerous if anything went wrong. The device is not pilot-less like normal drones, but someone sits in it to fly the thing, which hovers 16-feet in the air (limited to that height by computer). There are two versions. One with open blades, and one with blades far more safely inside a sort of container.
But back to robots and their companion technology, artificial intelligence. As I mentioned, these two fields were among the most heavily promoted before the show, and they work hand-in-glove, overlapping much of the time. AI was so notable throughout CES, often in small ways, but a few places stood out in terms of its present and future.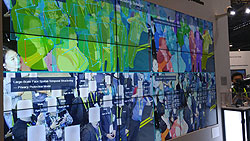 For the latter, as I mentioned facial and body recognition has begun showing up extensively. And it leaps out with Horizon Robotics, whose technology is used for dealing with crowds, what they describe as "Dense Crowd Spatial Temporal Structuring Solution." To demonstrate the tech, they had a huge display panel that scanned all the people standing there to observe it. And next to each person's scanned image was a variety of data gleaned from that. This display panel was divided into six sections with the same group of scanned people in each section—this was to show off the various kinds of information a different scan could provide. (In one section, for instance they identified people by gender and age group, generally in 10-year increments. I'm in there on the panel, a bit mystically it seems because I'm identified as—"Male 55-100." I don't want to give away if they're right or wrong in either direction. Also, if you look closely at the photo, you can see me clearly in the top-center section, my face peeking out in full color in the upper-left of that group amid all the others who are blurred out. Just not me, for some reason. Hey, as I said, I'm apparently more mystical than I thought....)
The Samsung Bots I mentioned above all utilized artificial intelligence in some way, as well. One of them checked air quality and would then purify the air. Another—again, as a benefit particularly for seniors—had fall detection. There was a good deal of home care, as well, which included monitoring sleep patterns.
In a small way, if any product symbolized the growth of AI it was handheld realtime translators. This is a device I hadn't seen before at CES, yet this year I came across at least four of them, showing a growing market as the world becomes ever-more global, but also a growth in the technology which was very impressive. Most of them worked similarly—and extremely well. And cost around $300. They're small, fitting easily in the palm of your hand. No voice recognition training is required like with many mobile phone "assistants." The WT2 Plus could manage 36 languages in three modes. (Auto mode, which handled each part of a two-way conversation seamlessly—either responding by audio playback or in text. Touch mode requires user input for when you're in a noisy environment. And Speaker mode is for group meetings.) Pocketalk recognizes 74 languages and with its AI learns as you use it.
Travis and Zoi Meet are sort of companion devices, from Dutch companies with an overlapping founder. The Travis was particularly nice, recognizing 105 language, and even lets you practice learning a language, costing $249. Zoi Meet only handles six languages at the moment (oddly, not French or German, which I suspect causes moral outrage in their countries), but is a different beast. It's more for international corporate conferences or perhaps overseas classes. It impressively provides subtitles, records and stores everything, letting you share the searchable transcripts as well as export the audio and text. It can port the text to a screen and handle multiple languages at the same time. Unlike the other translating devices, the Zoi Meet uses a subscription of $19/month.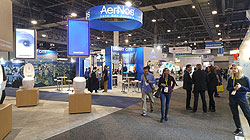 Though Smart Homes use artificial intelligence at their foundation, they're a massive world unto themselves. Only a few years ago, Smart Homes were huge at CES, though focused mainly on "all-in-one" kind of tech, where you could control your houses heating, lighting, security together with a subscription and products from a single company. That still exists, in a very big way, but within just a few years the field has exploded to deal with most anything related to your home. And the Smart Home showcase at CES has expanded with it.
As has Smart home security. A booming market. From companies like Ring (which I first came across years ago at CES and wrote about them when they were known as DoorBot) with their video/doorbell (and more) features to an almost unending parade of services, among them LifeShield, Alarm.com, Brilliant, interlogix, ADT, Safe and even the VoIP phone company Ooma.
Though Smart Homes is not an arena I tend to write much about and is such a vast field, too, just a few small mentions to show how focused it all is now should suffice. For instance, there's the Kasa Smart Wi-Fi Light Switch that seems basic yet was a CES Innovation Honoree. It can turn any light switch in your home into a 2-in-1 Smart switch with "voice assistant" activation—but also has a Smart speaker built in that lets you communicate throughout your home. And companies like Kohler have their Sensate Faucet, a voice-activated smart faucet that lets you not only turn the water on and off, but in specific amounts, like if you need a quart and track your water usage, and more. And yes, there's the odd end where field that some companies will do anything to get a piece of the massive Smart Home pie—so we now have the Moona, an ePillow. It regulates the temperature around your head and shoulders for a better sleep. Yes, I know, really. Go figure.
Moving from the Smart Home but staying in the house, I was intrigued by something from a start-up company called Heatworks. It's not ready for the market yet, but it creates hot water...without using electricity. I didn't get the full science of it, but basically it's based on graphite plates that serve as electrodes and create electricity when water naturally interacts with it. They had a demo, and whatever its future holds, it was certainly fascinating.

I also liked the Lumicharge desk lamp. There have been a lot of similar products around for a few years (and the company itself has a first generation lamp), but their new lamp has added a few tweaks and done it well. On the stem, it displays the day, time and weather. There are three types of light it can shine (bright white, soft white and soft yellow) and has a dimmer for those. The angles are highly adjustable in many directions, and the lamp also has a night light motion detector to go on when crossing a darkened room. There is a small wheel that lets you choose which built-in adapter to use for charging your phone or tablet. A Qi-standard pad also lets you charge wirelessly. This photo is the current model, but the new one should be available during the first quarter of the year and cost between $139-149.
For years I never wrote about home appliances, but I've gotten intrigued by them over the years. Not to review, I wouldn't know where to start ("The best compressor I've seen in a long time"). But just what they offer, and how the field has changed for things so seemingly standard. The exhibits for Samsung, LG, Bosch, GE and so on have become wonderlands, though with a sameness among them. But some examples stand out.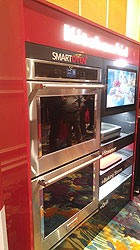 Whirlpool/Kitchen Aid has an oven being released this January that recognizes if you're using their grill pan, baking dish, steamer or stone. It controls recipes and timing from a touch pad or an app if you're away. (That's becoming common, though it's always struck me as not the best thing in the world to cook with a stove or oven if you're not at home.) It'll set you back from $3,000 to $5,000 for the double-oven.
Haier (as do others) has a stove with sensors connected to an app—it has timing configured, temperatures, recipes and how-to videos. Their pans have a built-in accelerometer that you tap to set the pan for temperature.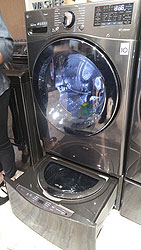 LG has a double-washer that seems a bit different from some others I've seen and was a CES Innovation Honoree, having a lower bin to allow you to do two different kinds of loads at one time.
And Bosch was displaying a wonderful lawnmower, the Indego S+ which I first saw at the IFA tech show in Berlin a couple years ago. Alas, it's still only available in Europe, but basically this is like a Roomba for lawns. You set underground wires around the borders of your lawn, and it cuts the grass—and then returns to its home base to recharge. Apparently one of the issues for sale in the U.S. is that lawns are so much bigger than in Europe, which presents technical challenges for the device. Though with such a big market, it's something they're hoping to resolve.
Not all high-tech appliance advances bowled me over. Sharp's Super Heated Steam Oven still has me scratching my head. The representative did her best to glowingly explain why this was so wonderful and what it does, but it was an uphill battle. I get that no preheating or defrosting is necessary. You add water in a container before cooking, though it doesn't add moisture to the food, but it "locks moisture in." Perhaps it's wonderful. It just seems a tad gimmicky, which is not uncommon at CES.
Speaking of food, there were some interesting food-related products I came across, in addition to the ones I've mentioned previously, like the Wilkinson Baking Company bread bot (one of my favorite products at CES) and the Robomart mobile grocery store. Two others particularly stood out for me.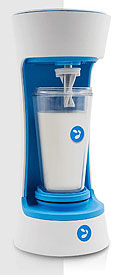 The Yomee from Lecker Labs is sort of like a Keurig or Nespresso machine, but for making fresh yogurt. You simply add milk to a Yomee pod (plain-only now, but they're developing flavors), and six hours later you'll have your yogurt—at which point you can add fruit. Especially for people who are lactose intolerant or vegan, this is a way to now have yogurt since you can use lactose-free milk or a soy or almond milk. Their app provides a lot of recipes for foods beyond straightforward yogurt. It retails for $99.
The June oven is a seven-in-one appliance that looks like a toaster oven, but is also an air fryer, dehydrator, slow cooker, broiler and has a warming drawer. But taking it a step further, there is a camera inside which will recognize the food and therefore know how to cook it—combined with a thermometer probe—so the oven can set the proper internal temperature required. You can override this setting, of course, if your taste differs. It retails for $600, with an $800 model that provides some additional features, though they don't strike me as necessary.
Since the whole point of these The Writers Workbench columns is…well, writers and the entertainment industry and, as a result, home offices and working on the road, it's only proper to take a look at some products that fit in that arena.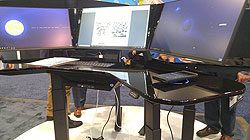 One such item crossed my path at an evening event I attended but I initially passed the product by, thinking the thing an unnecessary marketing ploy. But when I came across it again on the show flow, there was a nagging inside that made me wander over, and I'm glad I did. It's still likely unnecessary for most people, but was an exceedingly well-designed office basic for those who want a deeply-organized business environment and live deep in today's techie world. It was the Cemtrex Smart Desk. Yes, just a desk. But it was packed with many of your needs. Three touch-screen monitors are built-in, along with USB and ethernet ports, a Qi-standard wireless charging spot, a built-in keyboard, the capability to use hand-gesture commands for things like scrolling through or zooming documents, wireless headphones, a document scanner, a smooth ability to raise or lower the desk (making it easily convertible to a standing desk), or move it around on rollers, with a glossy or matte finish, a 1 terabyte hard drive, 16 GB of RAM and an i7 processor. (An upgraded model provides 32 GB of RAM and 2 terabyte hard drive.) It doesn't come cheap—$4,500 to $5,700 depending on your configuration—but you do get a lot. And being all self-contained, there isn't an ounce of clutter.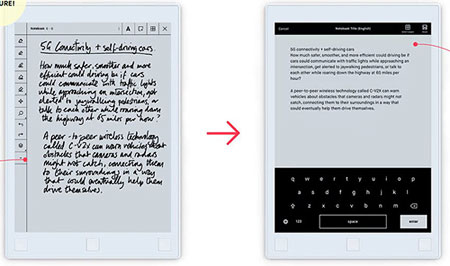 For years, I've been looking for a great and easy product for converting handwritten documents on paper to electronic files. The search has come close, but the total ease-of-use isn't there yet. The ReMarkable Paper Tablet from Norway isn't this precisely, but it's a cousin and is wonderfully designed. You don't write on paper, but on the tablet. It has a very high-quality paper-like display, perhaps the best e-ink I've seen. The tablet supports 33 languages for converting handwriting to typed text, which you can then print out or save. And with all of the on-screen buttons for converting (and other options) built in, that adds to its ease-of-use. There's also a note-taking system that can collect all your notes and put them on one screen, sort of like a cork board. And it can double as an excellent ebook reader with its high-end e-ink. The ReMarkable seems best-suited for students and notetakers, though it's hardly limited to that. At the moment, the product is quite new so the price is high, $600, although their hope is to eventually bring that down.
I came across a couple of other tablets that fall into that somewhat similar family. Wacom (which makes a very good paper-and-tablet product that's almost easy enough to hit my desired standard, but not quite there yet) showed off its Cintiq, which is like the ReMarkable but much larger and more drawing-based, designed for artists. (Their spokesperson was aware of the ReMarkable and said, "It seems pretty cool, I'd like to get one." Not bad from a company that competes in that arena.)
The other is iSKN's The Slate from France. This is a Smart tablet with sensors that let's you use any paper and even your favorite pen, a great plus. (You slip an electronic ring around your pen, which communicates with the device.) It can send your material to a PC or Mac, Smart phone or your tablet. Unfortunately, it can't convert to text yet—they're hoping for the next version—so it, too, is really for artists.
I also was intrigued by an offbeat product called the Faytech Lapscreen—which I also give a Cool Thing Award to. This is an incredibly thin portable monitor (just 4mm), weighing only about 12 ounces. It connects to your phone or tablet by USB-C or HDMI to give you a much-larger, external 12-1/2" monitor. (It can also connect to a laptop if you want dual monitors for a presentation.) Retailing at $200, there's also a touch-screen version for $300 that weighs a couple ounces more.
Okay, I think it's time for intermission. You've read long enough for the moment, and deserve a chance to stretch your legs and perhaps take a bathroom break. Put on a little music to relax, perhaps. I'll wait…
Fine. Done? Great, we'll dive back in.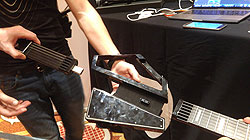 Speaking of music, another Cool Thing Award goes to the Jammy Guitar, which takes us into the world of sound and audio. This resolves the problem people have about not being able to bring their guitar with them on airplane travel. It's a portable electric guitar for which you detach the parts from one another, none being more than 17" which fit in a sack. Being digital, there's no need for tuning, and it even has a built-in speaker. You can adjust the sound for either electric, acoustic or classical. And it has a port to use for the Garage Band game. The neck may be a bit thick for some people, but it's a near-full-size guitar with 15 frets, and retails for $150.
And while we're at it, let's add another Cool Thing Award in audio, as well—the Ion Premier LP. Households are full of old LP albums stacked unplayed for years. It's not just that people don't have a turntable, but if they get one they have then have to buy a receiver and speakers. And find a place to set them all up. The Premier LP is a standalone wireless turntable with stereo speakers built-in. Like old portable turntables were in another era. However, with the Ion Premier LP you can also stream the music to Bluetooth speakers. And additionally it can connect to a computer allowing you to convert these old albums into digital files. It retails for $129.
The 49101 company's Changer is a good idea with one hiccup. These are earbuds whose connecting wire can be separated and become a charging cable, meaning it's one less cord you have to carrying around. Very clever. And the cable also allows you to connect your phone to a friend's phone and charge from that in an emergency. (So, as I said to their rep, all you need is the cable and a REALLY, REALLY, REALLY great friend… Quips aside, it's a good technology.) The hiccup is that it costs $150, which is ridiculously too high.
The terrific XMI company, a favorite of mind for years, makers of wonderful, small speakers, has begun branching into earbuds. Their totally wireless Libery Xoundpods are very clever. It's two separate stereo earbuds (like two hearing aids, no wires connecting them) that automatically pair with one another. They can be used in either ear without having to do that annoying search for the little L/R etched on the side. And they can also be use singly, monaurally, allowing you to give the other to a friend in order to share your music streaming it to both people. It retails for $50.
Of course, all this wonderful technology we've been discussing here needs power to run. And that brings me to my favorite line of products, portable chargers. For reasons inexplicable to Man, I love them. The best I can explain it is that portable charges tend to be elegantly and cleverly designed, trying to bring—because of what they are—as much function to as small and light a body as possible.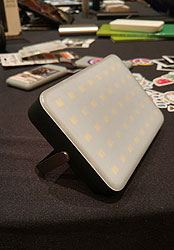 Easily my favorite portable charger at the show (and another recipient of my Cool Thing Award) was the myCharge Lumen 20K, from one of my two favorite portable charger companies. It's a reasonably-small, portable charger holding 20,000 mAh (which is a LOT, enough to charge your phone about seven times)—but also provides four levels of light, from normal to overwhelmingly, almost-unearthly bright. It's not too heavy given the power it packs. However, what's so special is how long it will hold that light—important for camping or during a blackout. At the incredibly, unbelievably bright level, it will last for 16 hours! That's a lot for a low-level light. At the normal light level, however, it will glow for a stunning 68 hours. It should be available mid-year. (The company also will be releasing a similar model that's 10K.)
When it comes to portable, Atom lives up to its name (or down). As part of their Think Small line, the tiny charger provides 2-3 hours of emergency power, with a slide-out plug. That's not much, but enough when suddenly you need a boost—and the main point is that charger is diminutive, about the size of a stack of four quarters. It hangs on your keychain, and retails for $40-50 which strikes me as high for just a boost. But to have something this small for emergencies is worth noting.
Wireless charging with the Qi standard took a massive leap this year, thanks no doubt to Apple finally adopting it. Qi wireless chargers were therefore sprouting everywhere, though to be clear they aren't generally fully wireless, since they need to be plugged in to get a charge. What's wireless is the connection between your device (like a mobile phone) and the charger. However, the Skycharge from Brydge is an always on totally-wireless charger that doesn't need to be connected to a power source. And no, I don't understand how this works. But they swear it does. I couldn't get them to explain, but perhaps it's something you charge through an outlet, and then unplug for wireless portability. Or not. But that seems more rational. (Unless it was solar, which it's not.) Brydge is a high-end company that makes excellent Apple folios among other things, so on this we'll just go on faith—and confirm when it hits the market.
The Navitas thin charger is a rare creature—a change in technology. It replaces the standard silicon wafer with a GaN layer (gallium nitride) that's faster and more efficient. Though a charger, it's really more a power adapter that plugs into the wall, and thoroughly portable, in fact coming with adapters for use in other countries. It works best if the device it's charging utilizes the latest QuickCharge 3.0 standard, but still has benefits regardless of your portable device. They ran a test on my mobile phone, and there was a 50% benefit.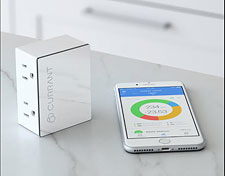 Thought the Currant isn't a portable charger either, I'm including it here as a power device. Basically, the Currant appears fairly basic—simply a small unit you plug into a wall socket which provides an extra outlet and measures your energy use. (There is also a model that can be built into the wall and replace your existing AC outlet.) But with its app, it does more—especially for parents with kids whose lifeblood is playing plugged-in gaming consoles. You can set the app to block anything using an AC outlet, allowing usage solely during specific times. And it can only be re-set from the home controlling app. If your kids work around it by simply unplugging the device, you'll be informed of it on the app. (Then again, given how many devices are portable, that's a way around it right there.) The Currant only retails for $59 though, so at its most foundationally basic, it also makes a good electric timer for lamps and such things, even if that's not it's intent.
At the other end of the spectrum from a field I write about in abundance, we move to the Central Hall of the Las Vegas Convention Center and a field that I rarely write about at all.
The Central Hall is where most of the Big Guys live. Samsung, LG, Toshiba, Panasonic, Sharp and more. And more and more. And after a while you realize they all pretty much make and sell the same things. Some a little better, some with a few different bells-and-whistles, some a little less so. But basically it's differences in degrees. So, to go into detail about why what one has that's different and better is an exercise in futility.
Especially with TVs. The TVs there are very impressive. But they're all impressive, even the low-end ones. And every company has its own jargon to explain why theirs is The Best, but the jargon is meaningless. Saying that their sets are best because they use Active Nano Differential VM Technology sounds great, and maybe even is. But the company next door has his own Best and Greatest Jargon to balance it. And ultimately, TV choice is very subjective, and the best way to buy one is to ask your friends what they have and like, and to go into a store and look at screens to see what most appeals to you. There is one particular feature that all major companies are offering this year that does make a difference—it's not actually new at all, but it was always cost-prohibitive in large screens. That's been resolved, which is why it's now hit the bigtime— OLED. It's still more expensive but presents a seriously impressive image.
That said, as it happens, I actually bought a new TV about two months ago and did pretty much just that—ask and look. One thing I found in comments and writing, however, is that among all the technologies the one that was most important is something called "Full array." That allows for deeper colors and separation for more crispness and images to stand out. In fact, when I went to the store, I had a pretty good idea what I was going to get—but when I was there, that brand had two sets next to each other: the one I was going to get with "array" technology, and the next step up that was notably more (though at a great sale price) but had "full array." And the difference was actually very noticeable. And seriously impressive. So I bit the bullet and took the next step up. Also worth checking: depending on the set-up in your home where you'll be watching is the matter of how good a TV handles viewing angles. If you'll be watching head-on, everyone is great. But some don't handle watching from the side, as well.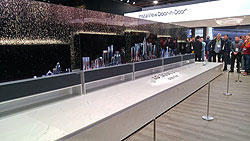 What TV manufacturers do is try to come up with some razzle-dazzle to make their sets seem special. But they're just gimmicks, not adding much. 3D-TV with glasses was one such attempt. Then there was the lunatic curved screens. One thing that LG is trying this year is "disappearing" screens. These are big-screen TVs that lower halfway when you just want a smaller screen to show photos, and disappear entirely when you're not watching. Except—I think when people pay A LOT of money for a big-screen TV…They Want to See It. And want others to see it. And also, if it "disappears" that leaves a blank space behind on the wall. Or if you have something there, it will be covered up when the TV is up. So, this is a head-scratcher.
And 8K sets are being pushed, as well. But that's borderline pointless. Not only is there almost no native 8K content, but the human eye can't really, practically differentiate between 4K (which itself has little native content) and 8K. Add to this that 8K is massively expensive, perhaps in the $15,000-20,000 range for a large-screen TV, compared to as low as $700 for one that's 4K. So, manufacturers are having an extremely difficult time selling 8K TVs. Ahh, but therein lies a tale. Because it brings us to a company I've covered for a long time that has crept along haltingly under the wire—
Over the past seven years, I've written about Stream TV Networks, who make the seriously-impressive Ultra-D technology for glassless 3D viewing. To be clear: glassless 3D is nothing like 3D TV with glasses. The latter is not the way people watch TV and that doomed it from the start. However, watching TV without special glasses is another matter entirely. That is how people watch TV, whether 3D or otherwise. Also, Stream TV's technology not only lets you adjust the lever of 3D "pop" (down to zero if you want to watch in normal 2D), but also can convert any regular 2D broadcast or to 3D instantly, solving the content problem! (At the booth, they were running a clip from It's a Wonderful Life in 3D.) And most importantly, it works. The 3D image (while not as pronounced as with glasses) is very clear and impressive. The biggest problem has been that it got lumped with "3D TV with glasses" and therefore hit a lot of road bumps over the years dragging down its progress.
But here's where the game may have changed. Only a month ago, Stream TV Networks finally made a major announcement of a deal with the manufacturing giant BOE (one of the world's largest for making panels) to put the product into production. So, as you might imagine, their executives had good spirits all around. And two things at their booth stood out. The first is the improvements they made from even last year's terrific, high-end 4K product—now an 8K-Lite set (halfway between 4K and 8K). With the use of an 8K lens and backlighting, the technology no longer has to "grab pixels" from the background, so the 3D images pop out even noticeably better. And the second thing is—because of this, and the BOE deal (which gave the stamp of approval) a lot of TV manufacturers were now making a beeline to Stream TV Networks to talk. And this is where what I wrote above kicks in. In part they were talking because of the even-better high quality and BOE, but also, interestingly, because the capabilities of glassless-3D with 8K-lite gives their own 8K sets (which they're having a hard time selling since they offer little to the human eye over 4K) a value they didn't have before. And being 8K-lite can be sold at a consumer-friendly price. Furthermore, the glassless 3D market goes beyond just TV and covers tablets, home monitors and Smart phones—and more (like panels on car dashboards and screens for the rear seats). Does this mean it's finally the year that Stream TV Networks and glassless 3D-TV breaks through? I don't know—they've had so many close calls over the years, it's hard to know for certain. It's still thumb-twiddling time. But so many more pieces are in place now than ever before. So, we'll see how it all goes.
Though we're not at the end of this CES overview, take heart, the end is in sight and coming along reasonably soon. First though I want to continue with three other areas that I haven't generally covered much in the past, like TVs, but this year they each offered some interesting products and advancements, sometimes to important effect.
And the first of those is health tech. It's not that I haven't thought there was great technology there (I have and noted some things over the years), but most was on the extremely very high medical end. And on the consumer end, so much was fluffy, like countless products to wear for improving your brain. This year though there seemed to be a leap in the consumer field where technology is able to bring serious medical needs to consumers.
And oddly, some of those seem very fluffy on the surface. But I found them very beneficial particularly for the senior market. For instance there's Dfree, which promotes itself as the "first wearable device for incontinence." No doubt this simple phrase brings out its share of rolling eyes, but it turns out to be substantive and addresses a very real need. There's an ultrasound sensor attached to a person's abdomen and when paired with its app sends an alert when it's time to seek out a bathroom.
Or the e-vone, which is a shoe with fall detectors. My first reaction is that most people have a pretty good idea when they've fallen. But how this works is that when it detects the person wearing the shoes has fallen, its app will send messages to inform others.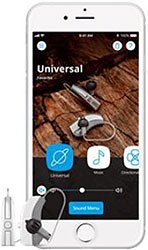 But there were some other health-related products that had deeper uses and were quite impressive. That includes the Widex EVOKE, a battery free Smart hearing aid, which received a CES Best of Innovation Honor. Using fuel cells, there's no longer a need to fumble around trying to change the miniscule batteries. Instead you just charge it—yet more than that, the device charges in just 20 seconds (!) and stays charged for 24 hours. Further, the hearing aid learns with its app, self-adjusting itself based on what a person wants to hear in an acoustic environment.
The Dynavox division of Tobii has eye tracking technology that allows a person to control their computer screen by their eyes. Through a series of actions, you train the software to recognize your eye movements. Though they also have a division that deals with this for gaming, the health application is for those with disabilities, what the company calls "assisted technology." It will work with any application but is most effective with Windows control, Office suite products and the Adobe suite, as well as browsing the Internet.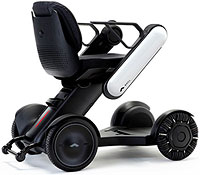 I was also taken with the WHILL, which received a CES Best of Innovation Award. And understandably so. It's an extension of the new field of autonomous self-driving vehicles and gives an incredibly valuable (if not noble and wonderful) twist to it. This is an autonomous, self-driving electric wheelchair.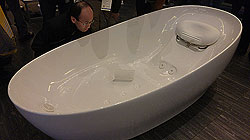 It was also difficult not to notice the Toto Flotation Tub with Zero Dimension, which received a CES Innovation Honor, which I assume is for design. Or effort. I can't begin to describe its actual benefits, but what the company says is it provides freedom from gravity, with less stress on joints that encourage relaxation in which "bathers experience total weightlessness." Apparently tubs and floating in water generally don't do enough on their own, and this seemingly does more. It certainly looks comfortable and has a bunch of water jets. It will set you back $19,269, although that's retail, so maybe you can bargain it down for less.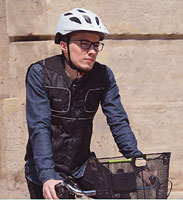 On the far more low-key, but very valuable, end is the Helite Smart Airbag for cyclists. I saw something similar at last year's show for skiers (and Helite has its own line of products, including one for motorcyclists, which is built differently than this and not interchangeable, as well as one for equestrians…and even a seniors model, I'm guessing to protect from falling), so it is sort of a natural progression. But that skier air bag was fairly expensive and bulky. This is very thin to wear, and though not cheap (around $700) it's reusable. They demonstrated it (a bike rider rode down the aisle and crashed), and it worked—the airbag popping open before he hit the ground. The bag didn't look like it offered a huge amount of protection, though the company has been working in this field for years, and I not only suspect it offers more protection that it appeared, but any protection in a bike crash is a very good thing.
Writing about phones has long been another lost cause for me. There is an ocean of phone and phone-related material each year at CES which risks burying one in an avalanche. Phone cases alone are their own planet. And in the end, the worst of phones (at least when a brand you've heard of) do what you want at their most basic and do it reasonably well. It's at the higher end that differences mostly differentiate models. But this year, a few things caught my eye—one of them significant, and another life-changing. (No, I'm not being facetious.)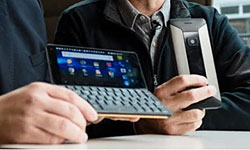 On the smallest end, I was intrigued by the Planet Cosmo Communicator. At its foundation, this is a basic Smart phone with a camera. But it received a CES Innovation Honor, and the reason for that is it's also a full pocket computer that runs the Android operating system. There's a six-inch touchscreen and a physical keyboard, along with 6 GB of flash RAM and 128 GB of storage. As modern as this seems, the Cosmo Communicator sort of harkens back to the old Psion of 25 years ago. As a phone, it's a bit large, but not problematically so (and after all, if you're going to type on it, you don't want it too small), about the size of a universal TV remote. It's expected to be available mid-year and will cost $800. While that's hardly cheap, an iPhone and Samsung Galaxy Note each cost around $1,000. Though those have long, highly-regarded track records.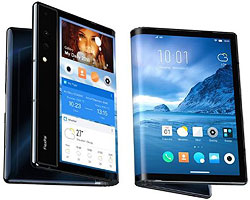 On the more-significant end, there are now foldable mobile phones (from Samsung) which open their screens to provide larger, more-usable browsers and screens for viewing movies, browsing the Internet, reading documents and playing games. Samsung didn't have any at the show as display models, and these aren't on the market yet but their future is around the corner. However, what was there—and what is already being sold in China—is a flexible screen Smart phone from Royole, the FlexiPai. When showing off a standalone screen, it's is so thin you can literally roll it up. (Though when part of a phone, there are more limitations.) This allows for expanding the screen to 7.8" (larger than the Cosmo Communicator), and it also eliminates concerns of breaking your screen.
But most notably, the new 5G technologically, which I mentioned at the very beginning, is game-changing for the tech industry—and without hyperbole, likely life-changing—and is now finally starting to make its presence felt. The speed is monumentally higher, like 100 times, with some applications as much as 300 times faster, which not only let you stream and connect world's faster, but it allows other technologies to actually exist, like usage in medical procedures, and expand the practicality of autonomous self-driving vehicles. For the entertainment industry, what this also means with a massively bigger pipeline is that the whole platform for streaming is changed, which is why content and service provider companies have been forming alliances the past couple of years. Streaming movies to your tablet, phone and even big-screen Smart TV will now be a completely viable alternative to studio and network product, even far more so than today.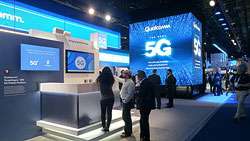 New, much-higher end 5G Smartphones will be necessary, and Samsung is poised to enter the market, including a version for its Galaxy S10. In addition, Sprint, LG and OnePlus have all announced plans to release 5G Smartphones in the U.S. Qualcomm had a major showcase for 5G and its capabilities. (On the low-end level, I participated in a "Mixed Reality" demonstration with VR goggles that streamed cliff-diving footage from Hawaii. It was effective and smooth, but what made this notable is that before 5G the needed bandwidth for such a demo was so massive that streaming the footage at all, let alone smoothly, wouldn't have even been possible.) So far, Verizon and AT&T have made tiny inroads with 5G, actually in service in a few communities, though it's limited even there and currently very expensive, but a far bigger rollout and much more is to come. Since it is here now.
The last of the monolithic fields that I rarely cover at CES is the automobile industry. It has always been a major deal at the tech show, but now autos and their accessories and peripherals have taken over the entire, huge North Hall. But again, a few things got my attention, for the products themselves and for the direction they show the industry taking.
(And good news! There's only one part of CES left to discuss after this. The end really, truly is in sight now. Huzzah.)
On the simple, product end, I was intrigued by the Reviver Auto, which is a digital license plate. It's been approved in California and Arizona, with about 10 more states on the cusp. (It can be used anywhere you drive if you cross state lines, but these are the only states so far where you can buy them for your car.) It allows you to personalize your plate, include messages, and with upgraded apps will allow registering your vehicle and use auto-pay features (and display that you've paid). But right now, it costs between $500-800, depending on which version. When I asked the head of the company who they've found is buying these, he enthusiastically said "Everyone from Toyota owners to high-end cars." As politely as I could, I smiled and said, "Please don't tell me that 'everyone' is willing to spend $500-800 on a license plate." After a pause, he replied, "Oh, no, I don't mean that, just that we've found..."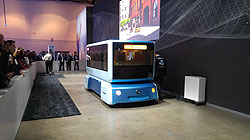 Panasonic—not who you first think of in cars—has developed the Space-C line, which are mini electric vans. It's under an umbrella they call "Last Mile." These are short-range vehicles that have a base on which interchangeable cabins can be added, allowing them to be service specific. For instance, one had a screen panel, another showed foods—it drives through your neighborhood, you tap on what items you want, and (if I understood correctly) they're delivered to a local storage unit. (Somewhat similar to the RoboMart mentioned earlier.) But it's adaptable to all manner of services and goods, a sort of traveling eMart.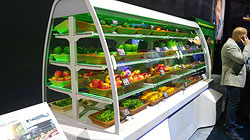 And Mito Corp. has a product called splitscrn that adds new tech safety capabilities to cars without them. Things like crash detection, cellular-enabled GPS, 2-way emergency communication, and vehicle location monitoring (along with a backup battery) turn any vehicle in a basic Smart car. All you need do is plug the device into a cigarette lighter, and it works in conjunction with an app. Vehicle information will be sent to emergency dispatch almost instantly, within half-a-second after an impact is detected. Contact is then made with the driver within seven seconds to determine if the driver is alert and then pass any information to emergency responders before arriving. The splitscrn received a CES Innovation Award.
Which brings us to the end of our journey, taking us to the Sands Convention Center. (Yes, really, we've come to the final part!) Over the years, I've spent little time here at the Sands, sort of an afterthought if I had time. It was an inconvenient trip from the main Las Vegas Convention Center, and the vendors felt a little like outliers who'd been banished to Siberia. But the vendors have changed as the show has expanded and needed the added room, and I've come to love the "Eureka Park" showcase housed there which has grown to something fascinating and even fun.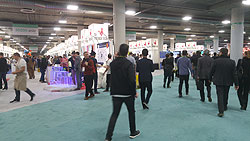 Though I still don't write all that much about the fields set up on the Sands main floor, they're important (Smart homes, sport, health & beauty and such…) and interesting. But it's Eureka Park we're going to look at now. This is a packed madhouse of basically start-up ventures, small independents and foreign companies looking to break into the U.S. market. (The French Pavilion is huge here, along with a significant Holland Pavilion and Israel Pavilion, among others.) There's even a section for colleges to have a booth for some of their most creative students. I suspect most of the products you check out at Eureka Park will never see the light of day in the general market, and remain in crowd-sourcing mode. I've seen a few though that have made it—and even have referenced some particularly strong Eureka Park products in my overview above (like the Travis pocket translator and Zoi Meet from Holland, and the iSKN Slate from France). And the innovation and energy throughout the place is wonderful.
Unlike the previous part of this article, for Eureka Park I'm just going to have random capsule comments in no particular order about some of the more notable vendors (wonderful and head-scratching) that I wandered across.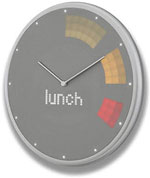 The Glance Smart Wall Clock, also in the Holland Pavilion, works with an app that lets you display a wide range of information on the clock's face: the weather, alerts, calendar appointments, memos, reminders and more. It has an elegant, clean design and can connect with other Smart devices, like Google Calendar and Apple Calendar. But what I most found wonderful has zero to do with the product. This is not named "Glance" for the reason you likely think, that it's because you just take a quick peek at the information that pops up…but the name of its founder is—Anton Glance!! Talk about kismet between one's name and chosen profession.
The Food Nome is sort of like Uber for foodies, and I've given it a Cool Thing Award though I have zero idea if it will fly. It's an app for "home restaurants"—home cooks who want to make a business of it. (Know up front that the vendors who sign up have to be licensed by a state's county health department. And the company does its own controls.) Diners check the app for cuisine, menus, health issues, and other information. You can have the food delivered, pick it up yourself, or see which places actually serve at home for a full-restaurant experience. It doesn't strike me as something for wide use, though valuable for specific dining needs—like if one is vegan or Kosher and can't find a restaurant which handles that. It's approved in California, and "in talks" with Hawaii and Nevada," with hopes to expand. It isn't live yet, but expects to be soon.
The PorTable is a low Smart table, the kind of thing you might take to the beach, and sort of a Swiss Army Knife of tables. It has four charging ports, a wireless charging pad, cupholders, bottle opener and more. Though it seems odd (and sort of is), it strikes me as very convenient to just pick up your table when heading out to the park or tailgate or even for the backyard where you don't have to search for accessories and pack them up, but have everything built in. It weighs 10 pounds, holds its power all day and should retail for between $250-$300. My one quibble is that it could use either a built-in lamp or offer one as a USB plug-in accessory, though that could come.
I was impressed by the Lumi'in Flex from France. This isn't for consumer use, but cities. It's a street light with sensors that monitors for fire and smoke, pollution and even floods. It received a CES Climate Change Innovator Award. The device is currently in use in parts of Paris, at the Paris airport, in Morocco, Iceland and certain areas of Europe.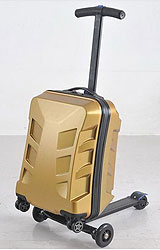 The Scootcase is an electric suitcase and scooter. The two are connected, for zipping through airports, though you can separate them for individual use. The scooter can travel up to 15 MPH and go 15 miles on one charge. Its display shows the speed, range, position, and you can enter your airport gate number which apparently it will find. The biggest problem for me is that the price is $2,000. It seems to me that people who use scooters aren't likely to spend that much for airport trips, and those who can afford that amount of money don't tend to ride scooters. But…who knows?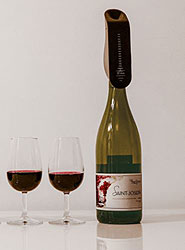 Finally—and yes, finally!—I was utterly fascinated by the Aveine, which is a wine aerator. I don't drink much wine, but the technology nonetheless caught my attention. It was a CES Innovation Honoree in 2018. What this does is scan a bottle of wine to determine what it is from their database, and then allows you to aerate your wine in only a couple seconds rather than requiring it to breathe for hours. You can also determine whatever hour-level you want for it to "aerate" for. Not shockingly, the Aveine is from the French Pavilion, and the company head, Nicholas Naigen, is the son of a winery owner. Though some wine aficionados bristle at the idea, it's already in use in several Michelin-rated restaurants, including some three-star establishments owned by the acclaimed chef Alain Ducasse. I tried it and, though no wine expert, even I could taste the differences. It was first set for "seven hours aeration" and then 10 hours—and after just about five seconds the wine was poured, and at one level the wine had more flavors, and the other was smoother. I mentioned to M. Naigen that he should try to get on Shark Tank because one of the show's investors, Kevin O'Leary, is a wine snob and a running joke is that he's a member of the Cavalier du Testavin society. Nicholas immediately laughed at said, "I am a member, too!!" And even showed me a photo of himself in his society garb. He is going to follow up, so if you see the Aveine on the show…that is why.
And with that, we raise a glass, wish you â votre santé—and head off the crash and decompress…
To read more from Robert J. Elisberg about other matters from politics, entertainment, technology, humor, sports, and a few things in between, see Elisberg Industries. He can also be followed at a distance on Twitter or Facebook.
Note: The Writers Guild of America West neither implicitly nor explicitly endorses opinions or attitudes expressed in this article.
Copyright 2019, Robert J. Elisberg. All rights reserved.