The Writers Workbench
Holding Back the Surge
TWW reviews a product that will provide important protection for your devices.

April 8, 2019
By Robert J. Elisberg
In this past, this column tended to take a look at related products so they could be compared. That's always a fine goal—one which we'll continue to try to do on occasion—but it often meant holding on to the reviews of released products, waiting a very long time to publish them while waiting for other companies to release their similar products. While it made for a swell column, it meant some products were almost out-of-date.
Instead, I began a more potpourri approach, throwing into the box random products regardless as to whether or not they're related. And that's a fine way to fly, as well. And something we'll likely continue, as well, when the spirit moves us, if they seem to fit, or there's an overload of items to deal with.
But is also belatedly seemed a reasonable thought to just publish a column with a single product if that most appropriate. Why wait a few months to bunch things together, just for the sake of form? And this way, products can show up when they're a bit more fresh off the shelves. And "TWW Notes" news items can be more current, as well. We'll see how it goes. Hey, this isn't rocket science, and perhaps over time there will be a mix of formats.
To start things off, we're going to jump in with a new product that deals with power protection of your devices. These tend to break down into two categories: Universal Power Supplies and surge protectors. In a perfect world, a UPS is ideal and provides the best protection, most especially for your computer, as a sort of "go between" intermediary, separating the device from the direct power source. They're somewhat costly, though, so most people tend to get a surge protector. Or they need more outlets than their UPS provides. Most surge protectors though are fairly basic. They provide important protection, however, but it's cursory, so it catches my eye when a company tries something a bit more upscale. And that takes us to the topic at hand.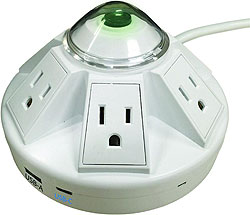 Several years back, I reviewed an odd and very good surge protector from Accell called the PowerSquid. Rather than in the form of a normal power strip, it had individual strands (like tentacles) which meant you could plug in any sized power bricks without risk of one overlapping the slot of another. It was well-made and provided good surge protection, as well.
The company is back with yet another offbeat, but impressive surge protector, this one the Powramid—so called because it's in the shape of a small pyramid.
Being shaped this way makes the device pleasingly compact—only about 5" in diameter—but more importantly this design allows its six sockets to be widely spaced so that there is plenty of room between sockets to plug in bulky power bricks. There's also a six-foot power cord which makes the device very maneuverable.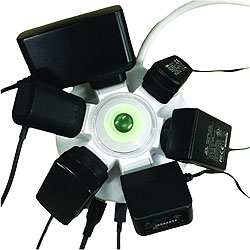 While the Powramid definitely has more space between sockets than a normal power strip, a large, oddly shaped power brick that I tested had a very snug fit between a couple of other plugs—though the good news is that it did fit, something that wouldn't have been possible on a standard power strip. However, while it is indeed fairly compact, if you want a thin power strip surge protector to hide behind your desk, this would be too wide. Still, it's a very nice size that can be reasonably stowed out of the way.
Very nice, too, is that this particular model has a charging port for standard USB-A devices, as well as a USB-C port, giving users a total of 3.1 amps combined between the two. (Most phones require 1 amp, while tablets tend to need 2.1 amps.) The company also makes a version of the Powramid that has a single USB-A port only, which costs less, and another model with no USB ports to save you more, if a USB connection is not essential for you.
But more important than form is the protection it provides. After all, this is a surge protector, not a power strip. And that's where the Powramid adds some very beneficial and uncommon features.
Most significant is how it handles the loss of protection. Most surge protectors will continue to supply basic power even after the surge protection has either worn out or the device has reached maximum capacity—so you're unaware that your devices are no longer being protected from damage, since they continue to get power and work. The Powramid however stops conducting power completely if protection has been compromised, so you will immediately know that you're no longer protected.
(Related to this, there is a green "Protected" light that glows to let you know the device is working properly. Further, the on/off button at the top is covered by a big blue dome to keep it from accidently being toggled of.)
The Powramid also has a housing that can absorb 1080 Joules of power surges and eliminates the risk of fire, which is generally a concern anytime you have half a dozen electrical devices plugged in together. All surge protectors have to absorb excess voltage when there is a power "surge"—again, that's the whole point, of course—but most use basic, plastic-coated devices called MOVs which potentially can ignite under extreme conditions. In the Powramid, however, these "Metal Oxide Varisters" are fireproof.
Additionally, the Powramid has noise reduction built in, so power-generated "noise" from all the audio or video devices connected can be isolated, and any signals won't be affected.
The Accell Powramid is very well-made, extremely sturdy. It weighs more than most basic power surge strips, at 1.2 pounds. It will also cost more than most standard surge strips—but not a lot more, and you're getting strong surge protection. The model tested (with USB-A and USB-C ports) could be found online for $40 at the time of writing. The USB-A only model is $35. And if you just want the straight-forward surge protector with no USB ports, it's an even more reasonable $25.
For full, serious protection, no surge protector can match a Universal Power Supply (separating the device from the actual power source), but those are significantly more expensive. For basic use, though, I quite liked the Powramid, which added levels of protection not usually found in standard surge protectors.
Apple announced that it will be issuing its own credit card, the Apple Card. One thing to know—most of the card's functionality exists as part of Apple Wallet, which means it will only work if you have an iPhone. This is great if you are in the Apple ecosystem and plan to stay there. And an interesting way to bring people into that Apple world if they're interested in using the card. It's problematic for those who have an Android phone (which is the biggest market) and might want to use the card but have no interest in switching phones—or iPhone owners who like the card but are worn out by high prices and who want to switch.
Facebook has been charged by HUD with violating the Fair Housing Act for its practices with discriminatory ad targeting, allowing advertisers to exclude certain groups in the protected classes, as well as (among other things) exclude people based on the neighborhood where they live, or their gender. A week before the charges were filed, Facebook had announced that they were changing its ad-targeting system which was the result of a $5 million settlement with such groups as the National Fair Housing Alliance, the ACLU, over alleged discrimination in Facebooks ads towards minorities. Reports are that HUD is also investigating Google and Twitter.
Verizon is now offering for free a service, Call Filter, to identify and block spam calls, that was previously a premium feature they charged for. When Call Filter is activated, users will "get alerts when a call is likely spam, report unsolicited numbers, and automatically block robocalls based on their preferred level of risk." The features will differ depending on the phone one has, and older phones may not be supported, but the basic service is now included in a Verizon subscription for all supported phones.
To read more from Robert J. Elisberg about other matters from politics, entertainment, technology, humor, sports, and a few things in between, see Elisberg Industries. He can also be followed at a distance on Twitter or Facebook.
Note: The Writers Guild of America West neither implicitly nor explicitly endorses opinions or attitudes expressed in this article.
Copyright 2019, Robert J. Elisberg. All rights reserved.