It's A Mobile World, After All
The Writers Workbench heads to a mobile-centric event to preview some intriguing new products including a 3D device that creates an immersive environment without headsets.
November 5, 2019
By Robert J. Elisberg
Each year what is now MWC (what used to be Mobile World Congress) puts on several worldwide conventions, and last month had the Los Angeles incarnation. I didn't go to the full exhibition, but the Showstoppers group I write about at CES held one of their product events that feature a variety of companies, and I headed downtown to take a look. It wasn't extensive, nor a cross-section of MWC, but it was nonetheless enjoyable to wander the room and see a range of products under the umbrella. A few of them caught my eye.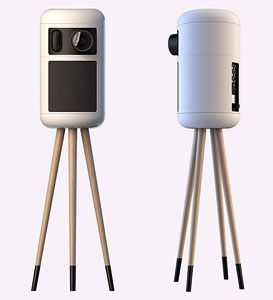 What most intrigued me as a product is one that (at least for the time being) is not for consumers, though they're thinking of developing a version for the home. For now, it's mainly for use in the health field, education and events industry. It's called the MK360 Player from BroomX Technology.
The simplest way to describe the device is that it projects immersive 3D images covering a range of information or gaming around a room in situations where it would otherwise be inconvenient to use Virtual Reality and Augmented Reality headgear. The imagery is displayed on three walls and the ceiling, putting users in the center of it all. (Nothing is on the wall behind you because that's where the device sits.) What's being displayed can be controlled by an app downloaded onto a mobile phone or portable tablet.
The application of this in the health field is from using the MK360 in hospital conditions, most notably with Alzheimer and autism patients (for whom research has found that the immersive nature of the 3D imaging is very relaxing) and those in physical rehab. The educational use has been in classrooms to expand on lessons being presented. As for the events industry, that has generally centered on places like museums or arts venues, where the presentation of exhibits can be expanded, and in places like hotels where displays can be shown to guests passing through a public area.
Photo images don't do the product justice since it's 3D and creates a fully-surrounding environment, but you at least get a better idea of it here. (Note: the video is good, though you might want to eventually turn off the sound because the music is very repetitious and eventually becomes quite annoying…)
The company is based in Spain, and the product itself is currently being used in 20 countries. It retails for $15,000, so as I noted it's not likely something you'll giftwrap as a present, though BroomX Technology is looking into developing a consumer product.
There was also some interesting technology from Sentons. This isn't a consumer product either, at least not directly, but rather it's made for OEM companies to build into their products for subsequent home consumer use. Basically, it's an ultrasonic sensing technology (think: using radio waves) that allows mechanical buttons to be replaced with touch-sensitivity controls on any surface of a mobile phone or tablet.
Most mechanical buttons require specific materials and flat surfaces to be installed on and work. Sentons technology however can convert any static surface made from any material and turn it into an interactive interface. The company suggests that this makes for a more interactive experience. For instance, these "virtual buttons" could be programmed to do more than just normal one-activity button actions, but instead allow one to launch a variety of processes, like loading a phone's camera. Or they can be used to go beyond basic pushing and instead allow for swiping (like letting a user zoom an image) directly from the "virtual button," instead of having to move one's hand and leave fingerprints all over the screen These active "button" hot spots can also be used as game controllers, which would add to a phone or tablet's mobile capabilities. Another basic use is that a company could provide a setting that allowed users to switch "buttons" from one side of the phone to another, depending on if you're a lefty or righty.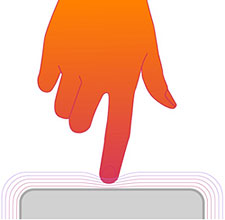 Consider too that on a small SmartWatch, touching the screen tends to block the interface with the user's hand, but off-screen sensors to tap (or swipe) can be built into the bezel around the watch's face. Also, the side of a laptop's screen can be converted into being a slider bar. These active "buttons" have haptic tactile sense to them so your fingers wouldn't have to search blindly for their location, which is one of the advantages of a mechanical button. The point is that all "virtual buttons" (whether the volume control, home button or whatever others) could be software-defined, on any material and any surface even curved.
Kensington is a company that makes good peripherals. They were offering an interesting (though not inexpensive) docking station, the SD700, made specifically for the new Microsoft Surface, version 7—though it's compatible back to version 4. You lock the Surface into its holding arms, and these flexible arms then let you move the Surface to different angles, something not possible on Microsoft's own docking station, which is largely a box with additional ports. It's an impressive feature, but know that the arms can't be locked in place so (as user reports say) if you lower the arms significantly from the upper position the weight of the tablet and arms together will slowly get pulled down. As a result, it's ideally made for full-upright position or low studio mode, used for drawing. That's actually fine for most people—though a shame that the arms can't be locked in place which would add great versatility. As for ports, the SD700 provides more of them than Microsoft's does—a display port, HDMI port, and 5 USB ports. There's also a security slot that allows you to lock the device down.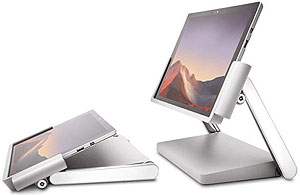 It's fairly heavy, about 7 pounds, so you probably won't carry it around with you, but then most docking stations are mainly intended for a set location. The one notable downside, however, is a big one. It retails for $400 compared to $200 for the Microsoft docking station.
By the way, at all tradeshows there's always something (and generally many "somethings" that leaves one head-scratching, a sort of "That works great, but what on earth are they thinking???" This doesn't exactly fall into that, the product is perfectly fine and there's a market for it, but it's a related cousin on the "marketing" end and easily resolved, but still sort of amusing.
This was from a company called Ficto. It's an app for what they say is a new way of having TV. All the content is made for your mobile phone (and mobile phone only)—short, 10-minute programs created, they say, "by Hollywood filmmakers." (Okay, that's sort of an amorphous term, and I suspect deeply flexible. After all, not all Hollywood movies are made by "Hollywood filmmakers"…) Some of the content already exists, other material will be created new, and some of it will be interactive. There's no service charge for users, it's all free, so I assume it will be ad-based. And filmmakers will get paid by how often their content is viewed. At present, they have 50 shows ready for the coming summer. This video shows a bit more about it.
All well and good. It seems a reasonable, if challenging enterprise, but could be interesting if they can get the model to work. (Just this past year, after all, Sundance TV aired a made-for-TV, fun, 10-part series of 10-minute episodes, State of the Union, written by Nick Hornby, directed by Stephen Frears and starring Chris O'Dowd and Rosamunde Pike which won an Emmy.) Where Ficto ran into a hiccup had absolutely nothing to do with that—rather it was when marketing enthusiasm far-exceeded rational thought and they began explaining why it would work. Mind you, I can see lots of creative and social reasons why it would work. But what they said was along the lines of, "New services like Disney+ all have a monthly fee, and people are getting really tired of paying monthly fees and we're free, so when…" and it was at that point I interrupted them, not wanting them to waste their breath and hoping to give them some totally unsolicited advice from my dark years in movie PR. What I explained as politely as possible is that in selling their new service, they should focus on the technology and mobility and innovativeness—but NOT by comparing themselves to…Disney. Not on price, not on content, not on any level. Because, I said, what Disney has and you don't is—Disney content!!! They have Mickey Mouse and Beauty and the Beast and Star Wars and even new Star Wars series and The Muppets and Cinderella and Snow White and Mary Poppins and Donald Duck and all the Toy Story movies and specials, and Monsters, Inc. and everything from Pixar and…and…and…and…and every freaking thing Disney has ever produced and will produce. So—Do Not Compare Yourself to Disney. Ever. As in ever. I think he got the point. After all, he was smiling by the end. I hope he got the point. They are doing something new and clever. They should stick with that.
And with that, I wandered off into the sunset. The dust kicking up behind me. And I pulled out my various mobile devices and rejoined society…