CES 2021: Sheltering at Ohm
The Writers Workbench (virtually) visits this year's Consumer Electronics Show to find some of this year's the most interesting products.
February 3, 2021
Robert J. Elisberg
While it's generally The Most Wonderful Time of the Year, this year the Consumer Electronics Show hit a bit of a road bump. I can't even name it how I usually do—"the Consumer Electronics Show in Las Vegas—because honestly I don't know where it was held. Though I can say it was held at my home in my office and be reasonably accurate.
The good news is that CES was held in its normal January schedule. But that was the only normal thing about it. This year, the show was held as a "virtual" event online, and although it wasn't remotely close to the same (among other things, no buffets, so I had to create my own), they did an impressive job for such a massive undertaking, all things considered.
Keynote speeches were live-streamed, as were press conferences with Zoom Q&As. Exhibitors had their presence with well-designed pages—most of them embedded videos, had links to new product introductions and press releases, "meeting rooms" for individual conversations, contact links to send inquiries and more. They were quite good, though the number of exhibitor companies was significantly down. The two big "event groups"—Showstoppers and Pepcom—even held their events, though in a far more limited way. (I generally prefer Showstoppers, but thought Pepcom adjusted to Virtual CES a bit better, with detailed sites for each of their participating companies. Showstoppers largely held host-moderated presentations.) For me, the best organized presentation was the Best of Show Honorees, set up by categories, with product information, contact links and photos—in fact I may have liked the virtual thing more than how it's usually organized, which is in a compact jam-crowded area with lines going in both directions.
All in all, CES did a solid job considering the major problems they faced. What one couldn't get though was the easy ability to wander through aisles and find under-the-wire products, while asking questions to company reps. And without as many companies participating and trying to get you to visit their online sites, the barrage of emails was way down, so it wasn't really possible to get the sense I usually do of where tech is headed in the coming year.
As a result, this year's CES Round-Up—as extensive and detailed as I can make it—will be overwhelmingly shorter than the usual unending epic journey. It will mostly be a more random, less detailed look at as many products as were able to catch my eye and interest. So, what's here is not necessarily the most impressive devices (though some are), but the ones that at least stood out for me under difficult and limited circumstances.
That said, there was one aspect of the show that did present a direction for at least some tech for the coming year or two. And that's how many products promoted themselves as having anti-microbial properties. This is largely because working in a pandemic world from home—as well as, for that matter, anywhere away from the main office—has proliferated so greatly, with the growing need to carry devices around with you.
And since home has been such an overriding presence the past year, that seems like a good place to start.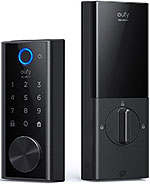 I've never been a particular fan of Smart Locks. They have many impressive strengths, but the concern of them losing battery power if you screw up, and therefore locking you out, is something that hasn't been addressed fully to my satisfaction. You can always carry a backup key, though that defeats some of the reasons for having a Smart Lock. But I did like the eufy security Smart Lock, an Innovation Award honoree, because it has an impressive five ways to unlock it—by fingerprint, digital buttons, wi-fi-remote, Bluetooth and physical key. And yes, the battery issue is still there, but it does at least have a one-year battery.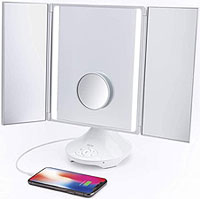 I've also thought that electronic vanities were a technology in search of a purpose. However, the iHome Reflect Trifold Vanity offers some features that actually add value. The 15x9" device has a built-in Bluetooth speaker, speakerphone connectivity, a USB charging port, 3-color lighting and several brightness modes, along with adjustable side panels.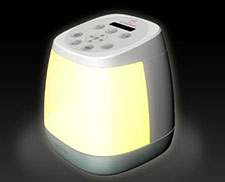 Sleep-deprived parents might be interested in a device from Ainenne that uses AI (artificial intelligence) to help reset a baby's body clock for a normal sleep cycle. The company worked with the Natural Center of Child Health in Japan which analyzed the sleep and cry patterns of 150,000 babies across 150 country for the different reasons their sleep is interrupted or why they might be crying—perhaps sleep, maybe hunger or in need of a diaper change or more. The AI feature of its app had an 80% accuracy, which then creates different lighting changes in the device, whether a white noise function, or a blue light filter, for example.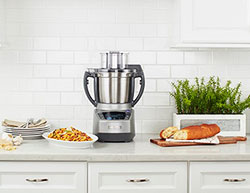 While still at home, but moving to the kitchen, I was intrigued by the Cuisinart CompleteChef, which is an Innovation Award honoree. On the surface it's just a normal, albeit high-quality, food processor. But this is not just a food processor, because it has an automatic cooking program that can cook whatever you've processed at temperatures from 90-270 degrees. So, while it doesn't replace an oven, it does serve as a "one-stop" device for a lot of cooking.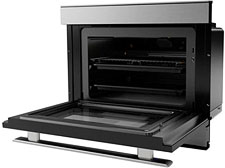 Sharp, on the other hand, does provide an oven, its Supersteam+ Oven. This is a convection oven that also cooks and browns at high temperatures using "supersteam" up to 400 degrees, not just 212 degrees that is generally the case with steaming. The 3-in-1 device can also cook with standard steaming, and has wi-fi capabilities. It doesn't come cheap—at the CES exhibit they mentioned $1,500, though I've seen it online for much more. In fairness, the online version might be different from what was presented at the show. Or it was on a special price.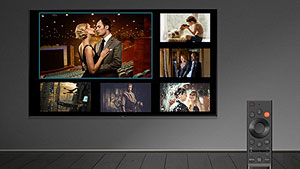 Though I don't tend to write about kitchen tech appliances too much, I write about televisions even less. The quality of TVs today is so high even at the lower end, and the differences too convoluted that it seems best to say, "Ask a friend if they like what they have." That said, every once in a while some TV technology leaps out as interesting, and that's the case with the Samsung Multi-View. This isn't a television itself, but rather is a platform that will be built into all Samsung QLED SmartTVs. It will allow you to display a vast range of content all at once—cable channels, streaming sites, apps, gaming consoles and mirroring wireless devices. While the technology isn't new for Samsung, previous incarnations only allowed for two screens at once—this new version means that up to 12 screens can be shown at a time. Okay, that seems like a bit much, but I suppose there might be an occasion when sensory overload is needed. And of course, you don't have to have that many running at once, so using a more normal sounding three or four screens (let alone a few more) at one time seems like it could be beneficial.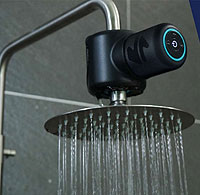 From watching to listening, a couple of audio products caught my eye. Or ear. One is the strange, though intriguing Ampere Shower Power Speaker, which was another Innovation Award honoree. This is a speaker that's made to fit any shower head, so that you can sync music or any audio while showering via Bluetooth. But what makes it stand out is that it uses the water flow from the shower itself to power the device. So, it's not only always charged, but is renewable energy. It's designed to fit a stationery showerhead or a handheld wand. It retails for $100.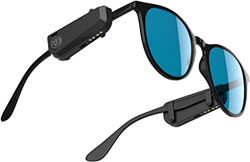 What also stood out as unique are the JLabs Audio JBuds Frames. These "wearables" are eyeglass frames that have two independently operating Bluetooth wireless audio devices built-in on each stem. What I liked is that both audio devices are open ear, so that you can hear outside noise. They retail for $50.
Oddly, when browsing around for products in the wearable category, I came across two other eyeglass products that seemed interesting, as well.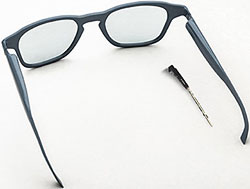 The Bosch Smartglasses Light Drive are basically in the vein of Google Glasses from a few years ago, but significantly less geeky-looking. They don't offer as much data options, but provide quite a bit and most importantly don't make you look like a Star Trek Borg when wearing them. The glasses provide near-eye display in a lightweight minimalist format. They'll let you see text messages from platforms like WhatsApp and WeChat, as well as navigation information, alarms, calendar reminders, to-do lists and more, all in a hands-free environment. But mainly, and importantly, they look reasonably normal when worn, which I'm sure helped make than an Innovation Award honoree.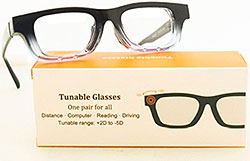 Then there is the VOY Tunable Glasses, which are quite remarkable—presuming that they work. (I have no reason to think they don't, but wasn't able to give them a hands-on test.) These let you change the focus of your glasses from a range of -5D to +2D and will do so in just a matter of seconds. That means you can have one pair of glasses for distance, working at the computer, read and driving. They also received an Innovation Award.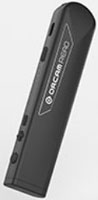 Reading challenges were also dealt with remarkably by the OrCam Read. This is a handheld AI-based scanner that reads text aloud from any printed surface—whether a book, magazine, Smartphone screen or computer monitor. It was a "Best of Innovations" award-winner.
And on a somewhat similar health—and wearable—front, though for those with hearing issues, the Oticon More has developed a technology for their hearings aids that use what the company calls "Deep Neural Network." Unlike other hearing aids that use lab algorithms to help identify the different noises a person hears, these devices are trained with 12 million real-life sounds. This gives a more natural and balanced representation of sound around the user. It received an Innovation Award.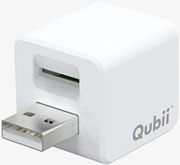 While mobile phones aren't precisely considered to be "wearables"—though many people seem to have them embedded on their heads—they're close cousins. And the Maktar Qubii Duo provides a nice option to auto-backup photos and video filling up storage on an iPhone for people who don't want to use cloud backup and who also prefer more security. It works pretty easily. With a microSD storage card inserted into the Qubii, you plug the device into your iPhone power adapter. You then just connect the Qubii device directly to the iPhone with its included cable. That's it—the Qubii will immediately auto-backup once connected. Further, in case you ever misplace the microSD card, the app lets you lock it for extra protection. And should you fill up the replaceable storage card, you just use another, so there's no cloud limit.
Of course, when dealing with tech it all has to be powered, and that means we get to come to what is, for some unknown reason, my favorite topic at CES—portable power. Unfortunately, because the show was so…well, weird this year, I didn't get a chance to wander like usual and come up with my normal abundance of portable power products. But I did come across two.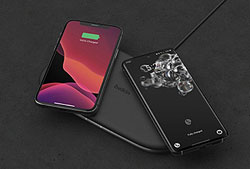 Wireless charging has proliferated in recent years, particularly using the Qi standard. The Belkin BOOST-CHARGE True Freedom PRO is a Qi-enabled, multi-coil wireless charger, and it's the "multi-coil" part that stands out, receiving an Innovation Award. In a normal Qi wireless charger, you have to carefully, almost perfectly align your device directly above the coil for it to charge. With this multi-coil, however, there's no need to find that one spot, and you can just plop down on it whatever device you're charging. Also, it can charge multiple devices at the same time, almost wherever they're placed.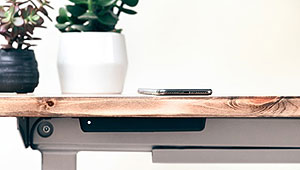 The Kew Labs UTS-1 adds a new wrinkle to Qi-charging—that of long-distance capability. To be clear, it's not a huge distance—"long distance" is relative, and we're only talking one inch—but just the extra inch makes a difference, since previous Qi chargers required you to place your device directly on the coil. With that extra "long distance, you can install the Kew Labs charger hidden away underneath any furniture (that's up to an inch thick, and non-metal). As a result, you can just put your device down on the furniture (over where the coil is hidden), and it will charge—with your home décor unchanged.
As long as we're talking about being portable, that's about as good a time as any for us to hit the road.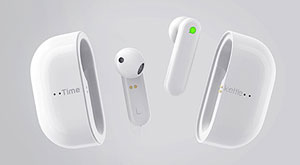 I've written in the past about handheld translator devices. The Timekettle M2 Translator adds an interesting twist to these, and got an Innovation Award for it. They're earbuds and can make simultaneous translations. In addition, they're multi-functional and can also be used for streaming music, as well as handling phone calls.
Kotozna has another translator product, as well, that's significantly different. This one works on a corporate level, although it benefits international travelers—an in-room multilingual chat system. This is something that a hotel would purchase and install in its guest rooms. A visitor connects to it with the QR Code posted in their room, and that launches the service on a browser—there's nothing to install. From there, the guest would have access to an instant translator for basic services with the hotel. Things like standard hotel services and live chats with hotel staff.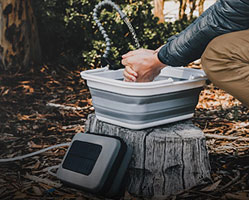 And I was particularly taken with the GoSun Flow Pro, an Innovation Award honoree, which is of particular, impressive benefit for campers. While it's of easy use for car camping, it's also small and light enough to fold up for a backpack—and I suspect it could be of use to others, as well. It's basically a portable sink that also allows for hot showers (with its long, adjustable attachment) and provides clean drinking water, since it filters out 99.9% of pathogens from water. The Flow Pro retails for $279.
In the end, CES wouldn't be CES—even a virtual CES—without its oddities. Products that are well-made and perhaps work very well, but have you scratching your head wondering who they believe the market is for them.
Two similar ones are the Yukai Qoobo and Vanguard Industries' MOFLIN. The Qoobo is a therapeutic cushion with a tail that wags in response to your touch. The MOFLIN is an AI pet robot that looks somewhat like a fluffy gerbil. It adjusts to how it's treated and develops "characteristics," all for only $400. Though in fairness you save money on visits to the vet and food.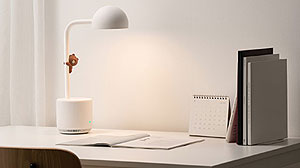 And then there was the NAVER CLOVA Lamp. It uses image recognition and option character recognition to recognize text and drawings and then read picture books to little children. Its built-in artificial intelligence will also answer questions the toddlers want to know. The device, in fact, received an Innovation Award, so it's extremely well-designed and is meant to help little kids "develop an interest in reading, just like if their mom was reading the book to them." Just without the actual mom. Or an awareness that dads can read, as well. In fairness, it seems to have a truly noble goal, and is a remarkable achievement in technology—and for all I know works great for children brought up with computers and videos and don't need human interaction from a parent encouraging them. Though I do wonder if the AI is developed enough to answer the most weirdly convoluted question a toddler can come up with or at least has a default answer to the most basic question the child might ask, "Why are my folks not reading this to me?"
But then, that's all of what makes the Consumer Electronics Show a joy—for all its oddity. Even when virtual.
To read more from Robert J. Elisberg about other matters from politics, entertainment, technology, humor, sports, and a few things in between, see Elisberg Industries. He can also be followed at a distance on Twitter or Facebook.
Note: The Writers Guild of America West neither implicitly nor explicitly endorses opinions or attitudes expressed in this article.
Copyright 2021, Robert J. Elisberg. All rights reserved.