Well, Well, Well…
The Writers Workbench visits WellNow 2021, a virtual exhibition of health-related products, and hands out a Cool Thing Award for one thoughtful, new product.
May 24, 2021
Robert J. Elisberg
As you might imagine, it's been a tad difficult holding computer conventions the past year—or, of course, any conventions. (And by "conventions," I mean any non-family gathering of more than, say, oh…three people.) But at least computer conventions are reasonably positioned to put on well done virtual events. And the Pepcom group, which has held good events at the Consumer Electronics Show for years, recently held a virtual exhibition that dealt with health-related products, WellNow 2021.
Now, healthcare isn't an area that this column has generally covered in depth—but over the years I've periodically written about interesting health products that stood out in some way. So, especially since I would be able to attend the WellNow event from the comfort of my desk and computer, while watching a baseball game at the same time, I thought I'd check things out, and happily there were indeed a few products in the health field that were interesting for their inventiveness and development of technology. Or perhaps odd.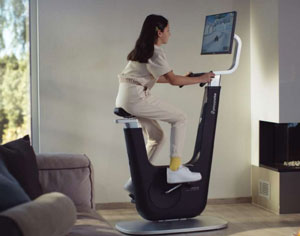 The world of exercise bikes has made big advances in recent years, taking what's basically a solitary action and making it interactive with online coaches and videos to ride through the Alps and other exotic locales. The Playpulse ONE has taken that idea and given it an intriguing twist. It combines an exercise bike, video game console, and entertainment system. The idea is to make one's workout routine more fun and entertainment-based. While this probably has the most application for gamers (which additionally is a more sedentary world and perhaps most in need of exercise) and younger people, it can apply to most anyone. On the tech end, Playpulse ONE has pedal sensors that integrate with the gameplay. Handlebars serve as game controllers and also heart-rate sensors. And the content-end offers a library of Playpulse ONE offers a library of 3D video games, entertainment, and fitness material. (One application, for example, is that users can chose to stream their favorite material so that it will run long as they keep the pace up—or the screen goes dark.) It retails for $2,000, but at the time of writing it sells at an introductory discount for $1,200. The subscription service for content is free the first six months, then it's an optional $19.99/month.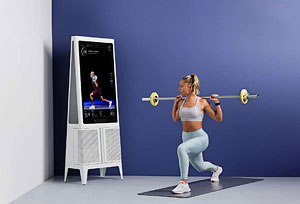 In somewhat the same way, the Tempo Studio carries a similar concept to the home gym, which seems a natural outgrowth. They call it an AI-powered home gym, which provides an interactive fitness regimen for the user. The artificial intelligence system serves as one's personal coach—creating a tailored training plan and then manages workouts, as Tempo does such things as correct your form or adjust the intensity of the class based on your abilities and progress. The price depends on how much equipment you want. It doesn't come cheap. The Starter kit is $2,500, which offers two 7.5 pound dumbbells, four weight collars, an "essential plate bundle" (with various weights) and a workout mat. From there it goes through various configurations up to their Pro Bundle. There's a separate $39 monthly membership per household that gives access to the A.I.-powered training fitness classes, available both live and on-demand.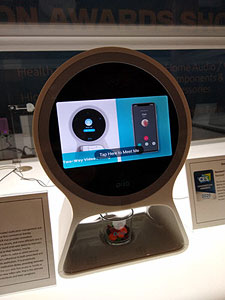 I'm always asked after tech shows what "cool things" I saw, and what people generally mean is something whiz-bang and flashy. But for me, a cool thing is something that helps people do something much easier and better that they do every day. And it can be the most simple-seeming item in the world—which is precisely what we have here for a Cool Thing Award recipient. It's not new—I actually wrote about it at a recent Consumer Electronics Show, but it still stands out for me. It's the Pria from Black+Decker, of all companies, which is far more known for its power drills than medical devices. However, that's what its Pria is, an automated medication manager and home health care assistant. The Pria is intended for elderly people who have a great many pills they need and might have a difficult time keeping track of the full schedule for taking them. Basically, you put all your medication in the device in separate compartments and then program it so that the friendly droid-looking device will dispense the proper dosages each day. And better still, there's also a built-in camera and monitor so that you can have 2-way video communication with a family member or your doctor. It retails at the time of writing for $300 and a $9.99 monthly subscription.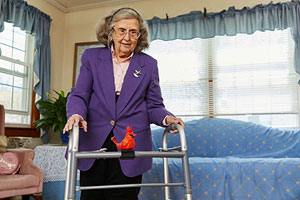 Designing a tech device to look like a cute droid-type character is fairly common, and cute-looking is the idea behind the Walker Squawker for senior citizens. Basically, it's an animatronic "bird" that sits on one's walker and chirps to remind you to use your walker and be mobile, in order to get exercise—and also be a friendly-presence companion of sorts. The company says the point is to "create a more positive relationship between older adults and their walker." Unfortunately, good as the concept and goal is, and I did like the intention, and I'm sure for some people it would be effective (most especially as a reminder), ultimately I was underwhelmed. Moreover, having spent a great deal of time visiting family and friends in independent living facilities, I've found that people tend to have a fairly good relationship with their walker because it helps them get around which they couldn't otherwise. And a chirping robotic bird doesn't seem like it would the greatest companion after a while.
There were several companies and products presenting themselves at WellNow who were probably among the last you would expect to see at a tech healthcare show. If the aforementioned Black+Decker was a bit surprising, it stood out as mainstream compared to see a couple of food and beverage products at the show.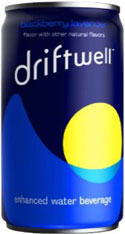 Notably, one of the surprises to see was Pepsico. They were introducing their Driftwell line of beverages. Driftwell is an "enhanced" water beverage designed to help people relax and unwind. Apparently, this is the polar opposite of caffeine-laced soft drinks. Driftwell uses L-Theanine which apparently promotes relaxation. As far as I can tell, at the moment it only comes in one flavor, blackberry lavender, though the website suggests more flavors are available—or more to come. There's no carbonation, calories or sugar, but has magnesium, which I guess is a good selling point to some. Yes, I don't know exactly what it was doing at a tech show either, although in fairness this was about health, so how could I not mention Pepsico at a tech show?
And as a companion to a beverage at a tech healthcare show, we also have fx Chocolate. This is…well, chocolate. At, yes, a tech show, albeit for health. This is a sugar-free chocolate sweetened with figs and raisins, and has vitamins and supplement—the point being, as the company says, that getting people to take vitamins and supplements can be a challenge, but "chocolate is the ultimate delivery system." It comes in seven formulas, and the Tasters Supply has 15 pieces that sell for $20. Or a month supply is 30 pieces for $40. Which is exactly the same, just double the size, so that doesn't seem a significant incentive to get the more expensive configuration, other than it saves ordering every other time.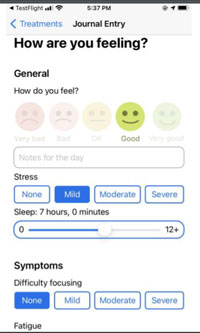 Getting back to more traditional health tech, we end with Journal My Health. I didn't get the sense that it provided all the benefits as effectively as it claimed to, but it did offer a few features that would be valuable for some people. Basically, Journal My Health is an app-based personal record for people to keep a medical record on whatever issue is concerning them. A person initially selects the medical symptoms they might be wary of or which they'd discussed with their doctor and want to track how it progresses (for instance, fatigue or shortness of breath) and keep a record of medications or treatments. The app also lets a person evaluate their mood, stress levels and sleep patterns, and a Notes section can detail relevant observations. Along with this, the health tracker inputs objective information, like heart rate, activity, and exercise—though not from the product itself, but information from the person's health-tracking smart devices (assuming they have one). From all this patient data, which is kept anonymous, graphs are created to help identify what might be impacting their condition, all of which can be shared with one's doctor.
And then the show was over, and all was Well.
Microsoft has announced a new Pluton processor. What is notable about the chip is that it will be isolated from the rest of the system, which will improve protection against malware attacks, as well as helping systems recover from software bugs. No date has been given yet for its arrival.
Speaking of malware, for years Apple promoted how only PCs were getting attacks, not Macs. (In fact, it was part of their ad campaign.) The impression given was that Macs couldn't get hit by a virus. But that wasn't the case, since any computer can be attacked. The issue was that because Microsoft owned 90% of the market, it was only worthwhile for hackers to go after the "only" system worth doing to. Now, though, as laptops, tablets and mobile phone have readjusted the tech world, so too have the targets changed. In testimony during a trial, Craig Federighi, Apple's head of software engineering, said, "Today, we have a level of malware on the Mac that we don't find acceptable." The point being that Mac users shouldn't stay lulled into a false sense of security, and vigilantly make sure your systems are secure.
The longtime, best-selling Ford truck, the F-150, will now have an all-electric version, the F-150 Lightning, which should change the landscape for electric vehicles. It will be on sale next year, and the starting price will be just under $40,000, which is less than the price of the current F-150's entry-level model.
Microsoft will release a new, fixed-price version of its Office productivity software in 2021, returning to also offering a perpetual license version again, to go along with the current Microsoft 365 subscription service model. No pricing details have been released yet, but it is expected to be available in the second half of 2021.
To read more from Robert J. Elisberg about other matters from politics, entertainment, technology, humor, sports, and a few things in between, see Elisberg Industries. He can also be followed at a distance on Twitter or Facebook.
Note: The Writers Guild of America West neither implicitly nor explicitly endorses opinions or attitudes expressed in this article.
Copyright 2021, Robert J. Elisberg. All rights reserved.