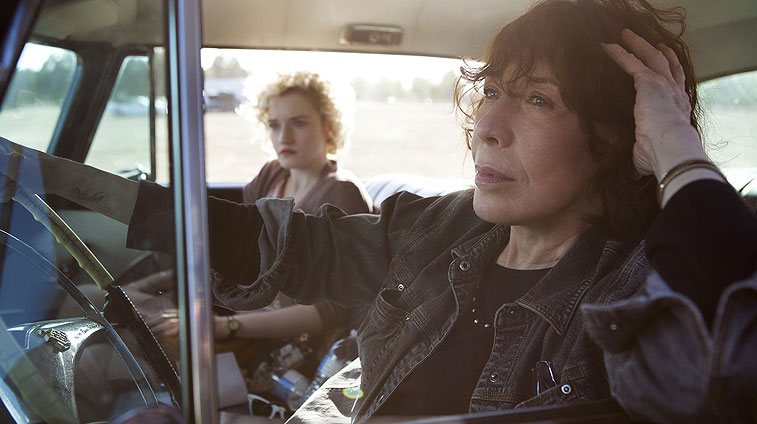 Paul Weitz's films have grossed $1.6-billion but riding the studio rollercoaster made him hungry to return to his roots. He found them in a barbed, heartfelt valentine to comedy legend Lily Tomlin, the self-made, micro-budgeted indie Grandma.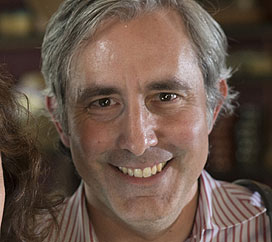 The best thing for writers to focus on is the stuff they do have control over – taking the time to sit down every day to create something, to fabricate a private world that exists at that time for only you and your characters.
"Necessity is the mother of invention," Plato once opined, but for Oscar-nominated writer-producer-director Paul Weitz, the micro-budgeted indie drama, Grandma, was a road to re-invention.
After some two decades of studio filmmaking, beginning with the formidable one-two punch of co-writing (with younger brother Chris and Todd Alcott) DreamWorks' first computer-animated film, the box office hit Antz, and directing (also with brother Chris) the little teen sex comedy that could, American Pie, then sharing an Oscar nomination for their profoundly compassionate, very funny adaptation of Nick Hornby's novel, About a Boy, the 49-year old Weitz hit something of a slow-burning professional midlife crisis. To make In Good Company, his underrated 2004 romantic comedy starring Dennis Quaid, Scarlett Johansson, and Topher Grace, Weitz broke up the band, so to speak, splitting – amiably, it is important to note – with longtime collaborator, Chris. Subsequent efforts – the political/pop culture satire American Dreamz, the willfully surrealist young adult adaptation Cirque du Freak: The Vampire's Assistant, and the Meet the Parents threequel, Little Fockers left the filmmaker creatively unfulfilled.
Despite his body of work grossing $1.6-billion globally, Weitz found himself hungering for the intangibles that had sparked his energy, curiosity, and passion on previous films, yet uncertain as to what those things were, let alone how to rediscover them. Weitz might have signed on to hold the reins on a "surefire" studio blockbuster or thrown in the towel altogether and become, perhaps, a university professor or a rodeo clown, but opted instead to retrace his steps, returning for inspiration to the café where he had written, longhand, many early screenplays, unproduced warm-ups for Antz. A few months later, Weitz realized the screenplay he had written – a barbed, heartfelt valentine to and powerhouse showcase for comedy legend Lily Tomlin, with whom he had worked on 2013's Admission – was exactly what he was looking for. Weitz was particularly intrigued by the screenplay's invitation to be produced for what amounts to loose change by Hollywood standards. It's not every filmmaker who forgoes $100-million studio budgets to helm a feature in 19 days with a coin purse 20-times lighter than it was on his first film, the $10-million Pie.
Then again, Weitz has never been "every filmmaker." Son of Oscar-nominated actress Susan Kohner (Imitation of Life) and fashion designer-cum-novelist John Weitz, grandson to Paul Kohner, who famously agented film legends like Billy Wilder, Ingmar Bergman, and John Huston, the teenaged Weitz hoped to become an important playwright in New York. A series of humble off-Broadway plays followed Weitz's graduation from Wesleyan University until he teamed with his younger brother to crack the safe of Tinseltown, tapping out a half dozen screenplays before selling Karma Cop, still unproduced, to MGM.
The "failure" of Little Fockers might have been game over for Weitz , but the filmmaker instead parlayed into what appears to be a genuine renaissance. He lent his formidable talents to Amazon's original series, Mozart in the Jungle, writing and directing several episodes, while also executive producing, and teamed once again with brother Chris to write Dreamworks' Like Father, Like Son, a remake of a Japanese body-swamp comedy.
But it's Grandma, earning critical hosannas and Oscar buzz, that offers the clarion lesson that the journey crisis demands is often an odyssey, a long walk to our origins so we might begin again. Coincidental or not, these are precisely the things discovered by the film's protagonist, Elle, a bellicose, salty-tongued lesbian poet and full-time misanthrope who unearths surprising reasons to soften – if only a bit – and embrace the life she's lived.
Grandma is a fairly radical departure from most of your work, at least in scale and budget.
My grandfather was friends with Billy Wilder and I know that over the last 20 years of his life, Wilder would have liked to have made another studio film. He had ideas, a lot of them. Good ones. He had scripts he was working on. It just didn't happen. I used to think to myself, "Wow! What if Billy Wilder had just gotten a camera, gotten some actors together, and gone off to do an independent film?" If that were something that filmmakers actually did back then, what would Billy Wilder have produced? How interesting would that have been? How much more active would he have been if he hadn't felt studio filmmaking was his only option. I always thought that was such a tragedy – one of our greatest filmmakers of all time who really wanted to make more films, but didn't or couldn't. So when I reached a certain point in my career, a place where I thought it might be wise on many levels to try things a little differently, I remembered that story about Billy Wilder. Not that I would ever compare myself to Billy Wilder, but that was a little bit of inspiration to me. Don't complain. Just do it. What do you have to lose?
With all respect, the last decade feels like it's been a little bumpy for you, professionally speaking. You and your brother were Oscar-nominated, broke up the band and went solo, and then…
I know, I know! But I didn't really know until, basically, Admission came out. It was the first time I've had a film come out where I wasn't already on the set of the next movie, which was kind of a weird feeling. I felt, still, kind of protective of the movie. When you're constantly going from movie to movie, you don't always remain as connected or as invested in what happens to your films after they're released. But with Admission, I didn't have the distractions of the next film as that one went into theaters – and didn't make a ton of money. I wasn't really sure what was coming next. Things felt so out of control to me that I really needed to touch base with the writing again. What just writing means to me. How I felt about writing before I was getting paid to do it, before I was able to make movies, when it was just purely a psychological exercise and a pleasure.
As a studio filmmaker, whether it's meaningful to the filmmakers or not, there is a certain obligation to generating work that will connect with a large enough audience to break even, at least – though I'm sure Universal would have loved Admission do Avatar-sized box office.
Sure, that's right. But small audiences never really bothered me – though I doubt any studio head wants to hear that from someone who would like to work for them again sometime. I remember small audiences; I started out as a playwright in New York. I spent all my time just writing plays and then there would be a reading here and there, maybe a little production of this one or that, but there was no indication that any substantial crowd would ever see my work. So Grandma is very much me, just trying to get to that point again – writing with responsibility only to myself, remembering all the things I love about writing, and hate, and figuring it all out again.
How "back to basics" did you get in writing this screenplay?
I actually went back to the little café in Los Angeles where I'd written a lot of stuff after first moving there from New York. Same place. Same table, as much as possible. Back then, I wasn't in the film business; I was just another person who loved to write and really hoped he could make films one day. So I approached the script like that. And I wrote it longhand, too. That physical difference – holding the pen in my hand and pushing it onto paper – made a big psychological difference for me.
Was there anything specific that led to your epiphany that it was time to reinvent?
Oh, yeah. Mostly I just didn't want to become a horrible, rapidly aging hack! Basically, a few years ago, I got into something of a two-fer. Robert DeNiro was being asked to do Little Fockers for the same studio where we really wanted to do Being Flynn, which I adapted from [poet Nick Flynn's] book Another Bullshit Night in Suck City. DeNiro and I wanted to make that movie together, and so we were able to get Being Flynn made by signing on to do Fockers for the studio. Fockers was somebody else's script, not something I wrote, and in a way it was kind of great. I got to go to work and direct people I really admired, like Dustin Hoffman and Harvey Keitel. But it wasn't mine and I felt very flawed, in a way, coming out of it. I don't know that I did my best work on that film, but I really didn't know how to do anything any better at that time. And then I did Admission, which was good for me because it had a great female protagonist and also, not only did I get to work with Tina Fey, but I got to spend time with Lily Tomlin. Without doing Admission, I would never have written Grandma.
Grandma is not the kind of film 49-year old men typically make. There's a real hunger to the film, if that makes sense to you.
It does. You're right. I really like the word "hunger." That's something a lot of filmmakers have when they're starting out, right? And then you do the work, and you're getting paid, and there's some success and then there's some failure, and you just keep going and going and going. I had gotten to this point, weirdly, where I felt like all of my previous filmmaking experiences had kind of given me all the education I needed. Or wanted.
What gave you the crazy idea that a 19-day shoot would work for a filmmaker who is used to having five times that?
Well, I actually had no idea I'd be able to pull off a do-it-yourself film. I had thought about it a lot in the past, but could I really get a movie made for no money? Ultimately, I had to convince myself that I had learned enough over the course of my previous films to be confident in doing this one. Basically, I just had to call my own bluff and start writing the thing. Then I sent it to my agency. At first, they were, like, "Uh, do you think maybe this is a, uh, play?" They didn't know what I was thinking!
Agents prefer commissions from $150-million studio tentpoles than $500,000 indies, or so I'm told.
That's probably very true. So I sent Grandma to the agency's indie guy, and he asked, "How much do you think you need to make this?" I said, "I really don't know!" Then he offered me a half-million, and I said, "Sure, I guess so." I had no idea what any of that meant. The next day, he called me back and said he had the money, there were some producers in Greece who liked my work enough to part with that money.
If I were living in Greece, investing in an independent film would probably seem like a comparatively risk-free investment too!
So that was that, and then I had to do a lot of learning – like, how do I make a movie on that scale? The great thing is: writing and acting are, basically, irreducible. Sometimes the more money you have, the more it gets in the way of the filmmaking.
That's something many filmmakers have conveyed.
Because it's true! It can get in the way of the acting. It can get in the way of the writing. It can get in the way, even, of making the movie. Once somebody's put a certain amount of money into making a movie – investing, as in, expecting a return on that investment – they often feel like an audience has to understand everything in the movie, and that's why so much filmmaking has become so stale and homogenized. We're trying to please all of the people all of the time. You can't. I had none of those constraints on Grandma. The only audience I was thinking about while writing Grandma was Lily Tomlin. I wrote this for her. I knew the story was very close to her personal experiences, things that are important to her. I also knew that if she thought the script was fake or bullshit in any way, I was completely cooked. That character, it came from hearing Lily's voice in my head. That's what made every scene happen, essentially. Of course, I didn't dare tell her I was writing something for her; I just sat down and did the work.
That's what's called an "all or nothing proposition."
Yeah, and it can be a risky tool – but it's a tool. The good thing about hearing a specific actor's voice when you're writing is that the writing gets very specific. The bad thing, of course, is that that actor may not want to do your movie. You kind of have to be prepared for that. In this case, without Lily Tomlin, there would be no movie.
You wrote Grandma for a specific actor – and a veteran at that. Is that a different writing process than when you're writing a film with no ideas about casting?
No, it's not really that different. I'll tell you what's similar. Having gotten to work with a lot of actors who have been at the top of their profession for a long time, whether it be Lily or Robert DeNiro, I've noticed that they're even more connected to what brought them to acting in the first place, which very often includes theater. It does not involve being famous. It takes a particular personality to deal with fame and not have it affect them adversely.
So two Oscar-nominated folks, you and Lily Tomlin, both of you writers, working on a movie only one of you wrote. How many conversations are there about the script?
For me, in this case, the movie was resting so completely on Lily's shoulders that I welcomed anything that she said – "Oh, I don't think this is right" or "I think this is fake." I wasn't defensive ever. She was a little… interested, is the word I'm looking for… She was a little interested in why her character was so angry. Just reflexively, in my head, I started thinking, Oh, maybe I should change everything to keep Lily happy, but then I thought it through and realized the character was angry for very good reasons – and she isn't only angry. That ended up making sense to us both. If something doesn't make sense in the script to an actor, it's such a luxury to have them on board early on so that you can get something better.
You've been writing professionally for more than two decades. When did you realize that writing was something you had to do?
I got to go to a lot of theater with my mom when I was a kid and I sometimes got to go backstage and meet the actors. My mom was an actress and she knew a lot of theater people. I remember going to see The King and I with Yul Brynner and getting to go see him backstage after the show. I also remember very specifically and very vividly reading the writer Stark Young, who was this incredibly modernist critic and novelist and playwright, and who, to his credit, had a lot of strong female protagonists in his plays at a time when very few writers were doing that. There was never any distinction for which gender he would give the stage to in his writing. I remember reading one of his plays for the first time at my grandmother's house and it was just that jolt, that electric current that shoots through you sometimes, and I thought, "This is what I want to try to do."
For years before you and your brother, Chris, were hired to write Antz with Todd Alcott, it was Team Weitz – Paul and Chris. That continued until after About a Boy, when the two of you were Oscar-nominated for that film's screenplay. What are some of the differences, writing as a team and writing alone?
Well, first of all, thank you for mentioning that we didn't win the Oscar! But it's also really important to me – and to Chris, too – that I say that we are still partners. We have a production company together. We always help each other out on projects, the tough spots, the hard stuff. If I'm feeling like, Oh crap, that movie failed, I'll call my brother and he helps put things in perspective, and I hope I do the same for him. We're actually writing something together right now for DreamWorks – an adaptation of a Japanese film called Like Father, Like Son. It's been quite fun to work together again.
That's excellent to hear. Relationships can be tricky in any arena – work, home, family. Why was it better for the two of you to go your separate ways after About a Boy?
We had just done About a Boy, and I really wanted to make a film of that exact scope and ended up writing In Good Company, which had Dennis Quaid and Topher Grace, who's half his age, as these rivals of sorts. Chris didn't want to do it. Conversely, Chris really wanted to make an epic, and he ended up going on to do Golden Compass, which held no interest for me at all. I didn't want to make an epic. We were at a point where we weren't going to tell the other person they couldn't do the movie they really wanted to do. That would've been really unhealthy, and we both would have had resentments. I'm actually very happy and feel really proud about how we negotiated all of that, how we've always been there for each other and supported each other – and there's been no competitiveness, really. I'm always really happy when Chris does well, and that goes both ways. I think!
Before Antz, you had enjoyed a couple of modest sales and a taste of success in having your plays produced off-Broadway, and then things took off very quickly. What are some tips for handling that seismic, almost overnight success that happens with the one-two of Antz and American Pie?
Well, it's a mirage! It's all bullshit! That success – so fast and pretty early – is probably why I was so excited to do a film like Grandma, which I really made because I really had to. There was not a lot of thought on Grandma as to what would happen after we made the film – however idiotic or horrible that might sound to say. When I got the call that it was going to play in all of those festivals and then when Sony Classics picked it up and all of the good things that have happened with the film since then, it's all just been a fantasy almost. Ironically, with Grandma, I was really trying to get away from any perceptions of success and failure! Those are things you have no control over, really. So if I really have to satisfy the question, what I'm saying is: the best thing for writers to focus on is the stuff they do have control over – taking the time to sit down every day to create something, to fabricate a private world that exists at that time for only you and your characters. It is, to me, a somewhat spiritual exercise, and I've really embraced it, because at this stage in the game, I've become certain that it's all I can really control.
There is a tremendous amount of humanity and compassion in Grandma, though Lily Tomlin's character is jagged, cantankerous, and often casually savage with her loved ones. Is there a moment of writing this screenplay where you realized you'd captured the character's voice exactly right?
I'm especially proud of the sequence with Lily and Sam Elliott, who plays this man from her past. When I began writing that sequence, I didn't really know what it was about, what it was supposed to do, where it was supposed to move things in the story. All I knew was this was an important scene between two older individuals with some sort of difficult past together. I didn't know what that past was. We need to witness that he is incredibly charming, but also somewhat menacing. We need to discover those feelings about that character and see Lily's character feeling very deeply reminded of those feelings about his character. So he's talking with Lily's granddaughter in this one scene, and he says to her, "When you smile, you're showing your teeth, and that's the only part of you that's gonna look the same when you're dead." Which is a pretty creepy, drastic thing to say.
Indeed. That line feels like a "found object" to me – a line you once overheard, rather than something you manufactured.
No, that's actually a saying that I'd thought about for a very long time. One constant across every culture is that people smile and they very often show their teeth. I know with a monkey, that's interpreted very differently – showing teeth is a sign of aggression. You don't wanna smile at monkeys, apparently! But it's a line that really struck me, that caught my ear and stuck in my head for a long time, and then it jumped into the front of my mind while I was writing this scene, like it was finally time to use it. So I put it into this scene, and it immediately raised the temperature on the scene. I immediately understood more of what that scene – and the entire movie – was about. And then Sam and Lily are on set and doing the scene together, and I'm watching it, and it's just so much more than I could have imagined. You write a script. You turn it over to all sorts of people who didn't write the script. You have to let it go. Even if you're directing it. The writer in you and the director in you, they don't always work in perfect harmony. And then the director kind of surrenders the script to the actors. That's the way it's supposed to be. You want your script to come alive with everyone's very best, which means the script is naturally going to change at least a little bit. When extraordinarily gifted and talented people commit to a script, they're giving it life. They're energizing it. If you're not comfortable with that, go write a novel.