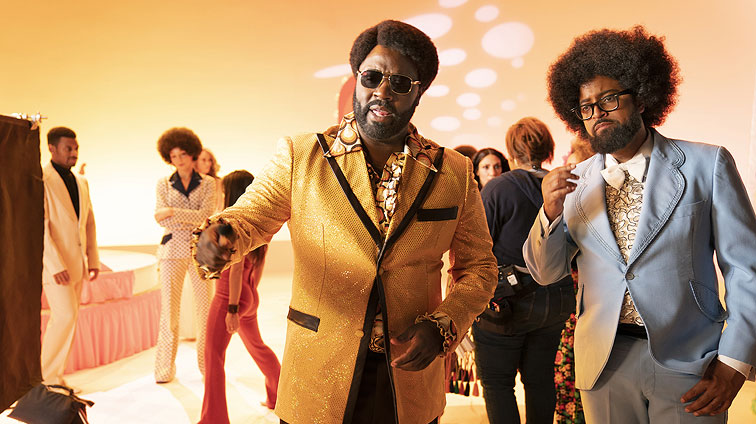 Diallo Riddle and Bashir Salahuddin bust out of development hell to create Sherman's Showcase and South Side, two comedies that fearlessly, and hilariously, take on issues of Black culture and race.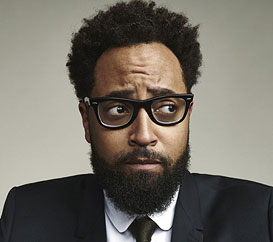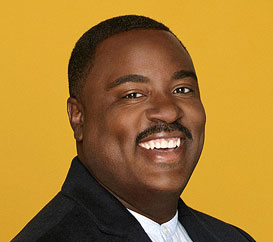 There is nothing that can help keep you mentally sane more than laughter. Even if you're laughing at how messed up, and chaotic, and toxic things are. And laughter can bring people back together.
"American culture peaked in 1973. Anything after that, it's a goddamned lie," Sherman McDaniels, fictional host of IFC's parody throwback music show, Sherman's Showcase, declares in the first episode.
As created by Diallo Riddle and Bashir Salahuddin, and played by Salahuddin, the unctuous Sherman, with his glittery jackets and bedroom voice ("Hey, cats and kittens"), comes with a compelling backstory: his Foley artist father, Sherman Sr., "the best tap dancer on the radio," was undone by an unfortunate performance with a peg-legged dance partner in an Oscar Micheaux-directed movie.
Structured as an infomercial for a "partially complete" boxed set of 23 Sherman's Showcase DVDs (only $19.99), the show is an extravaganza of sketch comedy, original music, movie spoofs, and dancing, steeped in allusions to pop music shows such as Solid Gold and The Midnight Special, as well as to Black American history and culture. (The ghost of Frederick Douglass shows up in a hair bonnet commercial, as the great abolitionist's ghost did, on Soul Train, in the 1970s, where he plugged Afro-Sheen hair spray.)
Compounding Riddle and Salahuddin's Sherman success is South Side, a sitcom about workers at the Rent-T-Own furniture store, co-created with Salahuddin's brother Sultan. With both shows renewed for second seasons, South Side moves to HBO Max next year, while Sherman's Showcase will air on AMC as well as IFC.
As if the two are not busy enough, Salahuddin plays a cop and Riddle a lawyer on South Side. Then on Sherman's Showcase, Riddle plays Sherman's producer/announcer, Dutch. Real executive producer John Legend, who puts in an occasional low-key appearance, is credited by Riddle and Salahuddin for providing the necessary clout to push the show across the finish line.
The longtime writing partners, who met in a Harvard a cappella group and bonded over their love of offbeat comedy, were working as assistants– Riddle at Paramount and Salahuddin at Warner Bros—when Riddle's mother suggested they were too funny together not to be on the creative side.
They took her advice. A sketch show they mounted at Hollywood's Hudson Theatre in 2005 played to sold out houses; their 2007 Condi Rice Raps video landed more than 2 million YouTube views; and by 2008, they were writing for Late Night with Jimmy Fallon, where they stayed until 2011, racking up shared Emmy and Writers Guild Award nominations. A 2017 shared Writers Guild nomination followed for the Maya and Marty variety show.
The kudos continues. For his performance as Sherman, whose bombast reveals that undercurrent of insecurity that inevitably accompanies fading celebrity, Salahuddin was nominated for a 2020 Critics' Choice Award, adding to two earlier SAG ensemble nominations for his GLOW performance as uber-supportive husband Keith Bang. Meanwhile, Riddle was a regular on Marlon and Silicon Valley.
On the music side, "Time Loop," an earworm of a song performed on Sherman's Showcase by Ne-Yo, won a Hollywood Music in Media Award. Salahuddin and Riddle, a disc jockey since his Harvard days, wrote the lyrics. Then there was the show's mock gospel viral hit, "Drop it Low (for Jesus)," sung by Salahuddin's sister, Zuri, with reverent intensity and accompanying bumps and grinds.
Recently the pair signed an overall deal with Warner Bros. Television. Their first broadcast sale through the studio: a comedy they're developing for CBS about Black blue collar students who create a doo-wop group at their Ivy League college. They spoke to the Writers Guild of America West website about their years of development hell, and the importance of gallows humor during what surely must be one of the most toxic years in America's recent history.
First, congratulations on creating two successful shows.
Bashir Salahuddin: It's really unexpected. We always tell people that we asked God for a baby and we got twins, so we're certainly very, very grateful.
Diallo Riddle: If anything, we were trying to hedge our bets. I'd say, "Well, you know what, it's very clear that you can do a lot of pilots and nothing ends up on the air. So maybe we should do these two shows, and you take this one and I'll take that one." And then, to our surprise, both pilots got ordered.
Tell us about the HBO script deal that led to you hedging your bets. It was for a series called The Reporters, followed by Brothers from Atlanta, but the deal fizzled.
Diallo Riddle: We pitched The Reporters in 2011. That pilot was rejected, but then they gave us money to do another pilot. That one went to series and we finished a full season of the show in the script room. And unfortunately that show was then canceled. That was heartbreaking, because from the time we pitched it in November 2011, until January 2016, we were all in for HBO. We didn't take any other jobs that people offered. It was an excruciating loss, one that it's very easy for me to feel to this day, in some ways.
Bashir Salahuddin: Most writers know what it feels like to have a deal somewhere and to be super excited about it, and then you look up and the company has had a massive change of personnel. And all the people who bought your project are gone. And now you're like, "I don't know who these new people are." And the new people are like, "Well, we have our own stuff we want to do." And I do think that executive turnaround is really one of the worst things that writers have to deal with.
You pitched Sherman's Showcase in 2017. How long had it percolated?
Diallo Riddle: We were sort of songsmiths to Jimmy Fallon. We were always coming up with crazy songs, and there were definitely times when we had a great idea for a song, but we knew it was just too risqué for NBC. So we were like, "We need a place where all these things can live." It was years later when we found the time to actually go in to pitch it to Pete Aronson, who was the president of IFC at the time. To his credit, I think, he bought it within about a minute of us pitching it. We were like, "If 30 Rock took place at Saturday Night Live, then our show, Sherman's Showcase, takes place at Soul Train." And he was like, "Oh, I'm in."
With America in the midst of a painful racial reckoning, tell us why it's okay to laugh at humor that draws on Black history and culture.
Diallo Riddle: There is nothing that can help keep you mentally sane more than laughter. Even if you're laughing at how messed up, and chaotic, and toxic things are. And laughter can bring people back together. Not all humor is made for mass consumption, and we don't try to please everybody with every joke. But we try to instill in both shows, and in every project that we do, enough humanity that there's always something relatable there. America's always been a multicultural nation, even if the levers of power haven't always been in multicultural hands. I'm not so naive to say that humor will save us, but I don't think that humor is a problem.
Bashir Salahuddin: No matter what's happening in the news, especially as an African-American, if you're waiting for everything in America to be beautiful before you work, that means you haven't worked in the past 100 years. If you've been blessed with a talent, you're here to make that talent blossom and grow as much as you can. And that is whether the world is flooding or whether the world is on fire. Some people's generations have to go off to war. Some people's generations have to deal with famine. Some people's generations have to deal with depression. If you're going to be alive, you're going to deal with stuff. The question is, how will you respond? And for us, it's really easy. We're just going to keep doing what we do.
Sherman's Showcase is such a wildly ambitious mix of music, sketches, and choreography.
Diallo Riddle: Sherman really is a lot of moving parts. The choreography has to be worthy of the choreography you'd see on World of Dance or Dancing with the Stars, and that's why all of the dancers are professional dancers. My wife, Brittany Riddle, the choreographer, makes sure that we don't have anybody who's half-assing it. The music is a whole other process. Even once we land on songs that we like, we go out of our way to make sure that the songs are radio-friendly: that they could be actually played in real nightclubs, by real DJs. That's very important to us, that they not sound like jokey songs.
Bashir, your wife, Chandra Russell, stars in South Side and is on the writing staff. She's a professional, but you also cast your brother, Sultan, your sister, Zuri, your cousin, and your friends, who had no acting experience. They're outrageously funny. But why?
Bashir Salahuddin: Trailer Park Boys, a Canadian show, really found its power using a mixture of professional actors, but mostly, they were just really funny people. When my brother came to me and said, "Hey, we got this buddy that works for Rent-A-Center," this place that rents furniture and appliances, and he had all these hilarious stories, we began to realize that was a great way for us to do a comedy about the South Side of Chicago, that allowed us to have both the workplace as a setting, but also to have the entire South Side as a setting, because the job requires you to be out in the streets. So we were able to mix the people who actually worked at Rent-A-Center with my own family members.
How did you pull that off with the network?
Bashir Salahuddin: It was really important for us not to make a dramedy, and not to make a hybrid show, but to make a real hard comedy. I don't think they were hearing that South Side of Chicago comedy the way that it was playing in my head, and so I had to show it to them. I was giving a bunch of folks who had never been on television lots and lots of jokes. And so we made it clear to Comedy Central, we're going to take a very small part of the script fee, of our own money, and really just go shoot a sizzle reel, so you can actually see it. We turned in the pilot script and season one Bible, and a 5-10 minute sizzle reel, so that they had all the materials necessary to make a good decision.
So how did you assemble your writers' rooms?
Bashir Salahuddin: Lots of discussions, lots of thought about what we wanted, lots of interviews with people. But definitely, for South Side, we really leaned heavy on the people who were from Chicago. And if they were Black, that was helpful because that's the point-of-view of the show, and that's my point-of-view. For Sherman's Showcase, it was people who were not just funny, but really understood music inside and out, and also who understood sketch comedy.
Diallo Riddle: We come from big Black families. I'm one of six, he's one of eight. We always joke that when you come from a big family like that, you have to make some noise, otherwise they might forget to feed you. So, in our environment, we want to create that same sort of "big family sitting around the table" vibe in our writers' room. We'll have people of every race, but it's still got that vibe of like, you're over at our family's house, and mom just cooked a big meal, and everybody's trying to be the funniest person at the table. That's the environment in which we feel like we create the best stuff. And it's not necessarily competitive, but we do hope that people really do have fun trying to outdo one another.
How do you divvy up the work?
Bashir Salahuddin: It took many years to figure that out. We figure out who is going to be the captain of the ship, and then who's the person who's going to ultimately have to be the first mate, because you can't have an animal with two heads. So we're very honest. We take each other's advice and critique very seriously. And we have deep, deep conversations about all this stuff. And we also keep the bottom line about what it is we're trying to accomplish clear. Oftentimes, for every project, there tends to be somebody who has just a little more skin in the game, and a little more sense of what the project is really supposed to look like. For example, with South Side, me being from the South Side of Chicago, I was sort of the captain of that ship and I was ultimately steering it. And then with Sherman's Showcase, Diallo was actually steering it.
Diallo Riddle: Some days [on Sherman's Showcase] we come in and we're like, "We're going to work on songs," and then five minutes in we've got this great idea that has no songs in it. That looseness shows, in a good way, hopefully, on the show, that it's a show that can go anywhere. It exists in a heightened universe. But we play around a little bit, and we have a lot of fun. I mean, we treat it almost like it's a comic book. We've always said that we see Sherman's Showcase as sort of the Marvel Cinematic Universe of Black music. So we create characters that we can bring back and bounce off of one another, except instead of claiming that they have super powers, their super power is an infectious song or just a really funny character.
Any advice for other writing partners?
Bashir Salahuddin: Every project is a negotiation. And as everybody knows, it's also a negotiation with the studios, and the networks, and other business partners. There are so many different voices weighing in all the time. There's also the experience of working with other writers and getting their ideas and having them weigh in. There is the need, for anybody who wants to have a career as a writer, to really understand the art of collaboration and the art of compromise. Compromise, especially, is going to be something that will keep you employed. You can't really try to follow the trends in the industry, because writers shouldn't follow trends, they should set trends. What do you want to write? If you just focus on that, you'll be fine.
© 2020 Writers Guild of America West