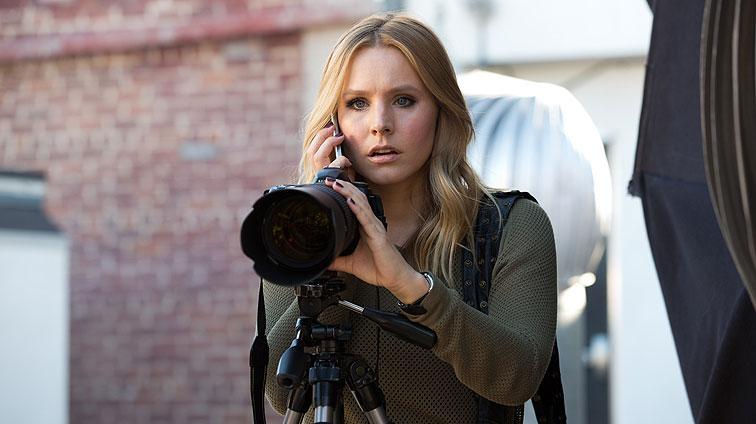 Rob Thomas talks about how Veronica Mars' stunningly successful, record-breaking Kickstarter campaign affected his creative approach to the big screen adaptation of his TV cult classic.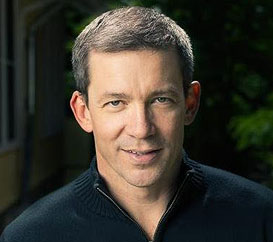 I really did write the movie thinking of it as a love letter to the fans, that's what I'm going to give them.
It's hard to believe that Veronica Mars started—and almost ended—her life as a book pitch.
"It was supposed to be my fifth novel," explains series creator Rob Thomas, "but I got hired on Dawson's Creek, so I moved from Texas to Los Angeles and started working in television."
Luckily for Mars-heads everywhere, Hollywood had its typically corrupting influence on the young writer. Confesses Thomas: "The very crass reason that it never became a book is because I could write TV scripts faster and make a lot more money doing that."
Thomas' quasi-avarice did two things. First, it helped him afford his Los Angeles home. Second, it gave birth to a show about a hard-boiled, teenage private detective that would amass an impressive cult over its three years on the air. So much so that when Thomas and series star Kristen Bell started a Kickstarter campaign to finance a Veronica Mars movie, they raised a record-breaking $5.7 million. Thomas directed and co-wrote with Diane Ruggiero the resulting feature, which hits screens today.
As a successful developer-creator for shows like Party On and the new 90210, Thomas now has his mortgage under control, so he's coming full circle by putting out a series of Veronica Mars books that will continue from where the movie leaves off.
But if you're looking to him to create a series, movie, book, Webcast, or series of etchings highlighting the decade between the series and the movie, you're out of luck. "She hasn't worked a case since we've last seen her," Thomas shrugs. "No one wants to see the day-to-day life of law school Veronica Mars."
Part of the charm of the original series was the whole kind of self-empowered young adult thing. You're not going to have access to that because she's a grown up now. How will you make up for it in the movie?
In a way, the logline was the selling point of the series; what made her unique was her young age, and in some ways, I feel like it's also what turned people off. If I had not been involved with Veronica Mars and I read the logline "teenage private eye" I would have rolled my eyes and moved on. So I am interested in seeing what sort of response people have to this idea of a 28-year-old Veronica now, it becomes less of a hook.
Sure, she's a young woman private eye but that doesn't have quite the bang of a 17-year-old girl. Maybe it will make more people actually believe in it and think, "Well, it sort of makes sense, that premise no longer makes me roll my eyes."
The fans who fell in love with her at 17 will be there for the movie and maybe the fact that she's no longer a teenage private eye could invite more people in.
Fans played a huge role in the genesis of this movie. Did that influence your creative process? Did you feel pressure to give the kids what they want?
There was a bunch of the giving the people what they want. When we started to finance it on Kickstarter, I thought there was a chance that we might not get any theatrical release and if we did get a theatrical release, it might be 10 select cities. I was really thinking, We're going to make all of the money on this movie from VOD. Since fans financed this movie, it's going to be for the fans. So I really did write the movie thinking of it as a love letter to the fans, that's what I'm going to give them. It's really only been in the wake of this huge Kickstarter promotional explosion of getting over five million and being on the cover of Entertainment Weekly that made me sort of start to rethink that a bit.
Suddenly it became apparent that we would be released on a bunch more screens and the studio wanted this movie to cross over a bit. So we did add some stuff to the movie, we added a two-minute origin story main title sequence, putting the origin story up front for non-fans.
Even in the editing room in the aftermath I started asking myself the question of maybe I should include this bit or that bit because we're hoping non-fans will join the party and that line might be necessary to bring them along.
I'd been toying for years with the idea of doing Veronica Mars as an FBI agent when we found her again, like a young Clarice Starling type. Yet once it became fan financed, I honestly couldn't figure out a way that would roll in all the characters that people wanted to see into an FBI story. What is the case that allows me to bring Mac and Wallace and Piz and Dick Casablancas into the movie? Any idea that I had made me roll my eyes—so that's one of the ways the fan financing influenced me. I chose a plotline that would let me get to all the fan goodies. But I am a fan of the show and a lot of the things that the fans dig about it are the things that I liked. I like having Dick Casablancas in the show, so I'm glad I figured out a way to use him.
And did you have to tweak the characters or the world to transition them from the small screen to the big screen?
With some characters, yes, and then some characters are notable for their absolute lack of growth.
I had fun with the idea of Veronica's hacker sidekick Mac now working for the evil empire, she's working for Kane Software and has had to sell off a little bit of her soul to work there. And it's good to see that Logan Echolls has matured. There are reasons why Veronica and Logan broke up, and I wanted to see that he had gotten his shit together a bit. Then, of course, a character like Dick Casablancas has not moved an iota in the nine years that we've seen him. That was part of the fun, figuring out where these characters would have landed. Certainly we make a big meal of Weevil having gotten his life together, but the events of the movie really disrupt that.
Did you have similar control during the process of making this movie that you had on the TV series?
I did. Clearly it wasn't my money but I was instrumental in, along with Kristen, raising that $5.7 million and arriving there with a pile of money. That gives you more control. I certainly got notes along the way from Warner Bros., some really good, smart notes and very helpful feedback—but I did feel as much control over this movie as I ever have as a television showrunner.
Did you feel opened up artistically, being able to work on the big screen? By that, I mean was it fun to use swear words and violence and nudity?
Well, no one has enjoyed swearing as much as I did in this. I was like a kid in a candy store, thank you. Getting to figure out where we could put our one "fuck" in the movie, the one thing I knew was that Kristen Bell was going to get to say it. I wrote it in six places and then we just had to pick the place we liked it best. After all those years of television, that was a lot of fun. It's true that I got a lot of that out of my system writing for Party Down, but getting the characters to say words that I had always heard in my head was a lot of fun.
And then just in terms of shooting it there's a certain amount of pressure in television to shoot everything in close ups because you're watching everything on television, so it was fun to get to be wider on stuff and not always have to cut into a close up for a reaction.
Do you feel more possessive of Veronica than, say, the 90210 kids?
Infinitely. I wrote one episode of 90210. I don't know those actors, I was never in the writers' room on the show, I only wrote a version of the pilot that got greenlit. Whereas the actors in Veronica Mars, I know them, I know their kids, I knew them when they didn't have kids, I get Christmas cards from them. The three years that we did Veronica Mars, you could almost say to a man on our show would be the three happiest years of our professional careers. We were doing a show that we were proud of with people we liked and that's one of the reasons we were always so ready or willing to go back to it.
© 2014 Writers Guild of America West