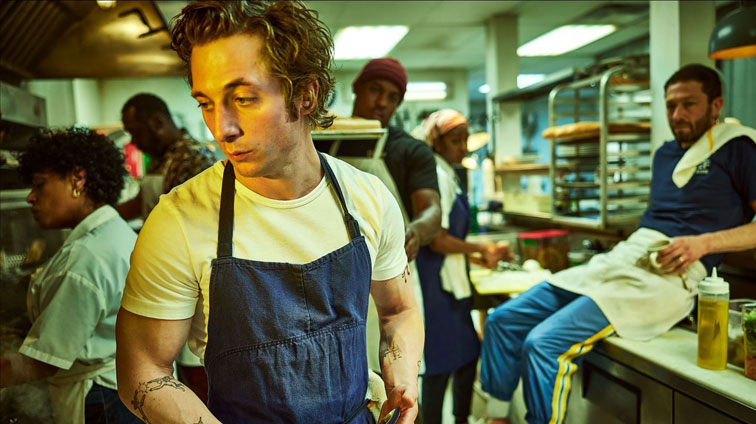 With FX's buzzworthy hit The Bear, creator and co-showrunner Christopher Storer explores themes of death, time, and dysfunction in the crucible of a Chicago Italian beef restaurant's kitchen.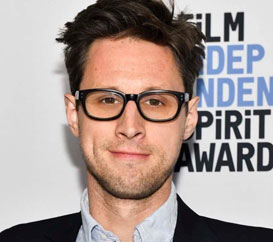 Matty Matheson—he plays Fak on the show… said this thing that was so cool at the beginning...We were like, 'Matty, does the kitchen look right?' He's like, 'Just stop looking at it like a kitchen. Look at it like a submarine.'
There's this notion, among the uninitiated, that Chicago is all about the deep-dish pizza. But as the locals or anyone savvy to its many broad-shouldered pleasures knows, the Windy City is really about Italian beef. Similarly, The Bear, FX's raved new show-of-the-summer, isn't really about restaurants, bears, or even the most delicious sandwich in the world. It tells the story of world-class chef Carmen "Carmy" Berzatto, who returns home from New York after his brother's suicide and endeavors to save his foundering Italian beef restaurant, The Original Beef, aka, The Beef. While its vivid depiction of a working small restaurant is one of the best ever done for scripted TV, the eight-episode dramedy is really about death, addiction, toxic masculinity, and how dysfunctional humans grapple with fear and love.
Creator-writer-director Christopher Storer, who grew up in the Chicago-adjacent suburb of Park Ridge and whose sister is a chef, has a personal connection to both restaurants and all the deeper subjects The Bear is about—including family dysfunction. Storer and co-showrunner Joanna Calo, with whom he also shares directorial duties, tell a story that's essentially about a traumatized family in need of healing. Carmy (Jeremy Allen White) attempts to quietly lead a cast of characters that includes his brother's best friend, the loud, angry, and deeply entrenched Richie (Ebon Moss-Bachrach), and Sydney (Ayo Edebiri), a young fine dining chef and admirer he hires to help him on his quest to save The Beef. The detailed depiction of the brutal, at times beautiful reality of food prep and what's involved in running a working restaurant is surpassed only by the power of the characters. The Bear grabs viewers from episode one by abruptly immersing them in the frenetic, intimate crucible of the kitchen—and these characters lives— without any explanation. It's a brilliant baptism by fire that makes viewers feel almost like they're there in the tight, discordant confines of the kitchen.
Storer spoke with the Writers Guild of America West website about how he developed The Bear for FX from a feature script he'd written, the crucial help he got from real chefs bringing the real-life details of a restaurant kitchen to the screen, and how his own experiences during a troubled upbringing are woven throughout the show.
This was originally a feature script and then, after talking to Kate Lambert at FX, you developed that into this show, yes?
Yeah. Basically, to back up, I worked in restaurants. My sister's a chef. The industry was always a big part of our lives. Friends in Chicago opened and closed restaurants. So I always wanted to do something in that space. I had written a movie that had a lot of similar themes in the show. But, in working on the movie, sometimes you're just like, "Oh, man, I wish we had more time to get into this," or, "We really need more time to explain this." It really was hard to develop. When Kate and I started talking about a restaurant show, we really reverse engineered it, which was like, "Why hasn't there been a restaurant show?"
We learned on the first day of production that's because they're really hard to make—food and stuff gets very difficult. It's also such a fast-paced, stressful environment that a lot of the other culinary projects—and, by the way, I love a lot of them—but they tended be focused on the chef being a genius, and perhaps not as much on the small business side of it. There's a theme of time and death that's running through the show. As we were going through COVID, I had watched a lot of my friends lose their restaurants and lose their small businesses. It just really hit home how gnarly and tough it is. The survival rate of these things is not great. To put all that in a, quote-unquote, comedy was the mission.
What was unlocked for you going from from a feature script format to an episodic format?
Honestly, man, just the time. It's so funny because I know a lot of people say, "Oh, it's a movie but on TV," or "TV as a movie," whatever that is. I'm like, no, TV is a separate, really beautiful thing. What we found with Joanna Calo, my partner on the show, is [that we] really had more time to explain the culture of restaurants and then get into some of the stuff that makes kitchens both gnarly and beautiful. Again, going back to the theme of time through the show—in a feature, you only really have an hour and a half to hit these things. Once we moved to episodic, the thing that had unlocked was really being able to get into the routine of it, because we had eight episodes, you could feel everyone's daily activity in this really, really small space.
You got to live there?
Yeah, you got to live there, but also, you really could visually understand where everyone was in the kitchen. Sometimes in a movie, you just don't have the time to do it. You really got to see Tina's struggles and then her friendship with Sydney blossom in a way that we probably wouldn't have had time for. It was all these things that gave us more time for nuance.
The Beef here is almost like a vortex on its own accelerated space-time continuum, you know what I mean? When the characters step out into the, quote, normal world, it's really jarring.
Yeah.
How consciously did you do that, and why?
That was actually probably one of the reasons we wanted to write this in the first place, to be honest, because even when it was a feature, it was that thing of, whatever business you're in, you lose a lot of your life to it. Running a restaurant is not too dissimilar from making a movie or making a TV show, where your days get long, and they can be intense. You get home, and you're tired. You lose perspective of what's happening in your life. For some of these characters, particularly Richie, who Ebon really played beautifully, [the restaurant] is the only place he knows. His best friend died and now a smaller, better version of him is here, and he can only yell at him. He's going through a moment where, when he truly goes outside, it's jarring. He's like, "I haven't been outside in 20 years because the restaurant was my safe haven, it allowed me to avoid the outside world." At the same time, inside the restaurant, it's all about time. It's all about getting your prep done.
There's something universal and so evocative about that—the separation of your work and your life at times...
That means a lot, man, because that's what we were going for, because yes, it's a restaurant show, but…a lot of those movies that I found myself revisiting as we were putting this show together were really about family. A lot of it's about my family, and growing up in Chicago, and my friends, and friends that we lost at a young age. Part of why I wanted to do it so much was a restaurant really just felt like any business or Sunday night dinner with your family that goes off the rails. Does that make sense?
Yeah. It's like the kitchen as the family unit.
Of course. It's like a restaurant, but it's also just like the dinner table. We always looked at it like the dinner. In any person's given job, you're stuck with the same people for a majority of your time. You get to know them in a different way than their families probably do. Matty Matheson—he plays Fak on the show—he's also one of our producers, [and] he's one of my best friends. He said this thing that was so cool at the beginning of even the production design phase. We were like, "Matty, does the kitchen look right?" He's like, "Just stop looking at it like a kitchen. Look at it like a submarine." That unlocked so much for us, where you're like, this is their home. When they actually leave, it's some other place that we don't want to see too much.
You've talked about having a rough childhood in many ways, in terms of your family unit. Has this show been an opportunity to grapple with that?
Oh, I mean, all of it. It's the same thing. It's that same thing where a group of people in this restaurant loves each other and hates each other and would die for each. It's all those emotions in one thing. It is dysfunctional, but also, you see hints of how it could be potentially functional. Of course, the way I grew up is all over this thing.
Next to it's use of time, this show uses detail as a powerful instrument for its storytelling.
A hundred percent. Yeah, again, because so much of the show, for this particular instance, was going to be in the kitchen, you have to make the most of your detail. But I also thought, for the actors, it really gave them a sense of ownership over their characters because they were really partners. Our cast and crew was just amazing on this thing. We had found the more detailed it was, the more ownership each department could take over their respective areas.
The first episode of season one just slams you in there, en medias res. Tell me a little bit about the thinking around that.
Well, it was interesting, too, because obviously, so many of our chef friends and cooks and dishwashers all came and talked to us. Obviously, man, there's been a lot of these [restaurant shows] that haven't worked, so we really felt…not a pressure, but out of respect and love and admiration, we wanted to get this even 50 percent right. The thing that we kept thinking when writing is sometimes you write a pilot, or I'll read a pilot, and you'll see there's so much clunky exposition. Pilots are so hard. Was it Mike Schur that said that great thing? "You wish you could make 10 episodes and then write the pilot." I thought that was really cool, because in this instance, we found the more that we were trying to explain the culinary vocabulary, it just got too weighty.
From my own personal experience of trying to be a line cook when I was 20 and failing miserably, it is so fast-paced and intense that I was like, "We should just launch ourselves into it." Audiences are smart. They'll figure it out. Again, to your previous question, the more detailed it was, the more alive and real it would feel. Even if they didn't understand the verbiage exactly, you'd understand that this dude was under pressure. We felt like that was such a great launch into the world. To their credit, FX really agreed. You can get really heavy in backstory. It's like, "Man, we got eight episodes. Let's parcel this out."
Carmen has very little dialogue here. He's almost this quietly messianic figure. He's a force of good, but not a great communicator. Tell me about cultivating that central character?
First and foremost, it was really a situation where I wanted to build something around somebody that was having a hard time communicating, and truly, his outlet was his profession. He got so highly skilled at one thing that he got trapped in there. That's the way that he communicates with other people. Going into writing the series, Jeremy's a dear friend of mine. I also knew he's just a phenomenal actor. I'm not sure I'd be as confident to do that if I didn't know it was Jeremy. His eyes and his expressions, and he really, really got great at cooking.
The same goes for Ayo. Ayo is one of these people who's a brilliant comedian, and she's the most dead-serious on the show. There's something really great in the discovery, both in Jeremy and Ayo. Speaking specifically to Carmy, this is a person who's run away from a lot in his life. It's also the same thing that drove him to become particularly brilliant at his job. When you finally hear him talk about it in the finale, we wanted it to really sound like it wasn't profound and as if he was listing things and discovering as he was talking, if that makes sense.
He's like a hunky Gene Wilder or something. He has an incredible presence.
Yeah, he has an incredible presence, but there is something so kind about him at the same time. I knew that, because he's such a smart performer and he's such a generous actor, truly, I can't tell you enough what a great…well, they were all great partners. But because we'd made the show so quickly, we would often be in situations where Jeremy would be like, "It'd be really cool if the camera was actually going this way," not for style, but because he's like, "I really think Carmy would be over here," or, "Carmy would want to go sit here." I was like, "Oh, that's dope, dude." It really turned out that some of the most effective stuff was because Ayo or Richie or Liza would be like, "What if we were here doing this?" Because they learned so much about the particular station and because Jeremy had studied so hardcore learning how to cook and really going to culinary school, He really understood that a lot of the chefs can have a hard time communicating, and this is their outlet.
When, where, and how do you write? Do you have any eccentricities or rituals when you're writing outside the writers' room?
Man, I wish I had an answer for you, but it just comes out in bursts. It's the same for a lot of writers. I definitely know that when I sit down and try and do it, I'll get nothing done. But honestly, dude, I'll try and sit first thing in the morning before I get too bogged down in anything else and see what I can do. But this was so fun because we knew the cast in advance, obviously. Being inspired by them definitely helped a great deal.
© 2022 Writers Guild of America West