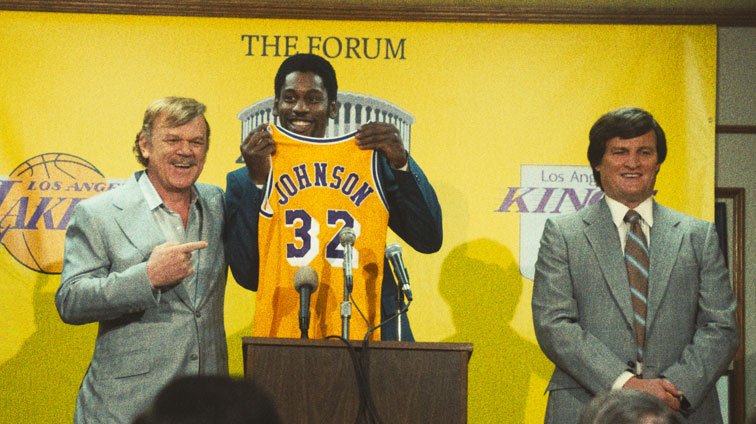 Rodney Barnes replays the drive that took him from sleeping in his car to co-writing on HBO's Winning Time: The Rise of the Lakers Dynasty.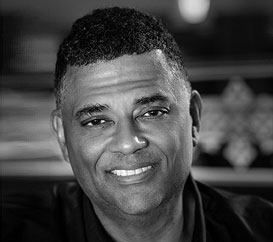 I used to think that being a writer meant if you were a good writer, you would just get a job and everything would be great, and you'd be living near the ocean, and things would be perfect. I came to find that being a writer, really, you are an entrepreneur. There are so many other skills that you have to have.
When Rodney Barnes, the writer and executive producer of Winning Time: The Rise of the Lakers Dynasty, was growing up in Annapolis, he went to Disney movies, then hung around the theater to watch dark adult fare. Animation followed by Taxi Driver.
He reveled in horror movies, science fiction, and comic books; The Exorcist and Apocalypse Now. Even as a kid, if he loved a film, he watched it three or four times, learning all he could about its director.
As an adult, he has written for My Wife and Kids (creators Damon Wayans and Don Reo were mentors), Everybody Loves Chris, the animated The Boondocks, Marvel's Runaways, American Gods, Wu-Tang: An American Saga, and the 88th and 93rd Academy Awards
Now, the threads of Barnes' unusually eclectic career converge in the satirical and fast-moving Winning Time (created by Max Borenstein & Jim Hecht, based on Jeff Pearlman's 2014 book, Showtime: Magic, Kareem, Riley, and the Los Angeles Lakers Dynasty of the 1980s). Employing quick cuts, and animation, and shattering the fourth wall, the HBO series covers the Lakers' emergence from lackluster team to jazzed-up NBA powerhouse.
Much of the Lakers' 1980s buzz surrounded point guard Earvin "Magic" Johnson (Quincy Isaiah), whose charisma balanced the chilly brilliance of Abdul Kareem-Jabbar (Solomon Hughes). The glittery ensemble includes Sally Field, Gaby Hoffman, Adrien Brody, Michael Chiklis, Jason Segel, and Jason Clarke, with a gleefully sleazy John C. Reilly as uber-womanizing chemist-turned-investor Dr. Jerry Buss, who bought the Lakers in 1979. With a lucky coin toss Buss landed the teenage "Magic," and launched basketball as blockbuster entertainment.
Former Laker Norm Nixon was a presence in the writers' room (his son, DeVaughn, plays him). Johnson and Abdul-Jabbar were absent, and "Magic" has said he isn't looking forward to the series, which opens with his HIV diagnosis, then flashes back.
"This is a love letter to that period of time. It's not a hit job," reassures Barnes, who wrote nine of the 10 episodes with Borenstein. "You don't want to disparage people that you truly respect and appreciate." He and Borenstein are working on season two, with no official pickup yet.
Recently, he spoke to the Writers Guild of America West website about the series and about a career that seems charmed, but in reality was not: for eight months after arriving in L.A., Barnes slept in his car. Yet he persisted and went on to land nominations for BET, NAACP Image, and Writers Guild awards, as well as a Peabody win for Boondocks.
Executive producer Adam McKay directed the pilot episode, and the series has his stamp. Was it tough to adapt your style to Winning Time's punchiness?
Not at all. One scene that is incredibly dramatic, butting up to a scene that's comedic, but still feels seamless, that's Adam McKay's invention. We just continued in that tradition. It really worked well for the show, because we have so many different characters coming from so many different entry points: family stories; the game of basketball itself; the business of basketball. If it were structured to just one tone, that would be difficult to manage.
You and showrunner Max Borenstein worked together on the unaired second season of Vinyl. Your script, Arc of Justice, made the 2017 Black List. You wrote nine of Winning Time's 10 episodes together. How did the project happen?
For the pilot, Max did a lot of the heavy lifting before I got there. There was a first draft. I was still on Wu-Tang: An American Saga, and he was working on the movie he wrote and produced, Worth. We'd meet in New York and work on the weekends. When both of us got back in L.A., it just grew from there. COVID slowed the process. But that, oddly, helped us in a way, because we got an opportunity to really get into the scripts and do a lot of rewriting.
What is your working style?
The way we argue, the way we create, the way we do what we do, has such a rhythm to it, that it's all focused on what's best for the story. We can be in the most heated argument or disagreement about a scene, or character, and as soon as someone comes up with the answer, we know. The argument immediately falls away, and there's no residual negative feeling. And that's rare. It's the first time I've ever had this depth of relationship with another writer. It's a beautiful thing.
What was the room like?
We had a very small room, and a lot of what the other folks did was research. What happened factually in season one? What coaches, what trainers, what players? Who got hurt along the way? What was the financial state of Dr. Buss' empire? Pearlman's book does a great job at framing the Lakers. But when you're breaking off into the sub-stories that are connected to the Lakers, but deal with individual lives, you have to go a little more in depth. Fortunately for us, everybody except Dr. Buss wrote a book. We did our due diligence in reading a lot of those books, and articles, and YouTube things that needed to be mined in order to put something like this together. It's a massive task.
What has been the toughest part of writing this?
Any time you're taking history and dramatizing it, you have to stay within the boundaries of facts. Staying within that margin at times could be arduous because there's another thing we want to do in the third act, but history doesn't help us get there. We have to figure out a way to make sure that all of our I's are dotted and T's are crossed, while still creating the human experience.
Would you have liked Kareem and Magic to participate?
It must be weird, being empathetic to them, to have someone tell your story and you not be a part of it. That said, this isn't the story of Magic and Kareem. It's the story of a period of time, a team, an organization, a city.
What has been most gratifying?
I've seen sports themed shows that deal with the players who, more often than not, are of color. They're dealt with in a very one-dimensional fashion. That's the funny one, that's the bad one, that's the one that's going to get shot. But the story is about the coach or the owner. They're the ones that have a marriage, and they're going through stuff, and they become a three-dimensional character. Here we were able to add dimensions to the players and their lives.
How did you approach racism?
We really deal with it more as trauma. Usually if you watch a movie that deals with racism, there's the incident, there's whatever legal aspect, whatever investigative element, and then it's resolved and everybody hugs and moves on. That's not how it is in real life. People live with the hurt, and the pain. Oftentimes, they medicate, or they look for ways to escape that hurt and push it down. One character comes to mind, Spencer Haywood. When we are talking about his drug addiction, it's connected to something that's hurting within. So it humanizes him beyond just the idea of being a basketball player who's using drugs. Being able to tell the story of another person of color who happens to be a man around the same age, it was just an honor to touch on that in a way that I hadn't seen done very often.
Do you enjoy writing?
I heard Quentin Tarantino say once that the hard part for him with writing is it's never as good as it is in his head. I'm paraphrasing, of course. And that's the arduous part for me. I want it to be perfect, and it never will be perfect. The instrument between the idea and the creation is me. So it's very difficult to get past myself, realizing that I'm the problem. That said, there's no better feeling than when you've gone through dozens and dozens of drafts, and you get to a place where you have something that you can look at and really appreciate, that represents that work.
I hear you're an eight to nine drafts writer.
That's before it's actually a first draft. I started my career doing sitcoms, so there's sort of a factory aspect to it. I have to give some appreciation to director Allen Hughes. who actually acted as my first bridge to drama. He asked me to come in and work on a pilot at HBO years ago. I turned in the script, and I thought I'd done a really good job. He said, "Man, this is an incredible start." And I'm like, "Start? Man, I've been working on this for two weeks." In my mind, I'm done. He helped me evolve emotionally, and practically, in understanding that it's not done until it's done. There's always some fine detail, focus, something that you've missed, that if you just give it enough time and dedication, and continue to knead it and knead it like dough, a script can get better. When you're trying to do your best work, it takes really opening a vein and pouring the blood on the page. And that was sort of foreign to me. Then working with Max, who lives by that creed, embodying that principle of giving everything that you have, 24/7, that's what it's evolved to for me.
With television, you don't always have time.
Well, yes and no. It has a lot to do with your partners, your producers, your studios, and your networks. Are you going for a standard procedural where there's a formula and you're duplicating that formula, or are you trying to create art? And when you're in that art category—not to say procedurals are easy, because they're not—but when you're going to a place where you have to create a show that's trying to say a lot of different things, and requires you to go deeper within yourself to find those things, time is necessary. The places that are going for that type of work understand that.
Is that why you were grateful, not for the pandemic, but to have additional time during the pandemic, to work on Winning Time?
Definitely. Max and I, it wasn't necessarily the game of basketball that drew us to this project. What it really was about was the human experience; that everyone was using basketball in some way to deal with some aspect of their lives. Being able to use writing as a cathartic exercise, we saw aspects of ourselves in these characters. I certainly did. And being able to take the time, having the extra time, to really connect empathetically with the characters, was a privilege that I don't think I'd ever had to this degree.
You spent years as a PA, working on Pelican Brief, Quiz Show, Rush Hour, Blade, and other movies, before you attempted to become a writer. Did you face barriers?
No. One of the things that I brought with me from Maryland to Los Angeles was a deep sense of insecurity and fear. My first concern was survival. It wasn't necessarily reaching my goal. I would always go from [PA] job to job because any period of unemployment scared me to death. I used to think that being a writer meant if you were a good writer, you would just get a job and everything would be great, and you'd be living near the ocean, and things would be perfect. I came to find that being a writer, really, you are an entrepreneur. There are so many other skills that you have to have. You have to be able to work with others. You have to, in some cases, be a leader. You have to be able to promote yourself. You have to be able to hear the word "no" a lot. There are so many things I did not know when I decided that this was what I wanted to do. I wouldn't have wanted it to happen earlier, because I wouldn't have been prepared.
© 2022 Writers Guild of America West